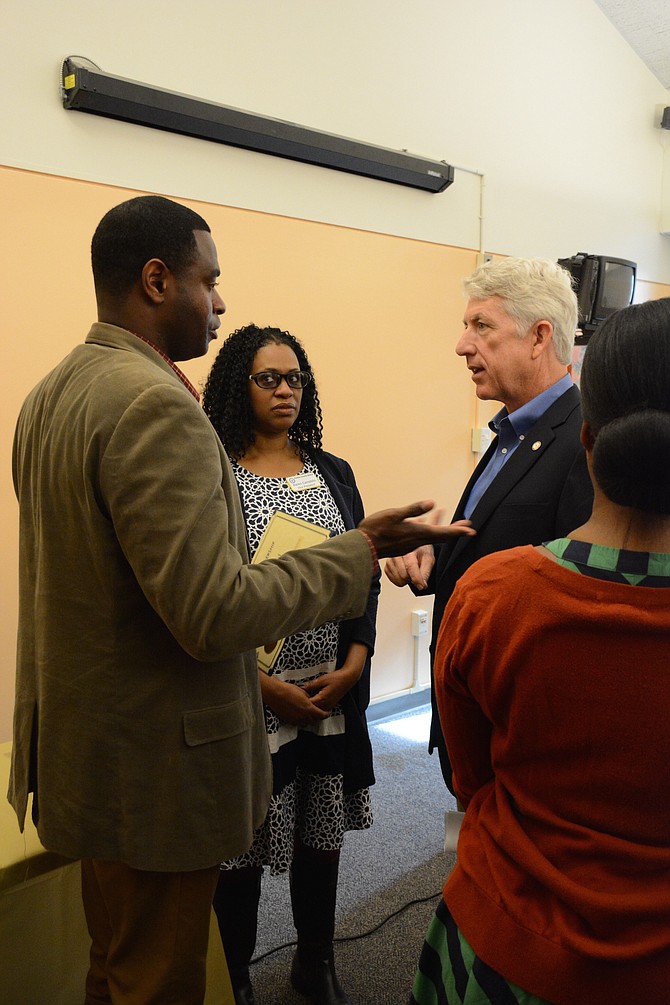 Mohib Ullah and Saquib Raheem of Sterling didn't bring their boys to Burke's Kings Park Library on Saturday morning to check out books. The representatives from All Dulles Area Muslim Society came for a community gathering and Black History Month commemoration on Feb. 25.
Raheem said they attended "to be part of a movement.
"You have to be active," he said. "To have a complaint is one thing, you have to do something about it."
Engagement and knowledge were two primary themes of the meeting, which was standing-room-only in one of the library's large multi-purpose rooms.
NAACP Fairfax chapter education chair Ralph Cooper of Springfield gave opening remarks and shared emcee duties with chapter president Kofi Annan.
"Don't you ever forget what happened in the past in our country," Cooper said. "We used to be a model for civil rights, moral rights. I hope we continue on that path."
Annan's message cited minority unemployment, education and criminal justice reform as areas where the country has taken several steps back.
"Progress isn't linear," Annan said. "We should feel emboldened to dig our heels in, and secure the gains we've made thus far."
On a positive note, Annan announced the Fairfax chapter has seen a 10 percent increase in membership in just the past two months.
A hopeful in the race for Virginia's next governor, former U.S. representative Tom Perriello continued the message of involvement and reconciliation, as did Pastor Brett Fuller, senior pastor of Grace Covenant Church in Chantilly.
Supervisor John Cook (R-Braddock) painted a more positive picture of progress on law enforcement issues in Fairfax County, though he said there are still items to address including sexual harassment, bullying, behavioral health — he mentioned referencing a recent report from the Fairfax County Fire and Rescue department.
Supervisor Kathy Hudgins (D-Hunter Mill) also said challenges remain in Fairfax County, including bringing more minorities, and young minorities, to the table where policy is made.
"We need your voice," Hudgins said.
The supervisor explained she has had a seat at the board for 18 years and remains the only African American on the governing body.
Board chairman Sharon Bulova explained the Fairfax County seal to be translated as "put your actions where your words are," echoing the consistent message of community engagement and partnerships.
Attorney General Mark Herring reflected on the recent renaming of the building that houses his office in honor of Barbara Johns, a young civil-rights leader who led a school walkout to protest segregation in 1951.
The Fairfax NAACP has scheduled an immigration discussion panel also to be held at the Kings Park Library, located at 9000 Burke Lake Road in Burke, on March 11 from 10:30 a.m. to 12 p.m.
The panel will include Bulova, state Sen. Scott Surovell (D-36) and representatives from the Fairfax County Police Department, ADAMS Center and American Civil Liberties Union.
The event is free and open to the public. To RSVP or request more information, email Karen Campblin at politicalaction@fairfaxnaacp.org.