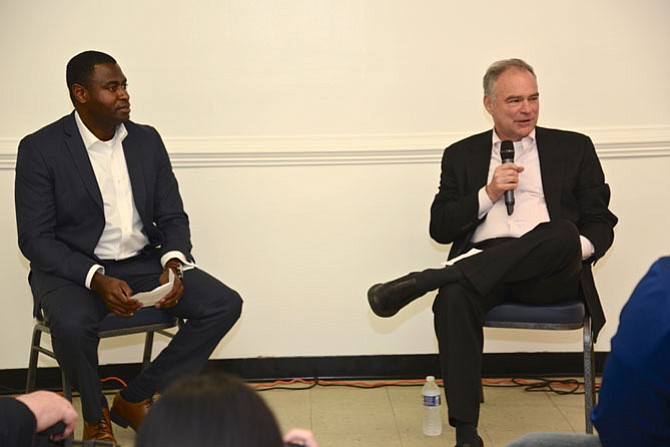 U.S. Sen. Tim Kaine (D) spent almost two hours with area residents at a Town Hall-style gathering in West Springfield on the evening of Jan. 11, hosted by the Fairfax County NAACP and moderated by the organization's president, Kofi Annan.
Annan began: "From the outside, from our perspective, it looks like no one knows what's going on, it's chaos [on Capitol Hill]. How are things going in your view?"
The junior senator from Virginia since 2013, Kaine answered that in terms of the daily workings of the Senate, his response would be mostly unchanged from the last few years to this moment. "In our general work, more happens cooperatively than you think. A lot less happens than should. For example, Obama Care. We spent a year fighting to protect health care for 32 million Americans. Instead of repeal, we should have been working on improve, and we weren't."
But the real change today in Kaine's view is "the Trump Effect, not knowing, quite frankly what new surprise will come along."
Kaine spoke of the alleged vulgar remarks made by President Trump earlier in the day about immigrants and some of the countries from which they came. "I mean, you hear that and you just don't know what to say."
THIS LATEST CONTROVERSY, according to Kaine, makes the work being done to address the Deferred Action for Childhood Arrivals Act (DACA) and immigrants in the country under Temporary Protection Status (TPS) that much more difficult.
"And then we didn't know that last week was going to be 'open season for offshore drilling week' around the country," Kaine added, saying that this decision was followed this week by an exception for the state of Florida. "Why Florida? Because we listen to Floridians and the Governor there opposed it. Well, so do we in Virginia."
Kaine admitted that the "Trump Effect" was chaos-causing and frustrating when there "is so much critical work on the table, like hurricane emergency relief and avoiding a government shutdown," but instead, he says, that work gets side-tracked. "Every week it's left hooks, curve balls and surprises."
Annan also asked the senator his opinion of racism in America, including "Why isn't the Ku Klux Klan categorized as a terrorist organization?"
"I don't know," replied Kaine. "To me, it is. I am not sure of the process, but you know, I now plan to find out."
Racism has long been a societal scourge, Kaine said, but that it was the election of Donald Trump and the actions and comments made by the Trump administration that "gave permission to express those racist views" basically with impunity. But he still sees good that may come from this new attitude of "taking off the mask."
"You know who and what you are up against. To really deal with a problem you have to know its dimensions." It is Kaine's belief that the exposure of the depth and breadth to which racism continues to exist will help bring focus to the issue and aid in the fight against it.
The attendees questioned Kaine and the topics were wide-ranging.
Nayely Lopez is a field employment specialist with CASA, an organization that works with low-income immigrant communities. She attended the session with Sookyung Oh, area director for the National Korean American Service and Education Consortium (NAKASEC), and Jung Bin Cho, also with NAKASEC. "Will you vote to approve the continuing resolution [to fund the government] if there is not a clean DACA bill before then?" she asked.
Kaine was unwilling to commit to her request. Despite being a "passionate advocate" for immigrants, he also said "I am an anti-shutdown person" and cited the damage done to the Virginia economy and many of its citizens because of the government shutdown in 2013. "I need to see the details of the bills being put forth before I can make a decision. I think we are really close."
THE QUESTIONS AND CONCERNS kept coming — environmental protections and the effects of climate change, LGBT rights and the status of transgender persons in the military, protection against voter suppression, advancing opportunities for minorities at Governors Schools in Virginia (a program started in 1973 by then-Governor Linwood Holton who would later become Kaine's father-in-law), even the possibility of promoting programs like Fairfax County's Diversion First (aimed at diverting individuals with mental health issues to medical care versus the criminal justice system) on the national level.
Jorel Sabado of Springfield wanted to know how the senator's Catholic faith affected his political actions. "Of course, your values inform your decisions," replied Kaine, but added that it was not his job to make everyone follow the rules of his church. "That is not why we are elected."
Naila Alam from Herndon, and a member of the All Dulles Area Muslim Society (ADAMS) worries about the travel bans that have been in and out of effect and in the courts since President Trump first introduced them as an Executive Order January last year. Kaine vowed to continue to fight against them.
Asked to comment on the election of more Democrats to the Virginia Legislature, Kaine responded that it gave him a level of energy and confidence for his own chances in Virginia, it bode well for the expansion of Medicaid in the state, and that as a member of the Senate Health and Education Committee there was a synergy that could result.
Kaine is seeking re-election in November, and has already made campaign stops "in some areas of our state that are really suffering," but said that the Town Hall meeting wasn't about campaigning, but about keeping up a dialogue with all Virginians. "Hearing what the concerns are, and keeping people informed — that's practicing democracy."