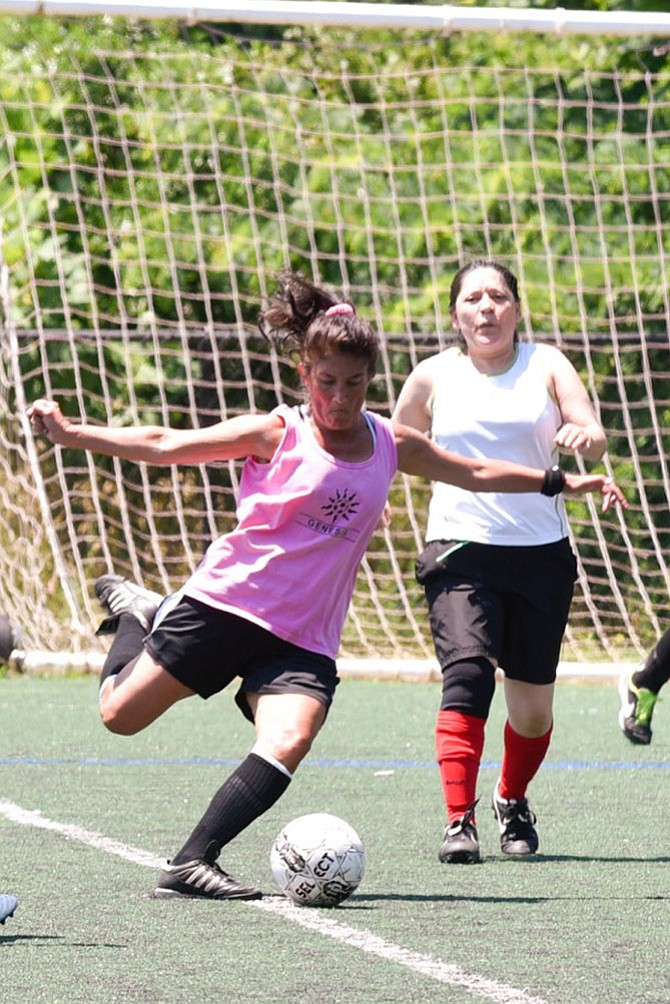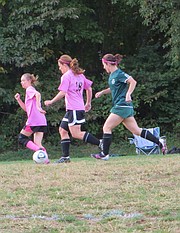 On Saturdays and weeknights in the spring and fall, women as young as 18 and as old as 78 can be found on the soccer fields across Fairfax County: nurses, lawyers, Army officers, software programmers, stay-at-home moms, lobbyists, graduate students, and grandmothers playing the game they love. For over four decades, the Fairfax Women's Soccer Association has provided these women the opportunity to play the beautiful game.
Despite their diverse backgrounds, these women develop deep friendships through the game of soccer. Vienna United, a team in the FWSA Masters Division (ages 30 and up) notes in their team profile on www.fwsasoccer.org, "We are united by our common bond of the love of soccer, but we are way more than just a soccer team. We are a group of friends who love and support one another on and off the field. We've experienced weddings, babies, job promotions, career changes, and many other life events together. Over the years, we have taken many trips together as a team. We've gone to Costa Rica three times, gone on a ski trip, and we've even travelled to the University of North Florida where we trained for a week with their women's soccer coach."
Kayla Sternberg of Vienna arrived two years ago in the United States as an au pair. "Trying to adapt in a new country all by yourself is something that can be a bit tough at times." She found her support system on the field. "Playing soccer with these girls made my transition so much easier. I play soccer because it brings people together no matter who you are and where you're from and it is an extremely enjoyable sport to play." Sternberg's teammates "became family."
Weeda Zazay, a recent graduate of George Washington University, finds playing a relief from her high-pressure work in emergency health services: "Being out on the field lets me forget the difficult classes I'm taking, test anxiety, and also lets me sweat off a day's work."
SEVERAL YEARS AGO, FWSA recognized that a number of women who had played as children or teenagers hesitated to join a team after many years away from the game. And, despite the popularity of soccer, there were women who had never played. The league launched the Development Division to supplement the free soccer clinic. These programs allow new players to learn the game and former players to reacquire their old skills before joining a team.
Shallen Gorman took advantage of that opportunity. It wasn't until after she completed law school that Gorman began playing soccer, learning the basic rules and skills first in the clinic and then in the Development Division. She became so addicted to the game that she formed her own team. She relishes "some of the most genuine and sincere friendships I have ever made" and recently joined the leadership of FWSA as a division commissioner.
Krista Sullivan also spent some time in the Development Division "to brush up on my skills with practice and scrimmages." She now plays in the Open Division (ages 18 and up) and is thrilled to find "there is a wide range of talent so everyone feels welcome." Although games are competitive, Sullivan said they are not "cut throat. I always leave happy even after a loss because I am able to unwind from work, spend time with new friends, and get a good workout in too."
FWSA offers several divisions so women can play against others of a similar age. These include Over-30, Over 40, Over-50, or Over-60 in addition to the popular Open Division (ages 18 and up). Tran Kratzke is one such player in the older divisions. She discovered soccer as a young woman living in Washington State and fell in love with the sport. However, moving to a new locale along with the responsibilities of working and raising a family put soccer on the back burner. When her children were in their teens, she found a team in FWSA and rediscovered her passion for the game. "Soccer has given me an outlet and helped me relieve tension and cope with life difficulties when I needed it," she said.
Sandy Thorpe played her first soccer game at age 48. "One of my daughters was playing, and she signed me up." Sandy lettered at McLean High School as a goalie in field hockey and gravitated toward the same position in soccer. For a number of years Thorpe played on three outdoor and two indoor soccer teams: five games each week. Health issues drove her from the game for 13 years. Unable to stay away, she organized teams for national tournaments in locales such as Mexico, Las Vegas, and San Diego. A year ago, at age 73, she was able to return to the field: "I just had to do it. I have such a passion for soccer and I had to try it again."
FWSA SAW the creation of a team of mothers and daughters in 2012; several women recruited their daughters, friends of their daughters, and players they'd once coached. Years ago, Ann Smith played for Woodbridge High School and her daughter Kristin grew up playing soccer. The women were thrilled at the opportunity to be on the same team, which plays in the competitive Open Division. Playing soccer keeps everyone in shape and spectators are hard pressed to pick out the mothers from the daughters.
So that both women and youth have a place to play, FWSA has cooperated with Fairfax County over many years to develop and maintain soccer fields. This includes the development of soccer fields at Pine Ridge Park in Annandale. The women also contributed to the installation of artificial turf fields at Woodson High School in Fairfax and Wakefield Park in Annandale
Players such as Karen Sharpe travel regularly to tournaments around the country. "I love tournament games. You're playing with great people. Better if you win, but …"
An FWSA team has been fortunate to win at the National Veteran's Cup in four of the last eight years. And a number of local teams participate in the annual Women's Friendship Tournament in Las Vegas, which this year is adding a bracket for Women Over-70. FWSA has been hosting its own soccer tournament each June since 1981, and teams are often formed just for the tournament.
Mary White, an in-demand tournament player, is also nationally ranked in the 100-meter dash and attributes her sprinting medals to the running done during a game. "Soccer has been a big part of my life. It's been very important for personal reasons. Through some hard times, it has been a way to escape things that are worrying you. You go out there for an hour and a half and forget about everything else."
Maddi Davidson is currently writing a book, "See You on the Field," about women and soccer, including women mentioned in this article and others from Fairfax County.