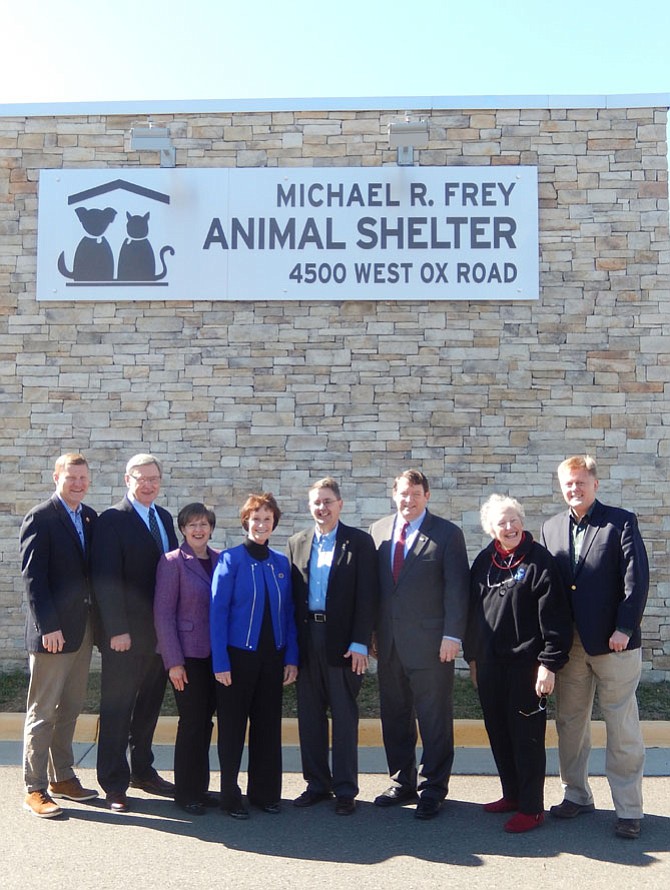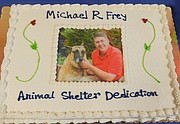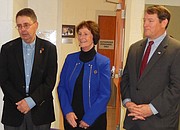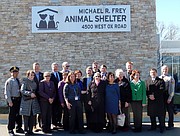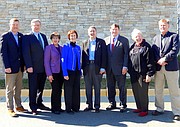 'Something I Will Cherish'
Frey is pleased and humbled by new honor.
When Michael Frey stepped to the podium Saturday afternoon at the Fairfax County Animal Shelter, instead of boasting about his own achievements, he remained his usual, humble self.
Although the animal shelter now bears his name, he related something a friend told him about it. "He said, 'If a building is named after you, that includes the floors, too,'" said Frey. "'So whenever an animal has an accident on that floor …'"
The rest of his sentence was drowned out by laughter, but the audience got the point and knew Frey wasn't about to let the honor go to his head. He then thanked Supervisor Pat Herrity (R-Springfield) and Supervisor Kathy Smith (D-Sully) for introducing the naming resolution to the Board of Supervisors and thanked the board for approving it.
"Before I joined the board, the shelter was something considered 'out of sight, out of mind," said Frey. "I brought it to their attention; but without the board's support I couldn't have done anything. Then the citizens supported a bond issue to renovate the shelter, and this building is the result."
Noting his love of dogs, Frey said Supervisor John Foust (D-Dranesville) once introduced him at an event by saying, "If dogs could vote, he'd be governor." And while Frey's always championed the shelter, he credited its success to its leadership, especially under Director Karen Diviney.
"Once she took over, we began to explore what we could do here, and we owe her our thanks," he said. "I want to thank my staff, too, who were always there to support me in whatever we did and also when we weren't making progress. Several of them were with me almost all 24 years, and that means a lot to me."
Regarding the shelter, Frey said its evolution into the high-performing facility it is today took time. "The original Animal Services Advisory Commission wouldn't let the shelter staff into their meetings," he said. "But I told them we'd see the day when the staff came and told them their budget need."
Frey also told the commission the shelter would someday win an award for its animal services, and it did. In 2014, it received special recognition from the U.S. Humane Society. Saying the shelter leaders did "outstanding work" and still do, Frey mentioned some of its programs. For example, volunteers come in and take dogs home for the weekend, and the shelter is trying to end cruel "dog farms" in Korea.
"To think that we're doing things like that and have progressed this far makes me feel so good," he said. "And to think that my name will be on this building – with the Karen Diviney Hall and Susan Hall Dog Runs – is something I will cherish."
Addressing everyone in the audience – friends, county colleagues and shelter personnel, alike – Frey said, "You all have been such a huge part of what I've been able to get done, and I thank you for your contributions. The Friends of the Fairfax County Animal Shelter raised $300,000 last year for animal care, and I've agreed to go on its board."
After the ceremony, that entity's president, Evelyn Grieve, said her group is the sole fundraising arm for the shelter, and the money is used for animals there needing emergency medical care and other care. It also supplements the funds the shelter gets from the county to help support its programs.
"We're very excited about the dedication of the building to Michael because he's been a champion of animals, his whole life," said Grieve. "And we're beyond thrilled that he's going to join our board; it means the world to us."
Diviney, who directed the shelter from 2005-13 and is currently the interim director until a new one is named, also attended the festivities. "This is really a fitting honor for Michael, who has always been such a support for the animals and animal issues in the community," she said. "He was instrumental in pushing through the bond referendum for this building's renovation. And he was among the first on the Board of Supervisors to recognize the need for more advocacy for better treatment of animals and a better animal shelter."
Diviney said it was through many of Frey's efforts that the shelter was able to evolve from being perceived as a dog pound to the animal-resource center it is today. "I always knew that, if an animal issue was coming before the board, we'd have his support," she said. "For example, he helped pass the county's anti-tethering law in late 2015. It says to the community that animals' lives matter and our government leaders recognize that."
So, she said, "It was an honor to be part of this recognition for him. It's truly well-deserved, and I look forward to working with Michael in the future in his role on the board of the Friends of the shelter."
As for Frey, he said, "I did the things I did because I loved them. Animals have always been a huge part of my life and always will be. I never did anything for the recognition, but I really do appreciate that the Board [of Supervisors] named the building after me. When I think about all the people they could have done this for, the fact that they chose me is very humbling."
If a dog is man's best friend, then certainly Michael Frey is one of the best friends of dogs, cats and other animals. He's advocated for them so much that, on Saturday, the Fairfax County Animal Shelter was named and dedicated in his honor.
After serving 37 years in county government — including six, four-year terms as Sully District supervisor — Frey retired at the end of 2015. And on March 4, family, friends, shelter staff and supporters, former Board of Supervisors colleagues and staff members from his tenure as supervisor attended the ceremony in his honor.
There were speeches, laughs and heartfelt sentiments, plus the unveiling of the sign declaring the building the Michael R. Frey Animal Shelter. Board of Supervisors Chairman Sharon Bulova led things off.
Quoting Charles Darwin, she said, "The love for all living creatures is the most noble attribute of man." She then said, "The compassionate and humane treatment of animals cannot be separated from the quality of life for people. The two go hand-in-hand."
Saying this county has come a long way since the days of the dog catcher and the dog pound, Bulova called Frey a leader and an inspiration in the community for bringing about many positive changes for animals here. "Almost 40 years ago, when Michael first joined county government – first as staff and then as the first elected supervisor of the Sully District – he noted that there was little thought about the humane treatment of animals," she said. "This bothered Michael a great deal."
Bulova said Frey always stresses that it took many hardworking and dedicated people to make progress at the shelter and in the community, fighting for better conditions for the animals. "And that is true," she said. "Before these improvements were made, we had cats in cages in the hallways — and that was not OK"
But Frey, too, campaigned for the animals and, said Bulova, "Today we recognize the importance of Michael's contributions to these monumental changes. Whether it was for dog parks in the community, dog runs for the shelter, recognition of other people's work for animals – like [veterinarian and shelter volunteer] Susan Hall, support for improvements in our animal facility or changes to animal ordinances and laws, Michael was always at the forefront on our board to champion these important causes."
At long last, citizens approved a bond issue and the shelter was renovated. "Just three years ago, we came together for the ribbon-cutting ceremony to celebrate the opening of this beautiful, state-of-the-art animal shelter," said Bulova. "Today, we celebrate one of our community leaders whose vision, dedication and advocacy helped to make these changes a reality."
Addressing Frey directly, she said, "I am so proud to be here today for the dedication of this wonderful building in your honor, Michael. We are grateful for all your years of service to the community and the Board of Supervisors. We are happy to celebrate and to honor you with this fitting tribute to your passion and advocacy for animals with this building dedication."
Supervisor Kathy Smith (D-Sully) said, "It's great to see so many people here to honor Michael because of his commitment to animals. This is a perfect honor for him and for his serving the Sully community for 24 years, as well."
Noting that Frey had a hand in planning nearly everything in modern-day Sully District and did so much for the county, Supervisor Pat Herrity (R-Springfield) called naming the animal shelter in his honor a "no-brainer." He also told the crowd that Frey began his career as chief of staff to his father, Jack Herrity, when he was board chairman, and later for his predecessor, Elaine McConnell.
Listing some of Frey's achievements, Pat Herrity said that, as state chairman of the Stadium Authority, Frey helped bring professional baseball back to Virginia. And, he added, "Michael helped preserve the Centreville Historic District and brought the World Police and Fire Games to Fairfax County and the Udvar-Hazy air and space museum to the Sully District."
"He also served as a great mentor to me, and I'm proud to call him a friend," continued Herrity. "Mike dedicated his life to shaping Fairfax County into the greatest place to live, work and play, especially for our animal friends. He's also been the proud owner of many rescue German Shepherds, Mosby and Marley in the past, and now Boomer. And Mike was largely responsible for making sure the recent renovation of the animal shelter happened.
Gina Lynch, of the Animal Services Advisory Commission, said Frey established that commission and "taught the Board of Supervisors the importance of the humane treatment of animals." She also praised him for pushing the county to adopt a no-tethering law.
Deputy County Executive Dave Rohrer spoke, as well, of the shelter's transition into a better place for animals, and commented on how Pennsylvania-native Frey had helped. However, he teased, "How can a Phillies fan be the person we name something after?"
On a more serious note, Rohrer – the county's former police chief – said, "A community's core values are reflected in how we act – including how we treat animals. Michael's been a leader in that and has earned our respect. He's supported the community in many ways, and we have a bond, unfortunately, with the May 8, 2006 fatal shootings of Det. Vicky Armel and MPO Mike Garbarino. Michael was a huge part of helping lead us through that tragedy, and he still checks on their families. From the Police Department and me, thank you for what you've done, and congratulations."
Current Police Chief Ed Roessler knows Frey also as a friend and neighbor and told him, "Your vision for this community created a legacy we're trying to replicate in south county. And what an honor to have a building named after you. You've created something for other leaders to follow, and we're blessed to have had your service."