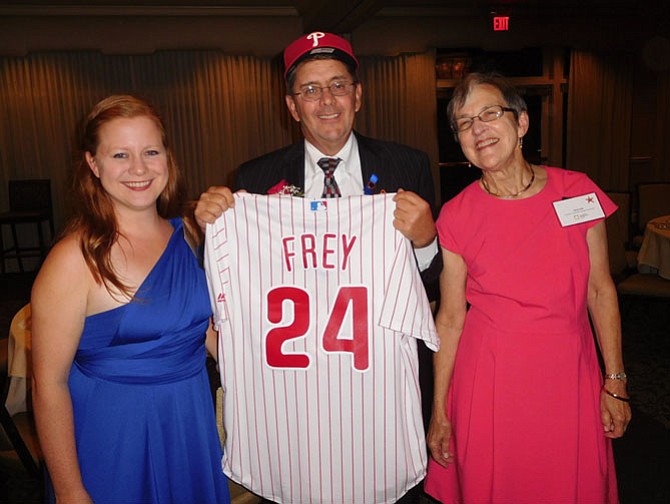 Heartfelt accolades, fond memories and good-natured ribbing marked Friday night's Roast and Boast for Supervisor Michael R. Frey (R-Sully). It was held at the International Country Club in Chantilly and put on by the Centreville Immigration Forum.
It enabled the CIF to thank him for his unwavering support of the Centreville Labor Resource Center (CLRC) which enables local immigrants to obtain jobs in a safe environment. It also gave the nearly 200 people attending the bi-partisan event the opportunity to tell Frey, 59, how much they appreciated all he's done during his 24 years as the Sully District's first and only supervisor.
After serving 37 years in Fairfax County government — including six terms in Sully — in January, Frey announced he'd be retiring at the end of this year. So on Sept. 18, a roomful of dignitaries, friends, government officials, church members, fire and police personnel, plus business, civic and youth-sports leaders gathered to honor him.
"Michael, you've done something no one's been able to do for years," said U.S. Rep. Gerry Connolly (D-11). "You've brought Democrats and Republicans together." Noting how he served with Frey five years on the county Board of Supervisors — Connolly was the former board chairman — Connolly said Frey "brought disparate voices together" there, too.
He also said the preservation of the historic buildings in Centreville's Historic District "wouldn't have happened" without Frey's efforts. And when two police officers were killed at the Sully District Station in May 2006, said Connolly, "Michael was a calming voice and led the community in nightly vigils. He showed leadership and commitment to the community, and that says something about his character."
Connolly called Frey the "quintessence of what it means to be a local governor and tend to his community. We're all fortunate he served for 24 years as Sully's supervisor." In recognition, Connolly had Frey's name placed into the Congressional Record, and he presented Frey with the document at Friday's dinner.
Keynote speaker was WAMU/NPR reporter Armando Trull, an expert on Latino communities in the U.S. He spoke about Central American immigrants in the Washington Metropolitan area and, noting that Frey "looks at facts and solutions," he praised the supervisor's support of the CLRC.
Former congressman and Board of Supervisors Chairman Tom Davis was master of ceremonies. He served on the board from 1995-2008 and congratulated Frey on retiring "undefeated and un-indicted."
Another past board chairman, Kate Hanley, commented on how much Frey likes dogs and how "he invited every animal group possible to come to the board." She also recalled how she became unexpectedly popular with some canines one day after Frey hid dog treats in the pocket of her jacket.
Hanley then listed some of the major projects accomplished during Frey's tenure as Sully's leader. They included construction of the new Centreville and Chantilly regional libraries, Sully District Police Station and Governmental Center, West Centreville Fire Station 38 and the Routes 28/29 Interchange, as well as his support of open space. Centreville also got a dog park and the Cub Run Rec Center under his watch.
"I have for you a page from an old, board document saying, 'This page left intentionally blank,'" Hanley told Frey. "Michael, your record isn't blank and you'll leave a hole in the Board of Supervisors. Thank you for your service and for always putting your constituents first."
Next, current Board Chairman Sharon Bulova said she'll miss working with Frey. "He's always been a voice of reason on the board," she said. "He's an independent thinker and votes his conscience and for what he believes is right. Mike, you've done a fantastic job as Sully District supervisor."
She then presented him with a sketch she drew of the past two terms of supervisors. Afterward, Davis quipped, "And all those years, I thought you were taking notes."
Also retiring from the board is Supervisor Gerry Hyland (D-Mount Vernon). Describing Frey as "bright, energetic, nonpartisan, fair and a straight shooter," Hyland said, "He's been the common-sense board member. He listens to all the rhetoric and boils it down to a pithy observation and analysis. He's the moral, ethical, bottom-line conscience of the board."
Unable to resist a few puns, Hyland said that, as a supervisor, Frey's reputation has remained "unsullied. And our Animal Shelter wouldn't be the place it is today without Michael's dogged support. It's been truly an honor and a privilege to serve with you, my friend. Be safe, be healthy and be happy."
Supervisor Pat Herrity (R-Springfield) said he's known Frey 37 years and "there's nobody who knows more about this county than him. And he's responsible for what the Sully District is today." Herrity noted that, as state chairman of the Stadium Authority, Frey helped bring professional baseball back to Virginia. And, he added, "Michael's also the reason the World Police and Fire Games were held in Fairfax County."
Herrity said Frey has a love for public safety, youth sports and public service and has been a longtime friend and mentor to him. Saying "I wouldn't be where I am today without him," Herrity then gave Frey a special, Springfield District coin.
Capt. Bob Blakley, commander of the Sully District Police Station, said Frey's willing to listen to everyone. "And after the events of May 2006, Michael stepped forward as a true leader," said Blakley. "His response to that situation will be remembered forever."
"He's someone we can talk to about the issues, and I appreciate his guidance, advice and advocacy for animals," continued Blakley. "On behalf of Chief [Ed] Roessler and the Sully District Station, I present you with a station coin and a pin that the officers wear on their uniforms every day — because you're as much a part of them as anyone."
Also speaking was Al Dwoskin, who owns Centreville Square Shopping Center. He donated one of his storefronts for the worker center and pays for utilities while the CIF runs it. "Michael Frey and Centreville are synonymous, and he's been a friend of development here," said Dwoskin. He also credited Frey's courage and leadership in the face of a hostile crowd of residents who were initially against the center being here. "He was remarkable — the epitome of what a leader should be," said Dwoskin.
Pleased that Frey will still remain active in the community, he said, "Mike's a special person and it's been a pleasure working with him and seeing what he's done in the Sully District."
Sully School Board representative Kathy Smith, plus School Board members Ilryong Moon and Ted Velkoff also attended. Smith called Frey "the best partner the School Board could have. He cheers on the teams at sports events and connected kids in Chantilly, France with kids at Chantilly High. It's not always easy to be a public servant. Thank you so much for your commitment; you've made Centreville a wonderful place to live."
SYA President Gary Flather said Frey's always been a "huge supporter" of CYA and SYA sports which, together, represent some 30,000 children. He and CYA President Ralph Wills also praised Frey for helping their organizations form partnerships with others to fund field construction. They then gave him a scrapbook containing photos of every field he had a hand in creating.
Cheryl Repetti, president of the Historic Centreville Society, discussed how Frey enlisted citizen support for historic preservation. She said it led to the expansion of the Centreville Historic District, preservation of the Spindle/Sears House and the establishment of Historic Centreville Park.
And while Frey always acknowledges the citizen groups who've helped, said Repetti, "I know firsthand the Spindle/Sears house wouldn't be here today" if not for his involvement and dedication. "That's only one example of many I could share," she said. "Good leadership is about using power to do good things, and Michael Frey was, and is, a good leader."
Frey's chief of staff, Mike Coyle, spoke of Frey's love of animals. He always brought his dog to work with him and, said Coyle, "His office was an Animal Shelter annex with guinea pigs, a chinchilla and one, large German Shepherd." And, said Coyle, a testament to Frey's leadership style is the fact that many of his staff members have been with him for years, with little turnover.
Calling him an "uncommon public servant," CIF President Alice Foltz presented Frey with several gifts on behalf of her organization and the labor center. They included golf balls and tees, travel brochures and an American flag blanket handmade for his dog, Boomer, by one of the center workers. And knowing Frey's love of the Philadelphia Phillies, they also gave him a Phillies baseball cap and jersey with the number 24 on it for his 24 years as Sully supervisor.