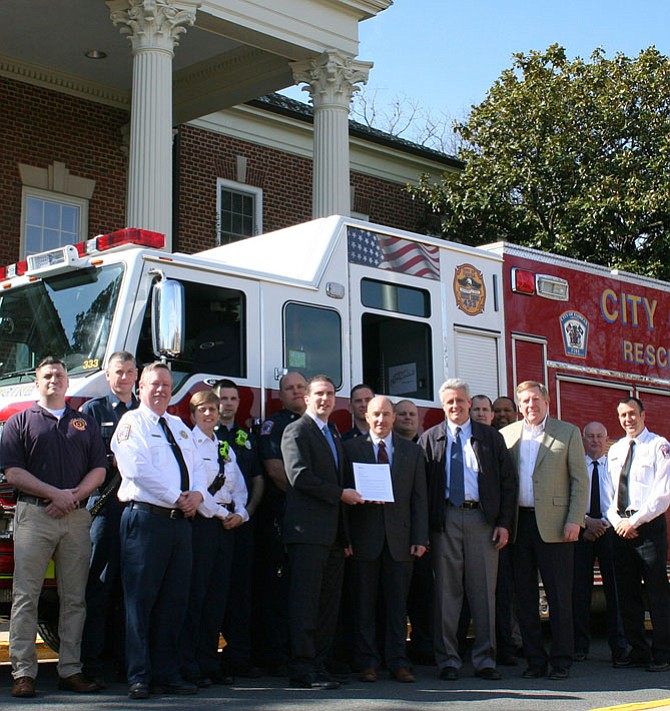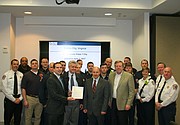 When John O'Neal came to the City of Fairfax a year ago to become its new fire chief, one of his objectives was to improve the City's Insurance Services Office (ISO) fire-protection rating. And true to his word, he's not only bettered it, but turned the City's Fire Department into one of the highest-ranked departments in the nation.
On a 1-10 scale, with 1 the best and 10 the worst, the City had an ISO rating of 3, and O'Neal wanted to reduce it to 1. And the department did so via training recommendations, having the proper apparatus, demonstrating compliance with ISO standards through better administrative record-keeping, and doing equipment and apparatus tests.
The ISO notified City Manager Bob Sisson last Tuesday, Feb. 28, and the news was shared and celebrated during that night's City Council meeting. "Our department is now in the top 1 percent of the 48,000 fire departments across the country," O'Neal told the Council. "And it's one of just seven in the state and approximately 250 in the U.S. with this rating."
The ISO collects information on municipal fire-protection efforts in communities throughout the U.S. By classifying communities' ability to suppress fires, ISO helps them evaluate their public fire-protection services.
"It examines the fire department's training program, amount of equipment and distances emergency vehicles travel to answer calls," explained O'Neal. "It also looks at the type and size of buildings the department protects in the community and evaluates its ability to do so."
To arrive at its ranking, the ISO evaluates a city's dispatch center, water supply and fire department, with the quality of the fire department accounting for 50 percent of the score. The City of Fairfax earned 93.07 points out of a possible total of 105.5, earning a nearly perfect score in dispatch capabilities and scores in the highest percentile for water supply and fire/emergency services.
RANKINGS are reviewed every five years, and this one will go into effect June 1. And according to the ISO, the City's public-protection classification of 1 represents "an exemplary fire- suppression program."
At last week's Council meeting, O'Neal thanked the past and present City mayors and Council members, plus Sisson, for their continued support of public safety here. He also expressed his appreciation to all the staff members who worked on this project.
"I think the importance of this is that it's absolutely critical because the Insurance Services Office rates communities on how well they are able to respond to fire emergencies," said Mayor David Meyer. "And the insurance companies use that rating to determine the premiums for both commercial property and residential property. The City has received the highest rating possible, and we would hope the insurance industry will make adjustments to premiums [accordingly]."
As O'Neal noted, said Meyer, "We're one of only seven municipalities in Virginia to receive this level of rating — [and] that's out of 133 jurisdictions — so that's quite a distinction. And we need to give credit to the Fire Department, as well as to Fairfax Water and the Fairfax County dispatch 911 system, working together to create this level of safety within our community."
Meyer called the new ranking "a fine example of the quality of the professional staff and municipal services that [City taxpayers] receive for [their] tax dollars and how that quality results in savings, both to our business community and to our residents. So I want to thank the Fire Department for all their work on this [achievement]; this is outstanding."

HAPPY TO HAVE accomplished this goal, O'Neal said doing so also demonstrates the City Fire Department's compliance with national standards and quantifies its performance levels for the citizens and elected officials. "Within my first two months here, we took steps to address the ISO standards for training, apparatus equipment and apparatus testing, and to improve our documentation of response data," he said. O'Neal also stressed that he didn't do it alone.
"The lowering of the ISO rate was truly a team effort with our internal personnel, including Assistant Chief Andrew Wilson, Battalion Chief Peter Rhoads, Capt. Shawn Dunstan and Lt. Ryan Hilt, and our external partners at Fairfax County 911 and Fairfax Water," said O'Neal. "I am very pleased with the results of our evaluation by the ISO. And we are already developing a plan to improve in a few areas where we scored lower points than desired, for our next evaluation in five years."