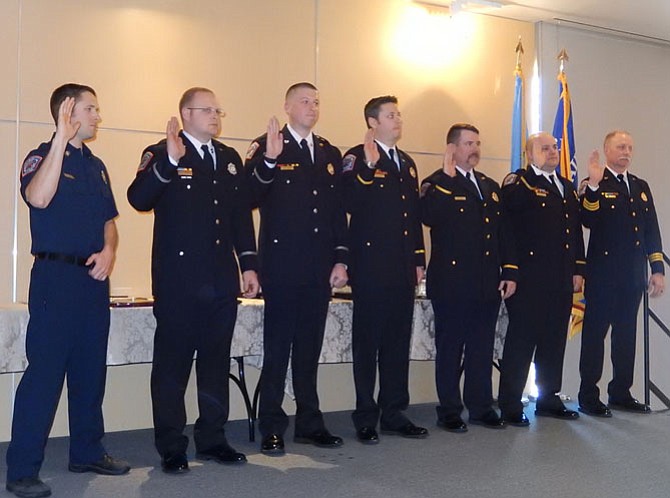 When it comes to fire protection, the City of Fairfax is in good hands. That point was underscored by the caliber of those honored during the City Fire Department's annual awards ceremony, March 5, at the Sherwood Center.
"This is one of the highlights of the year," said Fairfax Mayor David Meyer. "On behalf of City Council and the citizens, thanks for all you do for us. Your professionalism is unexcelled to provide services for us every day. You engage citizens with respect and compassion and come into contact with them in their moments of greatest crisis and vulnerability."
To the firefighters' families and significant others, Meyer acknowledged all the school plays, birthdays and other events they must often go through without their loved ones. But, he said, "They're at their best and safest when they know they have your support. So my heartfelt thanks to you, too."
Welcoming attendees, Fire Chief John O'Neal said, "It's truly an honor and a privilege to serve our citizens and recognize the good deeds and heroic work our career and volunteer members perform on a daily basis." He thanked the City for its ongoing support, plus everyone associated with the Fire Department.
"As a lifelong firefighter, I cannot image any better career than ours, where every day we have the opportunity to help people and help make the community a better place," said O'Neal. Master of Ceremonies Walter English, president of the Professional Firefighters and Paramedics union, Local 2702, then oversaw several ceremonies. They honored promotions, new firefighters being sworn in and others being recognized for their years of service.
Next, O'Neal presented the Chief's Award to Asst. Chief/Fire Marshal Andrew Wilson. "He knows everyone in the City by name, I believe, and their dog's name," said O'Neal. "He can be seen any given day doing work for parks and rec, public works or other repair or construction work around the City and is our resident water-park expert."
O'Neal said Wilson was instrumental in the building of the Department's training center, contributed to the City and state's fire-code safety and improved the City's Insurance Services Office (ISO) Building Code Effectiveness rating. "I know Chief Wilson truly loves our City and strives to keep our citizens and firefighters safe in everything he does," said O'Neal.
HONORED as 2016 Officer of the Year was Capt. Jon Brantley. "He is Mr. EMS," said O'Neal. "His nomination form cites Jonathan's commitment to excellence, his work on improving our already excellent EMS system, contributions to the region and collaboration with our receiving hospitals. I work with Jon daily and witness his dedication to the Department, EMS and his family. I cannot think of a better role model for our aspiring officers and a more dedicated public servant than Jon."
Asst. Chief/Operations Director Andy Vita presented the Career Firefighter of the Year award to Master Technician Keith Virts. "Our firefighters, fire medics and technicians are continually working above their job classification by managing programs that, in neighboring departments, are the responsibility of chief officers with a floor full of administrative staff," explained Vita. "They do this work not for compensation, but for the pride in knowing they are personally making a difference in the lives of the citizens of this great City."
Currently assigned to B shift, driving Rescue Engine 433, Virts was honored for "the tremendous effort he puts forth daily," said Vita. "His continued dedication to the Department and desire to increase [its] effectiveness and service to the public has never been more apparent than this past year. He's vigilant [about] vehicle and equipment operation, upkeep and maintenance and is the first person called whenever there's a question."
Master Firefighter Christopher Cubbage, Lt. Jason Gorres and Firefighter Deborah Wilson were also nominated for Firefighter of the Year and received Outstanding Performance awards.
Employee of the Year went to four people – Rob Goodman, Ricardo Herrera, Troy Bennett and Phillip Wortman. In mid-2016, The City became responsible for Fire Station 3's maintenance, repair and upkeep. Since then, these four members of the City's Public Works crew have worked tirelessly to ensure the station is safe, functional, up-to-date and attractive.
But it's not easy. Built in the 1960s, the building's heavy-duty use means it's beginning to show its age. "Many of the major components and systems have needed repair or replacement," said English. "But Rob, Ricardo, Troy and Phillip have been nothing short of fantastic. [Because] of their efforts, there has been major improvement to the building's condition."
Volunteers were also recognized, with Volunteer Chief David Bryson presenting two awards. Recognizing someone who often goes above and beyond expectations and sets an example for others in the Department, he gave the 2016 Chiefs Award to Firefighter Laura Katzif.
He said she took charge of several tasks that improved the Department and its members. She enrolled in a paramedic course involving night and weekend classes, plus spend countless hours studying. And she was also one of the top three volunteers logging the most riding hours last year with 277 hours. "Most of these hours ensured there was a critical, fourth person on the tower ladder and helped save the City of Fairfax thousands of dollars in overtime costs," said Bryson. "We are stronger and better today because of [all you do] and we cannot thank you enough."
He presented the Volunteer Officer of the Year award to Sgt. Kyle Witte. Bryson said Witte assists with new member training and plans and sets up EMT classes. He also plans and coordinates an operational training program enabling members to attain their required 40 hours of fire-suppression, rescue and EMS training each year.
"His can-do attitude and ability to take on any assignment helps the FVFD Chief and others focus on other key activities," said Bryson. "A great example was in December when Kyle stepped up at the last minute to manage the kitchen for our annual pancake breakfast with Santa."
FIREFIGHTER Andrew Pfister received the Volunteer Firefighter of the Year Award from VFD President Bryan Sullivan. He said Pfister continues to learn and refine his knowledge and skills. He's also taken on an informal leadership and training role, using his experience to help new members integrate in the firehouse.

"Andrew is often one of the first to volunteer to fill the fourth seat on the tower if he sees it's empty — staying an extra shift if no one relieves him — and signs up for additional shifts on holidays and weekends," said Sullivan. "He also enjoys providing coverage for career staff when leave and trade aren't available, knowing he's helping someone attend a family or special event or training course."
Calling him the station's "official Sparky," Sullivan said Pfister brings joy to children and adults alike at special events.
The VFD President's Award went to Joe McDonald, and Sullivan said his efforts have benefited not only the volunteers, but the career staff, too. "Joe always approaches the Department with a get-things-done attitude and takes great pride in our Department," said Sullivan. "He managed the EMS billing project, [even] acquiring new skills to complete the task. He never complains and always has a smile and greeting ready. When discussing this award with him, his response was, 'I wish I could do more.'"
Joe Waters received the Meritorious Service Award, and Henry Requejo was honored with the Local 2702 Altruism Award. The Life Saving Award went to Lt. John Jeniec. On Oct. 22, 2016, he and his family were attending an event at GMU's Eagle Bank Arena when he got an emergency text that someone there was unconscious and undergoing CPR. Jeniec rushed over to the patient, in cardiac arrest, and helped perform CPR and use the defibrillator.
The patient was delivered to the hospital with a pulse and respirations and, after a several-day stay, was discharged and expected to recover fully. Said English, "The positive outcome of this patient was due in part to the quick and unselfish actions of Lt Jeniec."