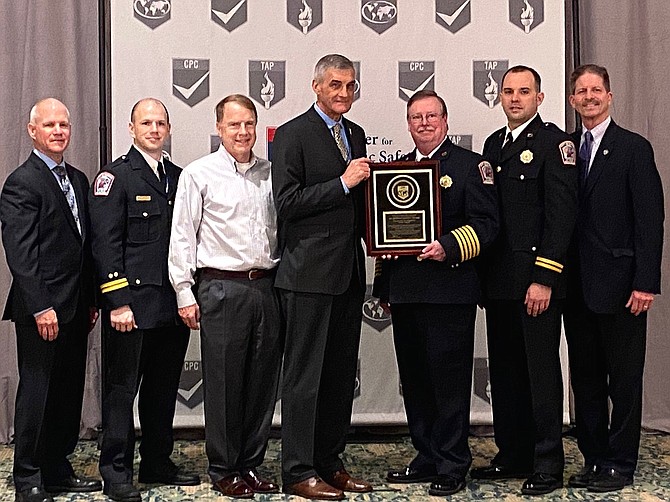 When John O'Neal became Fairfax City's fire chief, in January 2016, one of his goals was for the fire department to receive international accreditation. Fast forward four years, and that hope has now become a reality.
On March 3, in Orlando, Fla., the City of Fairfax Fire Department received Accredited Agency status with the Center for Public Safety Excellence (CPSE). This prestigious recognition was given for meeting the criteria of the Commission on Fire Accreditation International's (CFAI) voluntary, self-assessment and accreditation program.
"This culminates over three years of work by our command staff, program managers and personnel to document and assess our risks in the community and our response performance," said O'Neal. "We also developed a comprehensive, five-year, strategic plan and demonstrated compliance in 10 major categories with 252 performance indicators."
PLEASED with his department's achievement – and everyone's efforts that made it possible, he said, "We are very proud of the work that our members completed working towards this continuous-improvement model, as well as the great service we provide to the community daily."
O'Neal first learned about the accreditation program in 2001, when he became deputy chief of the Jacksonville, N.C. Fire Department. It was a busy, active department, and it was where O'Neal became aware of CFAI – the national accrediting agency for the U.S., Canada and Department of Defense fire services.
"The fire chief wanted that department to gain accreditation, so I moved that project forward and we achieved it," he said. O'Neal then became involved with that agency as a peer assessor and peer team leader and, later, an agency mentor. In that position, he's traveled across the United States. evaluating fire departments according to Commission standards.
In 2011, he became chief of the fire department in Addison, Texas, in Dallas County. Two years later, thanks to O'Neal's efforts, his fire department became just the fifth in Texas to earn international accreditation. So it was only natural that, once he came to Fairfax City, he wanted the fire department here to reach the same pinnacle.
Currently, 270 fire departments in the U.S., Canada and U.S. Department of Defense installations across the world are accredited. This figure represents just 11 percent of the American population and 17 percent of the Canadian population being protected by an accredited fire department. And, added O'Neal, "Fairfax City is also joining 87 fire departments across the U.S. that hold both the ISO [Insurance Services Office] Class 1 Rating and Accredited Agency status."
Fairfax Mayor David Meyer is also pleased with this accomplishment.

"I commend the women and men of our Fire Department for this significant achievement," he said. "After many months of self-study, visits by outside review panels, and business-process and operational improvements, our Fire Department achieved this coveted award."
"This puts our firefighters and rescue crews in an elite echelon of first responders," continued Meyer. "Our citizens have always received superior services from our Fire Department. This accreditation affirms this and ensures that we will continue to have the superior services that have become a signature part of our City."
HE ALSO ACKNOWLEDGED the hard work, dedication and tireless efforts of O'Neal, Fairfax Fire Captains Shawn Dunstan and Brian Orndoff, and the leadership of Local 2702 of the International Association of Firefighters. "They worked as a team to create a superior application for the Commission on Fire Accreditation International," said Meyer.
"The organization was impressed with the Department's acquisition of the new firefighting apparatus, enhanced safety operations for our personnel and a new Fire Station 33 under construction," he added. "With this professional recognition, we affirm that we will continue 'best-in-class' services to protect the safety of our citizens and the residential and business properties in our City."