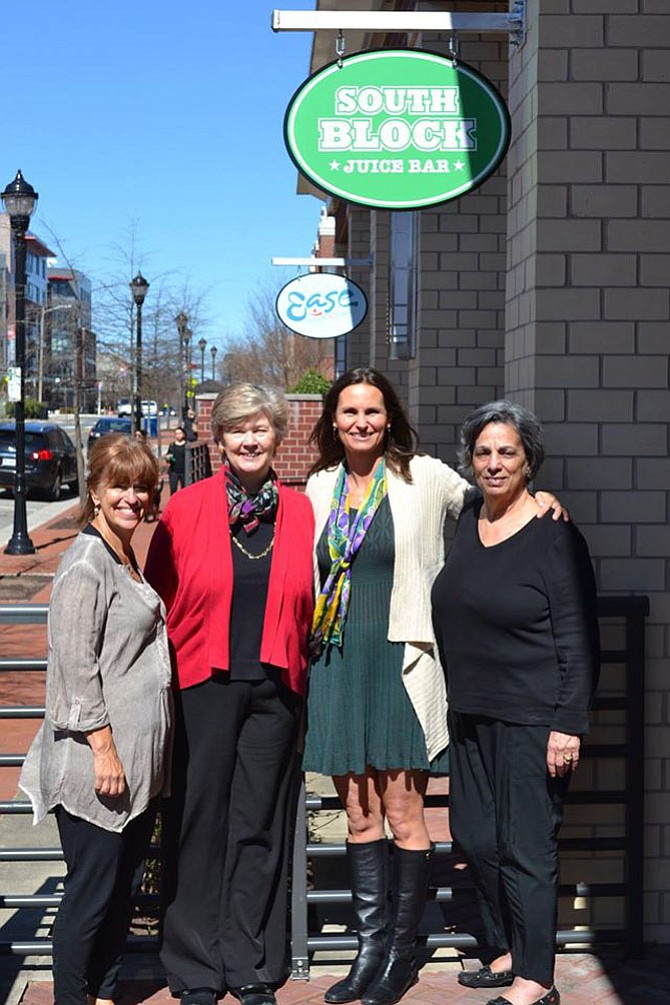 Yoga for all, and the world would be a better place. Although not everyone may agree with this statement, this is the belief at Ease Yoga & Cafe located at 3051 Mount Vernon Ave. in the wonderful neighborhood of Del Ray, Alexandria.

On Wednesday, March 8, the hard-working staff at Senior Services of Alexandra took up the offer to take a break from caring for many of the seniors in Alexandria to instead take care of themselves. The Ease Yoga & Cafe staff were excited for a number of the Senior Services staff who, ".... don't really like yoga" to make their way into the studio for a yoga class.
The studio is owned by long-time resident and mother of three, Tara Casagrande. With a great location at the end of Del Ray close to Arlandria, Ease Yoga & Cafe offers ample parking, highly trained teachers, beautiful sunlit studios, a lovely wrap around porch, a welcoming, nurturing and non-competitive environment as well as delicious South Block smoothies, juices and bowls for after yoga (or anytime between 7 a.m. - 5 p.m. weekdays and 9 a.m. - 5 p.m. weekends).
The Senior Services staff left the class feeling well nourished in mind, body and soul after a gentle yoga class led by Becky Sutton, Ease Yoga & Cafe's manager of customer service and all things Yoga. These gentle yoga classes are offered Monday, Wednesday and Friday at 9:30 a.m. and Saturdays at 8 a.m.

Since opening less than two years ago Ease Yoga & Cafe has expanded its schedule to include close to 30 classes per week. Some of the classes offered include Kid's Yoga, Yin Yoga, Men's Yoga, Beginner Yoga, Warm Yoga, Rope Wall Yoga, Flow & Meditate and many more. For a list of classes and workshops, you can visit www.easeyogacafe.com or follow Ease on Facebook, Instagram or Twitter.
Working together with Senior Services of Alexandria, Ease Yoga & Cafe is offering a senior discount to seniors in Alexandria as the newest business to participate in the Silver Service Card Senior Discount program. Ease is offering $10 off of the Ease New Client Welcome Package which typically sells for $50 for five classes. Therefore, for only $40, seniors can try out five classes at Ease Yoga & Cafe (classes are good for six months). One can take advantage of this discount by entering the code SSA upon purchase.
To view the list of businesses participating in the Silver Service Card go to SSA's website at seniorservicesalex.org. If you are a senior 60 and over and live in the City of Alexandria and don't have your Silver Service card call SSA at 703-836-4414.