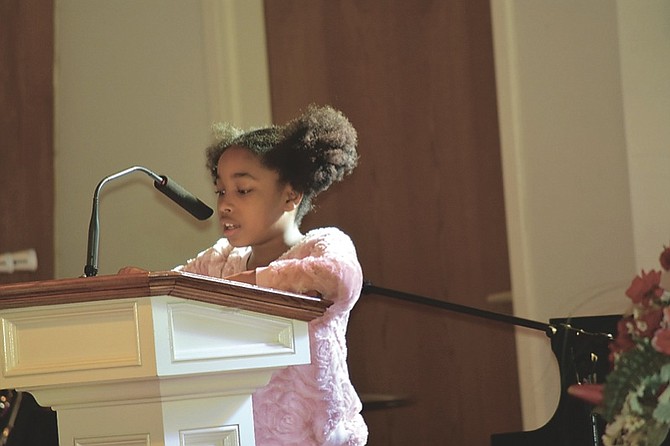 The annual Youth Concert, hosted by Chantilly Baptist Church earlier this month, raised funds for the Children's Home of Virginia Baptist, Inc., Children's Development Center in Petersburg, Va.
The Children's Home is a "Legacy of Love," according to the home's director, Dr. Jean Cobbs.
The Youth Concert had more than 100 children and youth who ministered through prayer, song, step and liturgical dance. Youth groups from Baptist churches in Northern Virginia united around the theme of "Children Helping Other Children Who Are in Need."

Founded in 1947 by Dr. Charles Dodd as an orphanage for predominantly underserved children of color, the Children's Home is owned by the Baptist General Convention, and faith based organization, which is comprised of churches, ministries and members throughout the region.
Officially opened on Dec. 7, 1947, the home aims to offer a sense of stability to the children in its care by providing the same educational, social, cultural and religious opportunities afforded to other children, according to the Children's Home website.
While the home continues to offer free services to the surrounding communities, such as a daycare and before and after school programs, it struggles with high mortgage and bill payments as well as an inability to repair or replace aging building infrastructure.
Following the 1st annual Youth Concert held in 2016 at the First Baptist Church of Vienna in 2016, the Children's Home of Virginia Baptist received an outpouring of love and support including monetary donations. These and several other contributions have made it possible for the establishment to keep their doors open to serve those most in need, according Cobbs. She also recognized the Rev. Gregory L. Spurlock, pastor of Oak Grove Baptist Church of Sterling and board chair for the Children's Home, for his continued commitment and dedication to the home. Cobbs encouraged all, to continue to support Spurlock in his efforts to keep the Children's Home in full operation.
Many families depend on the services offered by the home, particularly if there is only one parent or both parents have to work.
Diana C. Hodge, Area D vice president, along with other members of Area D of the Baptist General Convention of VA, Women's Ministry were instrumental in organizing the youth concert.
"We wanted to get everybody involved," Hodge said. "We wanted to let them know about the seriousness of the Children's Home and that we all need to step up and do more."