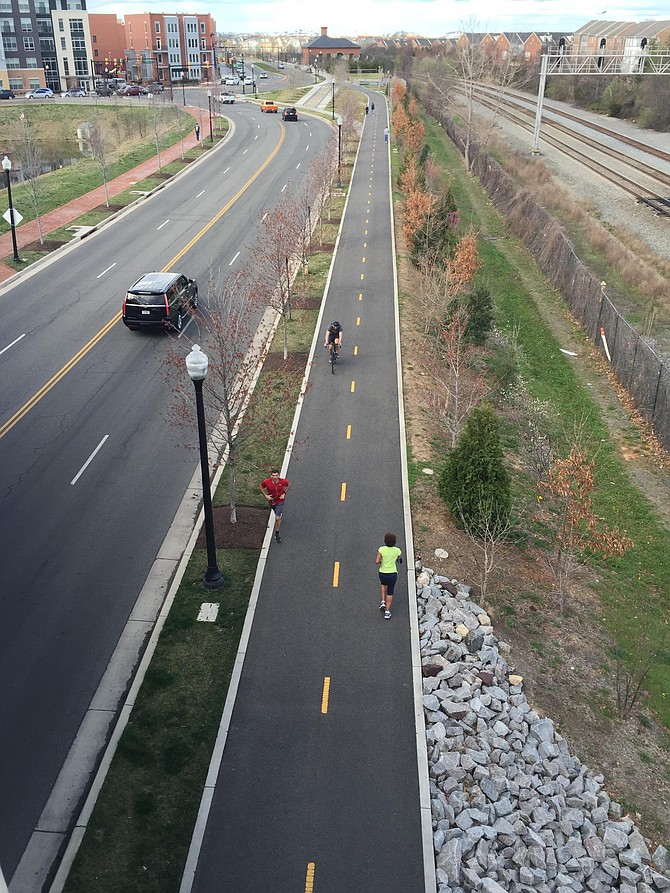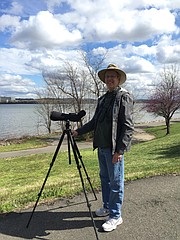 Strap on those running shoes and pump up those bike tires, spring is here.
April 8 is the national launch of trail season. In Northern Virginia, local trail advocacy group Rails-to-Trails Conservancy will be hosting a free run event at Bluemont Park in Arlington. The park is at the intersection of the Washington and Old Dominion trail and Four Mile Run. Registration opens at 8 a.m. and the race begins at 9 a.m. Activities like face painting, music, and local exhibitors will continue in the park until noon.
"It's the start of the spring season, so it's time to shake the dust off the trails," said Brandi Horton, vice president of communications for Rails-to-Trails Conservancy. "It's all about celebrating trail system we have, how important that is to people's lives. People like trails, but when we have to make decisions about investments in infrastructure and how they see communities designed, important to show that trails are a piece of that future."
Horton's favorite is the Washington and Old Dominion Trail, which starts just north of Four Mile Run.
"W&OD is a hall of fame trail; designated nationally as a stand out. In part for its length, in part for trail user experience, and for its connections. It extends from Alexandria into Arlington and further out west for over 45 miles. It's a wonderful rail trail that connects to a lot of places," said Horton.
Bike and pedestrian trails cut through Alexandria and across Northern Virginia, connecting to broader networks that stretch up and down the east coast. Some are frequently packed with bicyclists and pedestrians, like the Mount Vernon trails, while riders traveling on the scenic Holmes Run Trail often have long stretches of lush, forested trailway all to themselves.
"There are many great trails in this city," said Raymond Hayhurst, Complete Streets coordinator for the City of Alexandria. "The Potomac Yard trail is one of the newest. It's very useful, running from Braddock up to Crystal City parallel with the metro."
Hayhurst also noted that southern and western Alexandria have some useful sets of trails, like the Holmes Run Greenway and the Eisenhower trail, which connect and run from Eisenhower Street and Telegraph Road all the way to Columbia Pike.
"The trails are going to be more crowded as it gets warmer," said Hayhurst. "All trail users should follow good trail etiquette. Bikers: call out or use a bell when passing. Pedestrians: walk in a safe and predictable manner. Ideally you should wear light colored clothing or reflective gear, which can be helpful.
Bennett Moore, owner of Big Wheel Bikes on The Strand, says the busiest trail he serves in the area is the Mount Vernon Trail which runs from Rosslyn, through Old Town, down to Mount Vernon in Fairfax County.
"Watch out for other riders and pedestrians," said Moore. "The biggest danger are the wooden bridges throughout the trail. This time of year, they can be ice-slick. I've heard of plenty of people wiping out there."
Moore says the Mount Vernon trail a great ride, but if bikers in the area are interested in a longer alternative route, he recommended riding up to the Key Bridge, connecting with the Custis Trail, riding to where it meets up with the Washington and Old Dominion trail, and taking that to end back in Old Town. All in all, Moore said it's a roughly 24 mile trip.
From Old Town, Moore also said riders could easily get across the Woodrow Wilson Bridge into Maryland, where they can turn north and head through Oxen Hill Farm up into D.C. via the Anacostia Trail.
For anyone pulling their bike out of a long winter storage to take it for a spin, Moore encouraged riders to fill up their tires and check to make sure all the gears work properly. Moore added that it wouldn't hurt to take it by a local bike shop and get it tuned up before racing out into the spring.
Trail day opening events can can be found at railstotrails.org