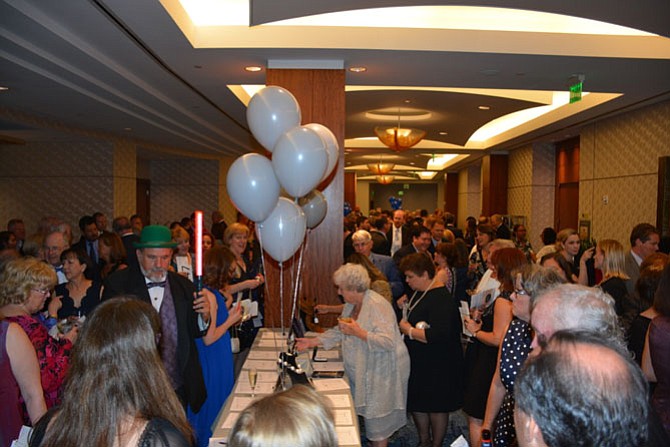 Over the next 10 years, Good Shepherd Housing and Family Services would like to add 150 units to the number it offers to clients struggling to find affordable housing in Fairfax County.
That goal triples the Mount Vernon-based nonprofit's current rate of expansion in residence acquisition.
Good Shepherd Housing is one of the only programs in the county assisting with providing affordable, permanent, community-based housing, President and CEO David Levine said at the organization's "Transforming Lives" gala on April 29. The evening event was held at the Westin Alexandria.
"These people are our neighbors," Levine said, "you are truly helping our neighbors."
Levine said GSH currently manages about 90 units in Fairfax County. They're able to control the rent and are immune to real estate tax raises due to being a non-profit.
In addition to housing assistance, GSH also provides budgeting counseling, emergency services, children's resources and other services.
Results of the 2017 HUD Point-in-Time Count of homeless individuals showed there were 964 in Fairfax County as of January this year. That represents a 47 percent decrease since 2008.
"This is news to celebrate," Levine said, thanks to the "collective will of our community to solve homelessness."
The gala began with a silent auction and cocktails, before guests proceeded into the ballroom for the dinner program.
On the evening, GSH raised more than $260,000, according to development and communications director Candice Bennett. The organization operates on a $2.5 million annual budget.
During the program, several speakers said how important permanent housing is, particularly for children, to not be moving all the time. There are 65 youth currently in Good Shepherd Housing units.
Adult client Mary (GSH doesn't release last names to protect privacy) shared some of her personal experiences of homelessness: living out of her car, getting ready for work in restaurant bathrooms, etc.
Before she became connected with GSH, "it was the end of the road for me," Mary said. She was interviewed by Krysta Jones, founder of the Virginia Leadership Institute.
"I needed that little push," said Mary, with which Good Shepherd Housing helped her. With permanent housing, she added, "I can feel good about myself."

For more information, visit www.goodhousing.org.