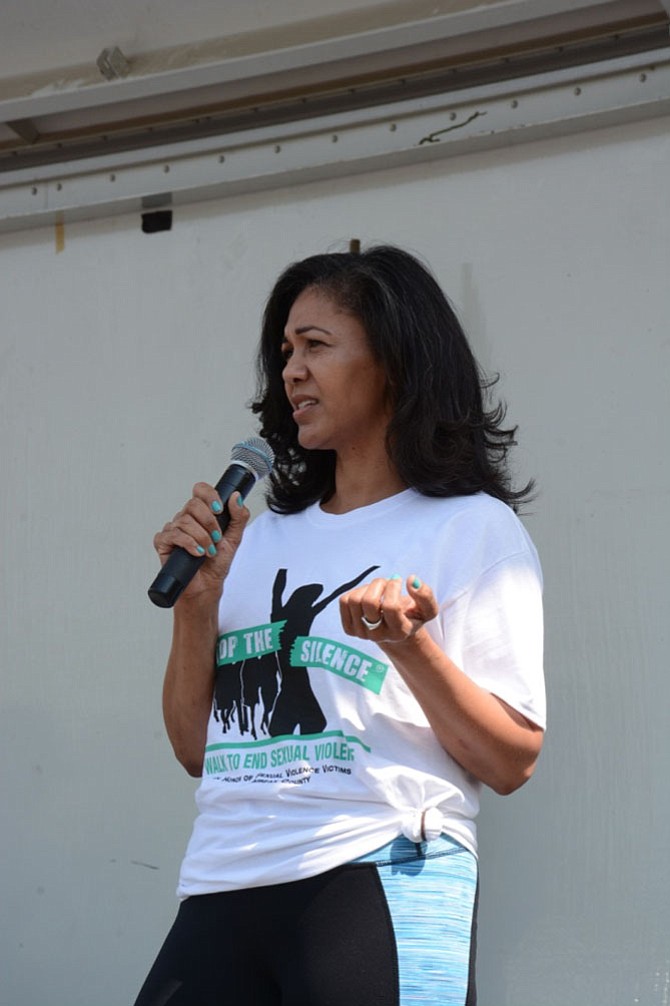 Four-hundred ninety-seven. That's the number of sexual assaults estimated to have occurred but went unreported in Fairfax County last year. According to the Fairfax County Police Department, police received 276 actual reports of sexual assault in 2016, almost 17 percent more than the previous year.
Police say a little more of half the reported assault cases have been closed successfully; but the unreported cases remain a challenge, and an opportunity.
Awareness and community engagement have been stressed again and again by FCPD and its chief, Edwin Roessler. To raise community awareness of domestic violence and sexual assault, vehicles in the FCPD, Fairfax County Fire & Rescue, and Sheriff's Office will all be adorned with teal ribbon magnets to support and remember victims of sexual assault.
And on Saturday April 29, Fairfax County first responders joined the county's Office For Women and Domestic Violence Services at their third annual "Stop the Silence, Walk to End Sexual Violence" event, held at the Government Center in Fairfax.
"We want to stop the silence, stop the shame," said Yolanda Thompson, a program manager for the Office for Women. Speaking on the stigma that often keeps people from discussing sexual assault or domestic violence with each other, or reporting it to police, she said, "We don't do this to other victims of crime."
Sexual assault happens to people regardless of their age, sex or gender, Thompson said. That's why a theme for the walk was "Engaging New Voices," bringing in men to the discussion as well as women, seniors, teenagers.
Capt. David Smith, commander of FCPD Major Crimes division, said when he first came in as an officer and heard a tape of a sexual assault taking place, he wanted nothing to do with such a "horrific" crime.
But 15 years later, Smith found himself working with the sex crimes unit. The passion and love his colleagues had for their work, Smith said, helped make the job the "best ever."
"[Sexual assault] is not supposed to be talked about," Smith said. "That's been the problem."
BEFORE THE WALK kicked off that Saturday morning, the roughly 100 attendees visited information tables containing health resources from crisis counselors to mosquito-fighting.
To get everyone warmed up for the walk, Maricarmen Smith led a brief Zumba dance class. Smith's mother Gretchen Soto, another Office for Women program manager, kicked off the walk with Thompson.
The walkers followed a route around the back side of the government center and lasted about half an hour. Finishing back near the front of the complex, they walked past 497 small flags pushed into the ground: one for each of the estimated unreported sexual assault cases from 2016.
Fore more information, visit www.fairfaxcounty.gov/ofw/. FCPD encourages anyone who may be experiencing abuse of any type to "Make the Call." There is a 24-hour hotline for domestic violence and sexual assault victims available at 703-360-7273.