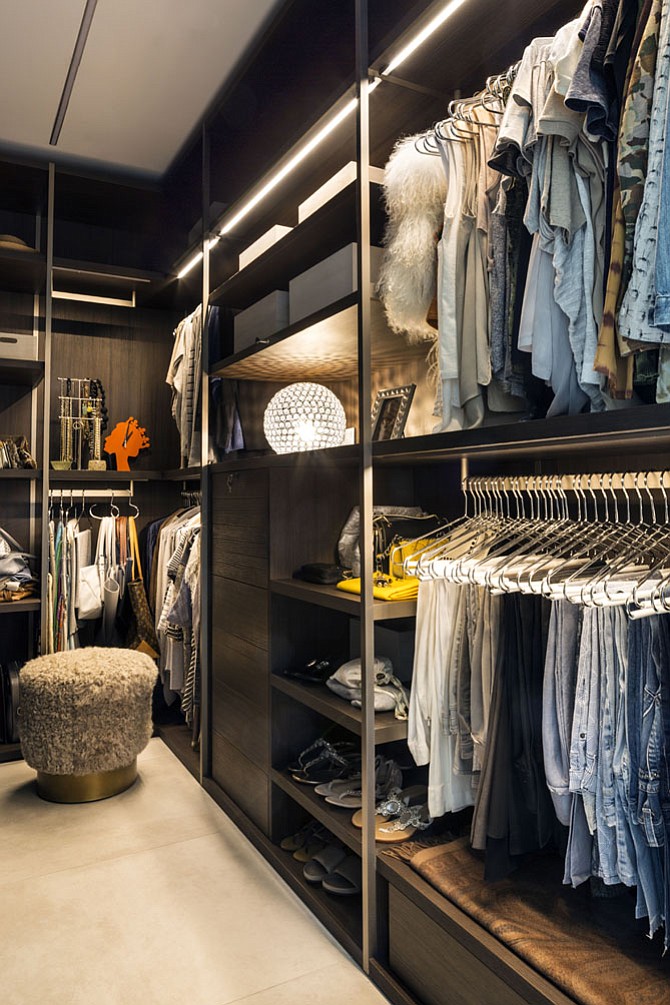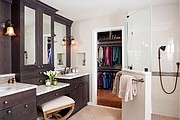 When an Old Town Alexandria couple decided to remodel their master bedroom suite, they wanted to pay particular attention to the room's two walk-in closets. Designer Gene Delgado of Hopkins & Porter Construction, Inc., in Potomac, Md. was tasked with overhauling the spaces to give the couple the maximum amount of storage for their clothing and accessories.
"We ordered a storage system from Poliform, an Italian luxury modern furniture brand, that does exquisite closet systems," said Delgado. "The closet spaces are very modern with lots of built-in lighting. Because of the angled ceilings … we are designing a cabinet for shoe storage and some shelving for purses and luggage. I'm doing a chandelier for the wife's closet to make it warmer and more feminine."
With available accessories ranging from elaborate lighting to luxury seating areas, there's no need to settle for a closet that looks like a cross between and a laundry room and a landfill. When it comes to walk-in closets, the options for creating a dream space are plentiful say designers.
"Closets are no longer utilitarian spaces for your clothes. People want their closets to be beautiful," said Delgado. "The trend is that they are bigger, more beautiful and more luxurious. Those with large spaces can have everything from coffee makers to seating areas."
When beginning the design of a closet space, Julia Walter, showroom manager at Italian design firm Boffi, advises clients to make an inventory list of items that will go inside such as long-hanging clothing foldable clothing and shoes.
"What plays into the inventory list is how the client prefers to use their closets," she said. "For example, do they mostly hang or do they fold clothes. It's helpful to see what the client's closet looks like currently [and] works and what doesn't."
A combination of small and large drawers is important for the different items to store, says Walter. For example, small drawers can hold items like jewelry, underwear and socks while larger drawers can hold items like scarves or exercise clothes."
"I like to use the upper most shelves in closets for bulky storage like luggage, hat cases [and] for items that are either not used too much or are seasonal," said Walter. "Open shelves are great for display of shoes and handbags."
Invest in a full-length mirror and install it behind the door or on an open space that won't take away from storage, advises Allie Mann, designer, senior interiors specialist with Case Design/Remodeling, Inc.
"Use every inch of a closet space for storage. There may be small niches that are perfect for scarves, handbags [and] belts," she said. "Build in shoe shelving if possible. Keeping shoes off the floor gives a more organized look to the space. If you want to keep shoe boxes, be sure to label them with photos of the shoes inside so you don't have to open every box to find the pair you're looking for."
For those with a generous budget, Interior Designer Todd Martz, co-owner of Home on Cameron in Old Town Alexandria advises investing in a lighting system for viewing clothing and distinguishing colors.
"Add pullout shelves and rods to organize outfits. [Add] drawers with glass inserts to see contents," he said. "Group accessories [like] belts and purses by color for easy access."
Accessories that Walter recommends adding to a walk-in closet include belt hangers, tie hangers, jewelry drawers and safes. "If space allows, a center island is a great feature for getting dressed and showcasing certain items," she said. "Before a night out, [for example] a gown and shoes can be displayed."