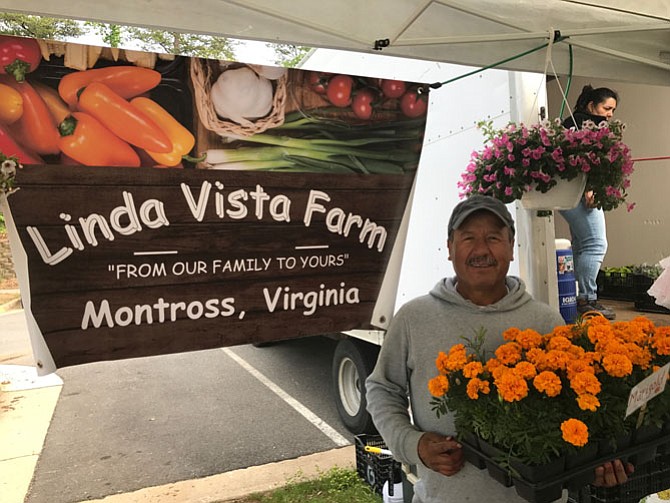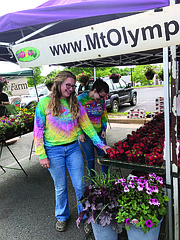 At the Lorton Farmers Market, operated by the Fairfax County Park Authority, there's tons more than produce on the farmers' stands. There's small-batch roasted nuts, preservative-free baked goods and handcrafted all natural and organic granola; there's grass-fed beef, soups, teas, and fresh handmade dog treats. But be sure to leave Fido at home. No dogs are allowed at the Farmers Markets. The Lorton market is located at 8990 Lorton Station Blvd. It opened for the season on Sunday, May 7, and will be open every Sunday after that, 9 a.m.-1 p.m. until Nov. 12.
The market is situated within steps of the Virginia Regional Express Depot, new brick office spaces, and trees. The setting couldn't be any nicer, and with ample parking, customers will always find a nearby place to park. The occasional whistle of the approaching trains adds to the ambiance and reminds shoppers to enjoy a slower pace of life, if only for a short time.
ON SUNDAY MORNING, Lorton Farmers Market Managers Amy Poe and Sue Wolinsky stood ready. Vendor tables overflowed with fresh produce, baked loaves of bread, sweets, and flowers from within a 125-mile radius. Like other Fairfax County markets, Lorton's is "strictly producer-only" meaning vendors must grow, raise or make "from scratch" everything they offer. This gives customers the unique opportunity to talk to farmers about product origin.
When Poe was asked what was unique about the Lorton market compared to other markets, she said that although the Lorton Market was recognized as the Most Picturesque Fairfax County Farmers Market by the Washington Post more importantly, "It is the commitment of our vendors, they are very supportive of each other."
Fairfax County encourages vendors who make products to use locally sourced ingredients as much as possible. Meg Cooksey, co-owner and head baker at Ginger Cakes Bake Shoppe, couldn't agree more. "Our products use a lot of fruits and vegetables from other vendors here today, especially the strawberries and zucchinis" Cooksey said.
All markets offer great local, seasonal produce, brimming with nutrients and freshness, but at the Farmer's Market in Lorton, relationship building, knowing your farmer and knowing your food, is key. Offering a shopping experience with plenty of pedestrian space, the Lorton vendors can freely mingle, walk about and talk about their farming practices, get to know their customers, even provide family recipes.
Stephanie Foster wanted to experience that interaction first-hand. Even though she and her husband Greg had been members of a Community Supported Agriculture subscription (CSA), the Fosters realized they wanted to know the farmer that grew their food. "I can meet the farmer and interact with him," Foster said.
Wolinsky added, "You can talk to a vendor about pest control and learn more about what you are going to eat."
Thirteen qualified and selected vendors, whose business locations were within the 125-mile range limitation, sell their produce and products at the Lorton Farmers Market. As she rearranged items on her display tables, Lorrie Little of Kuhn's Farms located 100 miles away in Cashtown, Pa. said, "We use local people to help us; they plant and pick all fruit and vegetables by hand."
Jesus Ochoa is the owner of Linda Vista Farms in Montrose, Va., 110 miles away. He and his daughter Anayeli had been up before dawn preparing for the market. Asked how they had already grown such beautiful flowering plants and the large assortment of vegetables, Anayeli explained, "We start growing produce and flowers in February, in our greenhouse. They are pesticide-free."
When buyers purchase local fresh produce that has been picked at its prime rather than produce that ripens on a truck as it is shipped to grocery stores they can see and taste the difference. Market Manager Poe said her family could tell the difference. You can't get that at a grocery store.
Reed Mihaloew was one of the first shoppers at the market. He had purposefully come to the market to get fresh stalks of asparagus from Kuhn Farms. "Tonight, I'm going to make a fresh pasta primavera with asparagus."
FOR A LIST of vendors at the Lorton Farmers Market along with a detailed description of their products, visit fairfaxcounty.gov/parks/farmersmarkets/lortonmkt.htm