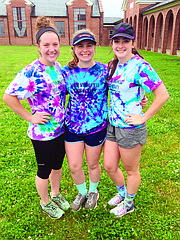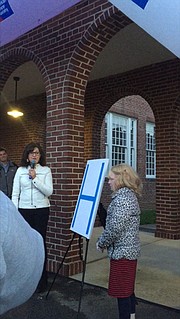 Here's to sticking it to cancer. That was the message West Springfield High School field hockey player Bridget May had in mind when she got the idea to sell T-shirts to raise money for the Relay for Life.
May, a sophomore, organized a tie-dye party for people who purchased shirts with her design, the weekend before the May 6 Relay for Life day of remembrance and celebration held at the Workhouse Arts Center in Lorton.
"Cancer runs badly in my family," May said in an email, "and events like this are what gives me hope that future generations won't have to suffer from cancer."
May said she sold 79 shirts and the team in total donated more than $1,000 to the signature fundraiser for the American Cancer Society.
Though fundraising has been ongoing since September 2016 and will continue through August this year, Saturday still marked a culmination of everyone's efforts.
Over the course of the day about 150 people filtered through and took part in opening ceremonies, cancer survivors' and caregivers' laps and a survivors' luncheon. There was also Jazzercise, yoga and "Bark for Life" with a dog obstacle course and pet look-alike contest.
May said she walked about 13 miles with her teammates.
Around 7:45 p.m., participants lit luminarias to honor people who lost their battles with cancer.
Relay for Life community manager Leah Nolan said soggy weather on May 6 didn't dampen the spirit of the day.
"There's something special about a rainy Relay for Life," she said.
Two of the day's speakers were Springfield residents Dana Sones and her daughter Karina. Karina was diagnosed with Leukemia in 2005, as a 4-year-old.
As part of her therapy, Karina began beading jewelry, which has become Xreations by Karina. After several treatments, she's now cancer-free.
"She shared an acronym for HOPE: Hero, Optimism, Perseverance and Endurance," said Nolan. "They're an amazing family that is the true definition of optimism and hope."
May said she has lost a classmate to cancer, and is neighbors with a cancer survivor. Despite the hardships associated with having a friend or loved one with cancer, May said she's impressed with how "[people] carry on with beautiful smiles on their faces every day."
To date, Nolan said $70,861.14 has been raised.
Future local Relay for Life events are scheduled for later this month and in June, including for the Langley-McLean, Reston and Herndon areas.
For more information, to donate or become involved with Relay for Life, visit www.relayforlife.org/springfield.