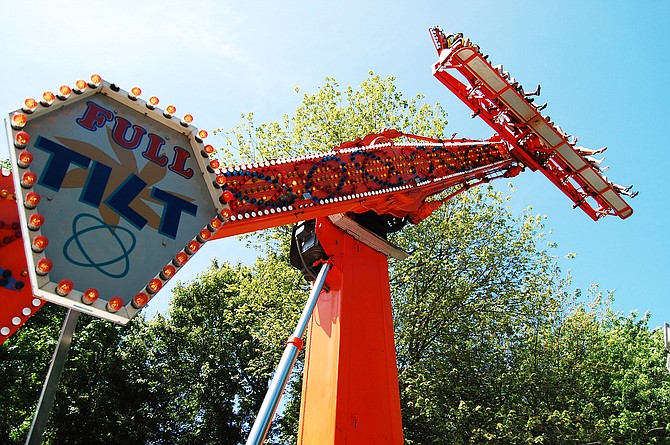 Before bundling up the family and heading to Lewinsville Park for McLean Day, here's a breakdown of what festival attendees can expect. Produced by the McLean Community Center (MCC), the festival will be held on Saturday, May 20, from 11 a.m. to 5 p.m. at Lewinsville Park, 1659 Chain Bridge Road. Admission is free.
Something Old and Something New
Now in its 102nd year, McLean Day began in 1915 when the McLean School and Civic League sponsored a festival to raise funds for school and community projects. Throughout the years, various community organizations kept it going, until MCC began producing it in the mid-1970s, and moved it to its current home at Lewinsville Park in 1988. Community support for McLean Day is as strong today and it was when it began.
McLean Day is Election Day
Twelve Dranesville District 1A residents are running for seats on MCC's 2017-2018 Governing Board. Six adults are vying for three adult seats and six teens are vying for two student seats (one for Langley High School and one for McLean High School) on the 11-member board. The election will be held at the park from 10:30 a.m. to 5 p.m. Only district residents may cast votes. Absentee voting is available through Wednesday, May 17. Voting instructions and candidate information are available online at the Center's website: www.mcleancenter.org.
Rides and More Amusements
The Zipper, Full Tilt and Pharaoh's Fury are just a few of the popular large amusement rides that can be enjoyed at McLean Day. Younger children can enjoy a "Kids' Way" area that features ticketed rides especially for them. There will also be several free games and activities all over the park, including laser tag, Bubble Ball, tennis clinics, a rock climbing wall, balloon animals and Squeals on Wheels Petting Zoo.
For the Foodies
Food vendors Red Hook Lobster Pound, the Rotary Club of McLean, Crepe Love, The Big Cheese, Oasis Concessions and newcomer Ricksha Streetside Indian, will offer a wide variety of international flavors, such as Maine Lobster Rolls, sweet and savory crepes, Chicken Curry, along with the traditional hot dogs, pizza, funnel cakes, cotton candy and lemonade everyone loves. Two large covered tents with picnic tables are conveniently located close to food vendors. Three ATM machines will be onsite.
Stage Entertainment Abounds
McLean Day now has two stages for entertainment—which means there is something for everyone! Burke & Herbert Bank is the presenting sponsor for the Main Stage whose performers include the U.S. Navy Band's Country Current, Capital Blend, Furia Flamenca and Four Star Combo. The Children's Stage will have performances by Step Afrika!, Robbie Schaefer, Synetic Theatre and Joy of Dance. The McLean Citizens Association Teen Award will be presented at 3 p.m.
Parking and Free Shuttle Service
Parking is not available at Lewinsville Park on the day of the festival, so MCC strongly encourages participants to use its free shuttle service. Starting at 10:15 a.m. and running through 6 p.m., shuttle buses will run from the park to three satellite parking sites: McLean Baptist Church, 1367 Chain Bridge Road; Trinity United Methodist Church, 1205 Dolley Madison Blvd.; and Lutheran Church of the Redeemer, 1545 Chain Bridge Road.
Let's All Have Fun
Alcohol, balloons, cigarettes and other controlled substances are not permitted on the park grounds. Political candidates and other vendors must contain their activities to their assigned booths. Soliciting is not allowed on the grounds of the park during McLean Day. Patrons are encouraged to be aware of their surroundings and to report suspicious activities to Center staff and Police and Fire personnel.
For festival updates, driving directions, shuttle bus stop locations and a festival area map, visit www.mcleancenter.org/special-events or call the Center at 703-790-0123/TTY: 711. The Center's telephone will be answered from 8 a.m. to 5 p.m. on the day of the festival.