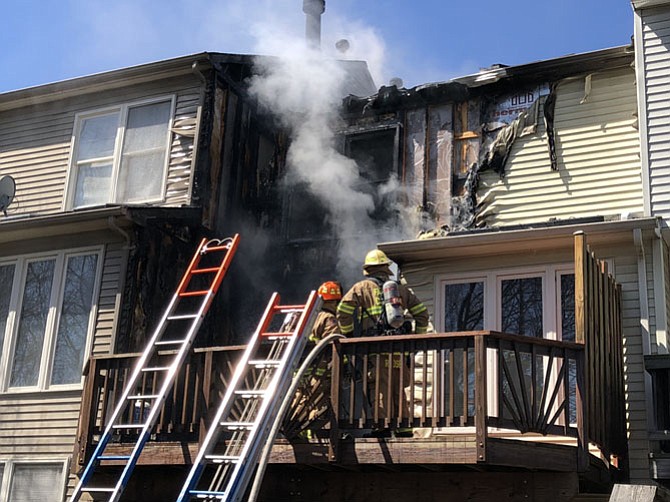 On Monday, March 26, at approximately 1:42 p.m., units from Fairfax County Fire and Rescue and the City of Fairfax Fire Department were dispatched for a reported townhouse fire in the 13800 block of Wakley Court in Centreville.
Units arrived on scene to find fire showing from the rear of a two-story, middle unit townhouse. A second alarm was immediately requested. Firefighters worked to limit the spread of fire to the adjoining town homes. There were no civilian or firefighter injuries reported.
The fire was discovered by an occupant in the basement of the home. He observed embers falling from above when looking out a window. Working smoke alarms were present but the fire was discovered before they sounded. Two dogs and the occupant safely evacuated the home prior to fire department arrival.
Fire Investigators determined that the fire started on the wood deck and was accidental in nature. The fire was caused by improperly discarded smoking materials.
Four adults were displaced as a result of the fire. Red Cross assistance was offered and accepted.
Approximately 60 firefighters responded to this fire. Damages as a result of the fire are estimated to be $222,500. This estimate includes the two adjacent town houses.