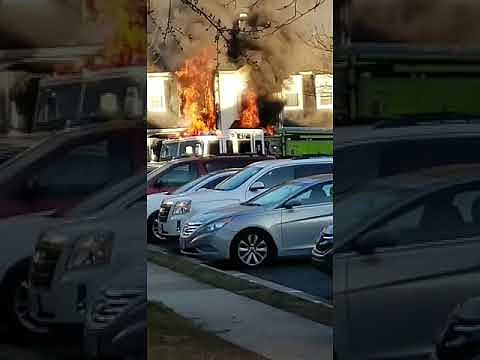 On Saturday, March 23, at approximately 6:36 p.m., units from the Fairfax County Fire and Rescue Department and Prince William County Fire and Rescue responded to a report of a townhouse fire in the 14500 block of Castleford Court in Centreville. Initial reports indicated there were two children trapped on the second floor.
Units arrived on the scene of a two-story, middle unit townhouse with fire visible on all floors. Firefighters immediately began extinguishing the fire from the front of the building while, simultaneously, accessing the second floor via ladders. Due to the extent of the fire, a second alarm was requested. It was determined that no children were trapped and the lone occupant had evacuated.
The fire extended to the townhomes on either side. Firefighters were able to bring the fire under control. The occupant of the townhouse sustained non-life-threatening injuries and was airlifted via Fairfax Police helicopter to an area hospital. One firefighter sustained a minor injury.
The fire was discovered by several passersby who called 9-1-1. An off-duty Loudoun County Firefighter was one passerby and alerted the sleeping occupant to the fire. The occupant was able to leave the building prior to fire department arrival. There were smoke alarms present but it is unknown if they sounded.
Fire Investigators determined that the fire was accidental in nature and started in the kitchen area. The fire was caused when cooking oil left unattended ignited in a frying pan on the stove.
Fifteen occupants were displaced from three addresses because of the fire. Red Cross assistance was offered and accepted by 11 occupants. Damages as a result of the fire were approximately $322,000.