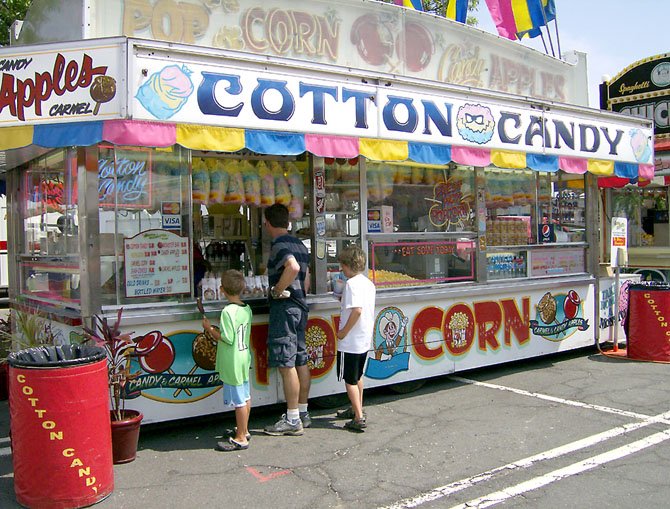 Schedule of Events
*Thursday, May 31 through Sunday, June 3
*May 31-June 3 - FamilyFest at Springfield Mall featuring amusements, rides and games
*Saturday, June 2 - Party in the Park at South Run REC Center featuring:
*PetFest
*Family FitnessFest
*OutdoorFest
*Entertainment Stage
*Pool Party
*Outdoor Movie
*Saturday, June 2, 10 a.m. to 2 p.m. - Smart Market Farmers Market
*Saturday, June 2, 7:30 a.m. at Lee High School - The 15K and 5 K runs
*Sunday, June 3 - Cardboard Boat Regatta at Lake Accotink
*For more event information, go to http://www.spring...">www.springfieldda.... For more information on the races, go to http://www.runspr...">www.runspringfiel....
Springfield Days History
In the 1950s and 60s, the Springfield community held an annual celebration that consisted of food, games, fireworks, music and family fun. Most of the festivities were held in the big field at Old Keene Mill Road and Commerce Street (where Giant and K-Mart are today). In the early days of the community, the annual event was held on July 4th and was organized by service organizations, the Springfield Civic Association, the Volunteer Fire Department and local businesses. As the community continued to grow and thrive, so did celebrations, community infrastructure and county services, and the July 4th event migrated away from a local focus. More than 20 years ago, the business community began a new tradition called Springfield Days that connected the business and residential community through sidewalk sales and special events. That tradition has evolved throughout the years into a full blown community wide celebration that harkens back to the good old days. The business community, Greater Springfield Area Chamber of Commerce, Springfield Mall, Springfield Civic Association, Fairfax County Park Authority and various service organizations have teamed up to offer the very best in family fun.
Everyone has their favorite Springfield Days event, whether it's the cardboard boat regatta, the amusement rides, the petfest or the farmers market. Whatever it is, the annual community-wide celebration has something fun, entertaining and exciting for everyone.
"It's four days of fun for everyone. Springfield Days is one of our great community events. For me, it means that summer is finally here, and it's something my family never misses," said Supervisor Jeff McKay (D-Lee).
The festivities begin with a kick-off reception on Thursday, May 31 at Safford Chrysler Jeep Dodge of Springfield, the event's main sponsor.
"Each year it's a little different," said Tawny Hammond, co-chair of the event along with Lee Ann Shenefiel. "It's driven by volunteers and the energy of community, and showcases all the resources in the community. That's what's so cool about it."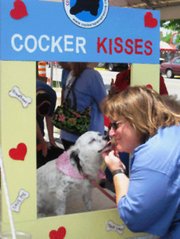 THE BIGGEST CHANGE this year is moving almost all the activities, except for the carnival, to South Run REC Center. Now called "Party in the Park," the South Run event includes: FitnessFest, PetFest, Paws-On-Parade, OutdoorFest, Open Swim party and Movie in the Park at dusk, which will be Happy Feet 2. On stage there will be pet demos, fitness demos and music. There will also be farm animals, wagon rides and nature walks.
"The day is for the entire family, both two-legged and four- legged members," said Rod Hudson, a veterinarian at Colonial Animal Hospital and chair of the pet activities.
One of the most popular events – the Cardboard Boat Regatta – will be held Sunday June 3 at 2 p.m. at Lake Accotink Park, where thousands of people set out their lawn chairs to watch an assortment of human-powered boats made of corrugated cardboard.
"This is one of my favorite events," said Sharon Bulova, Chairman of the Fairfax County Board of Supervisors. The Board of Supervisors gave out a proclamation to the organizers of Springfield Days at the board meeting on Tuesday, May 22. "There's even a 'Titanic' boat…It's an event that everyone enjoys."
"Springfield is a very diverse part of Fairfax County, and we included fun festivities no matter who you are or what you like," Hammond said. "Most of the events and activities are free, such as the pool party, the outdoor movie and the PetFest. We've tried to keep everything low cost so that every family can enjoy the event. At South Run, it's rockin' all day on Saturday from 10 a.m. to 10 p.m."


SATURDAY MORNING the 15K and 5 K run starts and finishes at Lee High School. Proceeds from the event are distributed to various charities throughout the greater Springfield community.
Hammond said the event typically attracts more than 50,000 people.
"This is the place to kick off summer," said Hammond, who served as chair of the event for 10 years. "It really is the ultimate 'staycation,' because we have so many events throughout the greater Springfield area. It's a labor of love for me. What really speaks to me is the fact that so many people and businesses in the community continue to support this event."