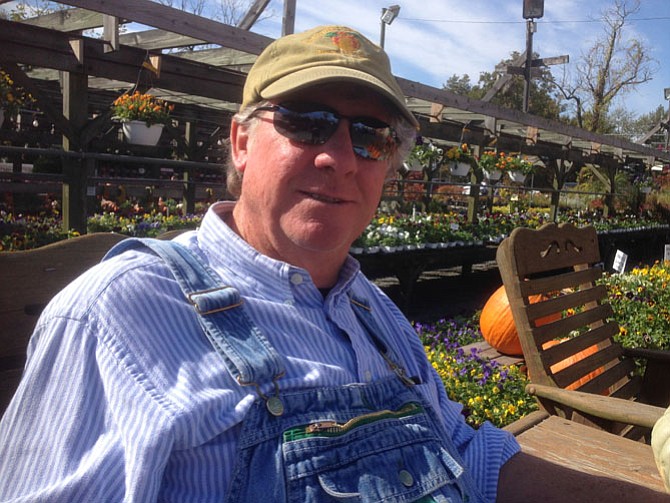 The great pumpkin of Charlie Brown fame may have appeared this year, in a
spot in the gravel parking lot at Nalls Produce in the Springfield area. It was around 1,100 pounds and greeted all the pumpkin patch visitors on Halloween weekend at Nalls alongside the roosters roaming around, which is just one outdoorsy feature at Nalls, an outdoor produce stand that's been around since the early 1960s.
Danielle Whitty was at the patch with friends from University of Mary Washington, looking at all the different kinds of pumpkins, which came in nearly 40 different varieties.
"We love the pastel pumpkins," Whitty said.
The 1,100-pound pumpkin was a sight to see, but sadly it was a loser in a nearby "biggest pumpkin" contest, and found its way to a spot in the parking lot. It originally came from New York, where Cary Nalls said the pumpkins are coming from these days along with Pennsylvania. In the pumpkin growing season, "the nights are too hot and humid in summer around here," Nalls said.
Over the years, Nalls has become an expert on locally grown produce, pumpkins and Christmas tree varieties that Nalls Produce specializes in. He's been a fixture on Beulah Street near Kingstowne for years, the locals know where to go when it's time to plant the vegetable garden in the spring, pumpkins around October and wreaths, trees and cider during the holidays. "I quit after Christmas for two months," he said, although his daughter runs the business a few days a week in the winter until the spring plants come. The only other two open-air markets in the area any more are DePaul's Urban Farm in Vienna and Cox Farm in Centreville. Nalls swaps trade tips with the
other owners from time to time.
Cox Farms is also a family business that has roots in the Centreville area, and their logo on the website reads "Your local tradition, for generations." Their fall festival is bigger, due to their size, but has an oversupply of pumpkins as well. Cox was "started by brothers Eric and Steve in 1972," their website states, and continues to be a family run business, similar to Nalls.
Nalls looks at the growth around him with a smile, noting all the different cultures that have moved into the area and the history he's gone through while running the business. When Beulah was widened in the 1990's, he fought with the Virginia Department of Transportation, and when the community next door went up for sale, it took a while. "The 'For Sale' sign rotted and fell down three times," it took such a long time to sell, he said. In fact, his ancestors owned that parcel at one time too. "My great grandfather was born where those houses are when Lincoln was still president," he said.
In addition to the roosters roaming freely around the market that provide a
soundtrack of crowing all day, there's Penny the Pig, who is a celebrity on Beulah Street. Nalls even had an event for her birthday. The children stare from the gate into Penny's pen. "They love her, if something happens to that pig, I'll have to find another that looks like her," Nalls said.