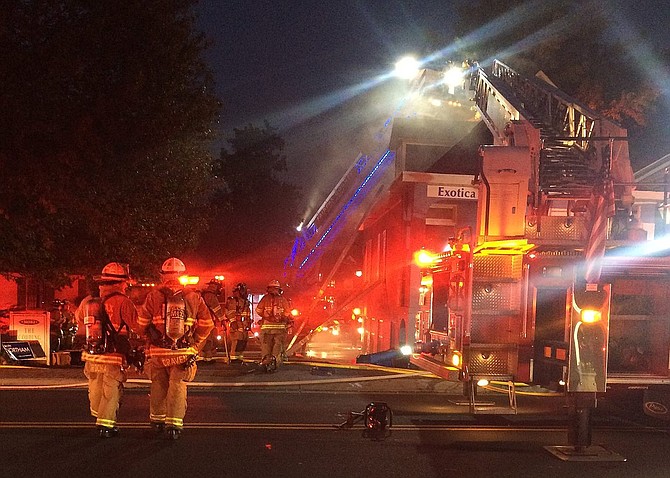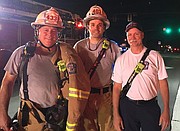 A fire last Thursday night in Old Town Fairfax shut down roads and caused an estimated $75,000 to Exotica Florist. It's at 10376 Main St. in the building that formerly housed Spice Merchants.
Units from both Fairfax City and County fire departments responded, Nov. 2, around 6:20 p.m. The fire was reported by a passerby at a downtown business. And fire officials say that immediate report enabled crews to contain the fire quickly with no injuries to civilians or Fire Department personnel.
First-arriving units encountered heavy smoke and fire conditions in the building's basement. But they were able to quell the flames and prevent the fire from spreading to any other structure. No one was in the building when the fire broke out.
While firefighters battled the blaze, Main and North streets and University Drive were closed for an hour, from about 6:30-7:30 p.m. City Fire Chief John O'Neal said four fire engines, two ladder trucks, two rescue vehicles and one medic unit rushed to the scene, as did two battalion chiefs, a safety officer and an EMS supervisor. It was also the first fire that Station 3's new foam engine responded to since going into service, the previous night.
"[The] fire in the basement work area was quickly extinguished; however, smoke damage was evident throughout the building," said City Fire Marshal Andrew Wilson. He said the blaze appeared to have been caused by "ignition of dried plant material by an appliance. The fire [also] caused damage to the electrical system, which required disconnection of the power by Dominion. Damage to the structure is estimated at approximately $50,000, with an additional $25,000 in damage to the contents."