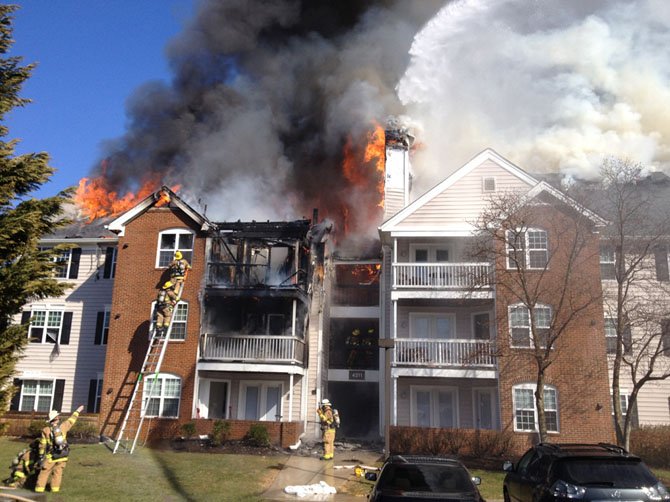 A two-alarm fire Monday afternoon at a Fairfax apartment building displaced some 25 residents and caused an estimated $2 million damage. Roughly 80 City of Fairfax firefighters raced to 4311 Bob Court, March 24, around 3:45 p.m., after a report of a fire with people trapped in the building.
Engine and Truck 3 arrived to find heavy fire coming from the second and third floors, with flames extending to the roof and attic. Firefighters were also met with occupants who'd jumped from the second floor and also escaped the blaze via a ground ladder provided by a maintenance worker on site.
"The quick actions by the early arriving units made a significant difference on this call," said Assistant Chief of Operations Andy Vita. "The decision of the first-in officer to utilize a heavy-stream [hose] to knock down the large amount of fire coming from the apartment and spreading throughout the attic was instrumental in containing the fire to the original building."
Furthermore, said Vita, "Staff from Truck 3 were able to quickly place multiple ground ladders to the second and third floors of the building to allow for search-and-rescue and further attack of the fire."
Four occupants sustained minor injuries and one was transported to the hospital. The rest of the building's residents were aided by Fire Department personnel, building management and the American Red Cross as they arrived home or asked to re-enter their apartments to obtain personal belongings.
Two cats were also rescued and provided with oxygen therapy by the medics before they were reunited with their owner. No firefighters were injured, and the cause of the fire is still under investigation. Twelve units total were damaged.