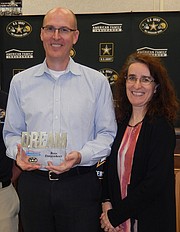 Fairfax High senior Sara Young is a talented and accomplished person, in her own right. But she recently joined an elite group when she became a member of the 2018 U.S. Army All-American Marching Band.
Only 125 high-school, marching-band members are selected from among the millions nationwide. They're chosen not just because they excel musically, but also because they're mentally and physically agile, know the importance of teamwork and – similar to soldiers – can easily adapt to challenging situations.
Each year, this band performs at halftime of the nationally broadcast U.S. Army All-American Bowl football game, next year on Jan. 6, 2018, at the Alamodome in San Antonio, Texas. And Young will be there, playing her trumpet in the band.
The Bowl is presented by American Family Insurance. And as part of the event's Selection Tour, Young was honored in a special ceremony, Oct. 16, before her family and Rebel bandmates in the school band room. There, two Army officers presented her with the All-American Band's official jacket and welcomed her to the band's ranks.
"We are here today to celebrate a talented student," said emcee and All-American Games representative Daniel Doucette. "Our goal is helping the next generation succeed at sports and in life."
"Only the best and brightest can be an American soldier, just as only the best are selected to be U.S. Army All-American Band members," added Army Sgt. David Crayle. "Army All-Americans are dedicated, motivated and know how to be a member of a team, as well as a leader. Not only are they expected to achieve musically and academically, but also as young people of character who embody the Army values of loyalty, duty, respect, selfless service, honor, integrity and personal courage."
Noting that "It takes a great team to make a great leader, both on the field and in the Army," Crayle then acknowledged the Rebel Marching Band. He also presented a certificate to Fairfax Band Director Jeff Lehman for providing his band members with "excellence in music education." In turn, Young, thanked Lehman for nominating and teaching her, and her bandmates for their support.
"We've been fortunate to have students participate in this, four years in a row, and they all really have a heart to serve," said Lehman. "They come through – you can count on them – and with no complaints; they get the job done. I'm thrilled for Sara, and thanks to her and to all of you [in the band] for supporting her."
Saying "It takes dedication to pursue your dreams," Doucette said Young identified her parents, Craig Young and Mila Cobos, as having believed in and inspired her. So he then presented them with a Dream Champion award.
AFTER THE CEREMONY, her father said, "We're very proud of her. She's been playing trumpet since fifth grade, and this [honor] represents a lot of hard work on her part. Mila plays the accordion, so Sara's musical talent comes from her mother." He said all three of their children are musicians; Daniel sings in the choir at Lanier Middle, and Ana plays violin with GMU's famed Green Machine.
Lehman, too, said he was "incredibly proud" of Sara for taking the step to even audition for the All-American Band, last spring, in her junior year. "It's challenging to put yourself out there," he said. "And she had to send in videos of her playing trumpet and marching. Then she had to talk about herself and why she wanted this honor."
Lehman said Young's selection to the band "speaks to the community and its commitment to both the arts and to service men and women. One of our former winners, Dylan Cate, is a specialist in the Army Reserves. And another winner, Jacob Steblein, is an Army ROTC cadet at Virginia Tech."
Calling Young selfless when helping a friend or others in the school band, Lehman said she's also a theater tech and such an outstanding musician that she recently made second chair trumpet in the Senior Regional Orchestra.
Young, 17, said she chose to play that instrument because several people on her mother's side of the family played trumpet and she especially likes the sound of its middle range. "I really enjoy marching band, but I'm the drum major now, so this event [in January] will be another opportunity to march," she said. "I also wanted to keep my school's legacy going because we had three others who were named to the All-American Band."
SHE FOUND OUT this summer that she'd made it. "I was at the drum major academy in Pennsylvania in July when Dr. Lehman emailed me and said, 'Congratulations,' and Rachel Hertz – our other drum major – and I both screamed," said Young. "I was super excited."
Regarding the ceremony, she said it was "kind of intimidating" having to speak in front of her friends. But, she added, "As soon as I saw their smiling faces encouraging me, I relaxed."
Now she's looking forward to seeing San Antonio and meeting the other members of the All-American Band because, like her, they're all members of their high-school marching bands, too. But this time, they'll participate at a whole, different level.
Young has applied to six colleges and would especially like to attend UNC Chapel Hill or Virginia Tech to major in some form of criminal justice. "I just want to be able to help people," she said. To others aspiring to follow in her footsteps, she advises them to "Practice hard – even if you don't want to – because it'll take you places."