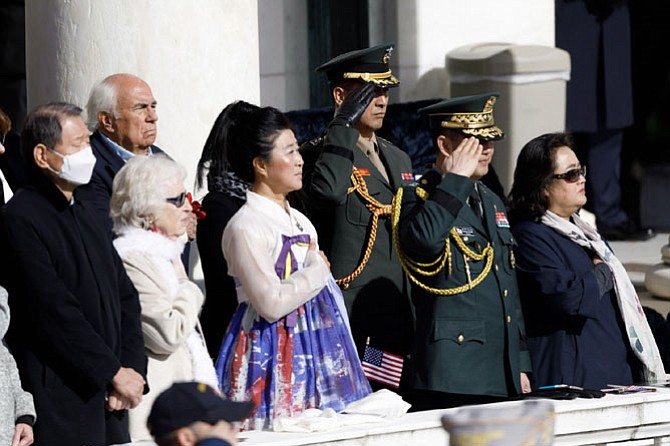 Representatives from countries around the world gathered Nov. 11 at Arlington National Cemetery to participate in Veterans Day ceremonies honoring the men and women who have served in the armed forces and to mark the 99th anniversary of the end of World War I.
Vice President Mike Pence, the son and father of U.S. service members, delivered remarks at the cemetery's Memorial Amphitheater after participating in a wreathlaying at the Tomb of the Unknowns.
"Veterans Day is the day when all across America we pause to remember those who served," Pence said. "For nearly a century, since the guns of the First World War fell silent, on the 11th hour of the 11th day of the 11th month, the American people have observed this day, first as Armistice Day and now as Veterans Day. Our nation owes a debt to our veterans and it's a debt we can never fully repay."
Although the signing of the Treaty of Versailles on June 28, 1919, officially ended World War I, hostilities between the major powers ended on Nov. 11, 1918, when an armistice went into effect. Armistice Day was celebrated in the United States every year thereafter until President Dwight D. Eisenhower changed it to Veterans Day in 1954 to encompass the veterans of all American wars.
Veterans Day activities at Arlington National Cemetery commenced precisely at 11 a.m. on Nov. 11, with a wreathlaying at the Tomb of the Unknowns by Pence. The ceremony continued inside the Memorial Amphitheater with a parade of colors by veterans' organizations and remarks from Pence and other dignitaries. This was followed by a procession of wreathlayings at the Tomb of the Unknowns by individual national and international veterans and active military organizations.
Later that afternoon, a separate memorial service was held in Section 34 at the gravesite of General of the Armies John J. Pershing, hosted by the Military Order of the World Wars and attended by representatives of World War I allied nations. Representatives from more than a dozen countries placed wreaths at Pershing's gravesite.
Pence concluded his remarks with a message from President Donald Trump, who was traveling abroad.
"You were there for us, now we are here for you," said Pence in delivering Trump's message to veterans. "President Trump said this morning, in his words, 'America's veterans are this country's greatest national treasure. You are the best role models for our youngest citizens, a constant reminder of all that is good, decent, and brave.' To our veterans, on behalf of the President of the United States and a grateful nation, I say, thank you for your service."