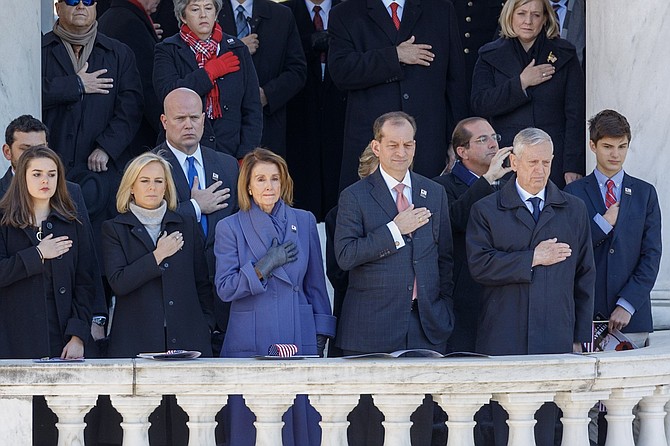 Noting the 100th anniversary of the end of World War I, Veterans Affairs Secretary Robert Wilkie recalled the sacrifices made in "the war to end all wars" as he honored all veterans during the National Veterans Day Observance Nov. 11 at Arlington National Cemetery.
"On the 11th hour of the 11th day of the 11th month, men who have lived and fought in trenches that scarred the face of Europe emerged after four years of fighting and for the first time, smelled the warm air of peace," Wilkie said. "for all who have served at all the lonely outposts, and the military at home and in distant lands, who left families and loved ones and who overcame challenges that many of us would find unimaginable, this day is for them."
Although the signing of the Treaty of Versailles on June 28, 1919, officially ended World War I, hostilities between the major powers ended on Nov. 11, 1918, when an armistice went into effect. Armistice Day was celebrated in the United States every year thereafter until President Dwight D. Eisenhower changed it to Veterans Day in 1954 to encompass the veterans of all American wars.
"All told, more than 41 million American men and women have served in times of war and almost 700,000 have given the last full measure," Wilkie said. "And if you ask any of them why they did it, they would tell you, it was the right thing to do."
In attendance at the ceremony were Defense Secretary Jim Mattis, Labor Secretary Alexander Acosta, Department of Homeland Secretary Kirstjen Nielsen, acting Attorney General Matthew Whitaker and House Minority Leader Nancy Pelosi (D-CA).
Veterans Day activities at Arlington National Cemetery commenced precisely at 11 a.m. on Nov. 11, with a wreathlaying at the Tomb of the Unknowns. The ceremony continued inside the Memorial Amphitheater with a parade of colors by veterans' organizations and remarks from Wilke and other dignitaries.
"This day reminds all Americans that they sleep soundly at night because of the sacrifices of millions of ordinary men and women," said Wilkie, who quoted Gen. Dwight D. Eisenhower in thanking the nation's veterans. "Your country can never compensate you for what you have given to your country."