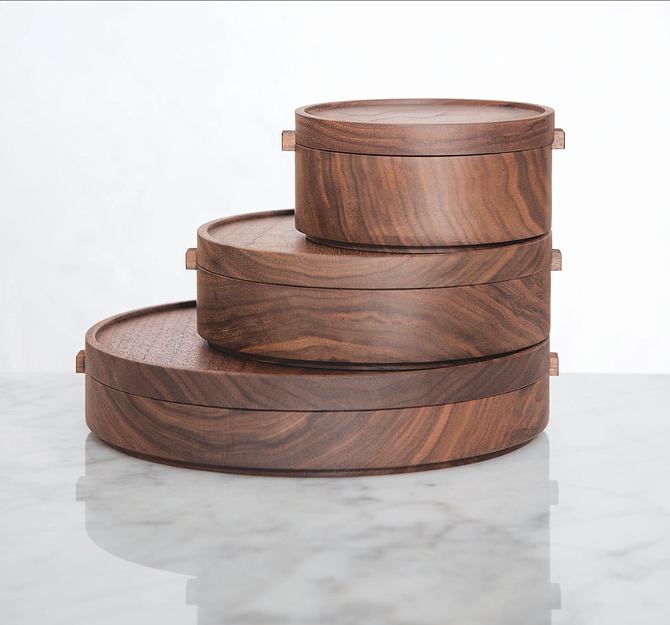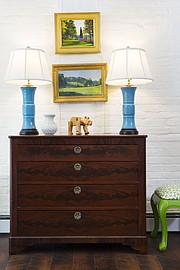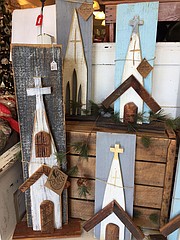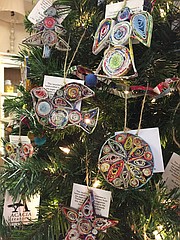 Consider eco-friendly gifts that are constructed from recycled materials.
"Items made from reclaimed materials are a great way to give a unique gift," said Courtney Thomas of The Picket Fence in Burke. "Reclaimed wood is especially popular."
Solemate Socks are another colorful option. They are made by repurposing recycled cotton yarn that is then spun into vibrant, patterned socks. Thomas also recommends decorative items made from reclaimed wood. "We have some beautiful churches made from wood salvaged from barns in Alabama," she said.
Ornaments made from reclaimed paper are another environmentally conscious option. "Not only are these beautiful decorations, but they help provide jobs for people in third-world countries," said Thomas.
Kevin Sweitzer of Thos. Moser, Handmade American Furniture recommends items made from sustainable North American hardwoods, "Namely cherry from the Allegheny Plateau in Pennsylvania and walnut from the riverbanks of Missouri."
Examples include stacks of food-safe wooden bowls, which are "are sustainable and reusable, [make] a perfect hostess gift … and a great conversation piece."
GIFTS THAT MAKE A DIFFERENCE in the lives of others are also on trend this year.
One example is Starling Project candles. Proceeds from the sales of these scented candles are donated to UNICEF to help provide solar energy to under-resourced countries.
"Products that support a cause are also a great way to both give a meaningful gift and help those in need," said Thomas. "We have pottery ornaments that are made in Alabama by women escaping domestic violence."
Vintage-inspired gifts are trendy this season, says Susan Nelson from Home on Cameron in Alexandria. "Wooden toys, [for example] appeal to all ages, as do vintage items such as magnifying glasses," she said. "Gifts that are unique and offer a unique experience are popular right now."
Handmade gifts are another consideration, adds Todd Martz, also from Home on Cameron. "Visitors … love the handmade items for gifts, such as felt flowers from Nepal, hand painted vases, and the custom pillows [which come] in a variety of colors and patterns.
GIVING PRACTICAL GIFTS that the recipient will actually use can minimize the need for gift returns. Merchants who are on the receiving end of after-season holiday gift returns suggest customers think about what it will be like for the recipient to actually own the gift, rather than the moment of receiving the gift.
One example, says Madeline Fairbanks of Country Casual Teak, "are accessories for those who entertain regularly such as … wine stopper or wine caddy," she said. "Purchasers like the thoughtfulness of the items and the durability of the products because they last for many years."