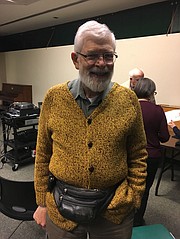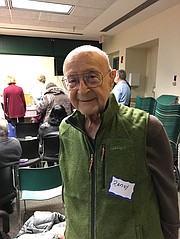 Members of Potomac Community Village met at the Potomac Library Thursday, Nov. 16, for a seminar on Cloud computing. It was packed with seniors wanting to learn about the future of computing and what it means to be "on the cloud."
Several members, however, took time out to remember the past by sharing their Thanksgiving memories.
Almost everyone considered getting together with family and friends, even assorted strangers, their favorite part of the holiday. Not everyone, though, really liked the traditional foods but said they participated anyway.
Jane Blocher grew up in Cheyenne, Wyo.
"We generally got a snowstorm or two in November," she said. "We always hoped it would be around Thanksgiving … that made it seem more seasonal."
Blocher said her favorite memory was family gathering, and "always a person or two that realized they didn't have a place to go so it was fun to get to know someone new."
One more anecdote came to mind as she was talking:
"My mother and godmother and I were in the kitchen getting ready to put things on platters. My mother put the turkey on a platter and handed it to my godmother … it slid off the platter and across the kitchen floor! They looked at each other and looked at me. 'Don't you dare say a word,' they said.
"After wiping off the turkey and cleaning up the streak of grease in the floor, they served the turkey and no one ever knew. Under pain of death I was never to repeat that story."
Don Moldover told an almost tragic Thanksgiving story that ended happily:
"This story hasn't been told for about 40 years … there probably was a disclosure agreement. My son was about 4 years old and we went with friends to the Macy's Thanksgiving Day Parade. We parked in a garage, it was a very cold day, and walked to the parade.
"After it was over we went back to our car. The garage operators were not prepared for the numbers of people leaving. There was only one exit open, with only one attendant taking fees. That led to a significant traffic jam. The [garage] exhaust system was not operating well … the kids started falling asleep.
"My son was basically suffering from the fumes, so we got out of the car and walked to the hospital. At least five children were hospitalized."
Fortunately for Moldover's son, his vital signs were checked, and he was fine.
One more Thanksgiving memory was from Randy Kirkian. He was born in Palestine and grew up in Iraq. His first experience with an American Thanksgiving was while attending a Jesuit High School in Iraq.
He came to the U.S. for college and joined in the annual celebration with family:
"My first Thanksgiving was with my aunt and uncle in Cleveland. I remember it because it snowed. That was my first experience with snow.
"We had the traditional foods but my uncle came from Turkey, so we had a mixture of American and Armenian foods.
"I think the best part is the family gathering, the food is unimportant."
Many Potomac Community Village members will join family for Thanksgiving dinner this year, but the group has a Holiday Friends program which matches members with hosts, so no one has to be alone.
For more information on Holiday Friends, call 240-221-1370.