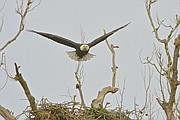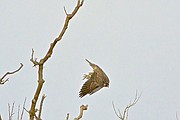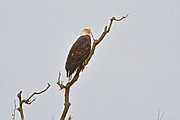 Some friends and I walked upriver on the River Trail at Riverbend Park on a Saturday afternoon earlier this month to look at the Bald Eagle nest in the sycamore tree on Minnehaha island in the middle of the Potomac. We were surprised to find an adult Bald Eagle on the nest moving the sticks around, even though nesting season is a couple of months off.
Walking about 50 feet further up the trail to get a different look at the nest, I noticed a raptor perched with its back toward us at the top of a snag right next to the nest. "It's a Peregrine Falcon," I exclaimed. Sitting quietly on the snag, the juvenile Peregrine occasionally turned its head to preen, clearly showing the distinctive malar/mustache stripe on the side of its face.
Meanwhile the eagle in the nest was staring up at the Peregrine, getting more and more agitated and continually calling. The Peregrine appeared to pay no attention. Eventually, the Bald Eagle flew up out of the nest, displaced the falcon, and landed on the snag exactly where the Peregrine had been, reclaiming its territory. The presumably surprised Peregrine dived off the snag, flew over the nest and down river close to the surface of the river, made a quick pass at some Bufflehead ducks, a favorite food, on the water and continued out of sight.
One can only imagine how agitated the eagle would have been if there had been chicks in the nest at the time. The eagle was still sitting on the snag when we left 10 minutes later. We looked for the Peregrine but didn't find it again.
Bald Eagles are fairly seen frequently at Riverbend and elsewhere along this section of the Potomac. However, the perched Peregrine falcon was an unusual sighting. Perhaps it was one of the young birds from the nest underneath the American Legion Bridge. Perhaps it was a migrant.
For us it was a little adventure to be thankful for on an autumn afternoon.