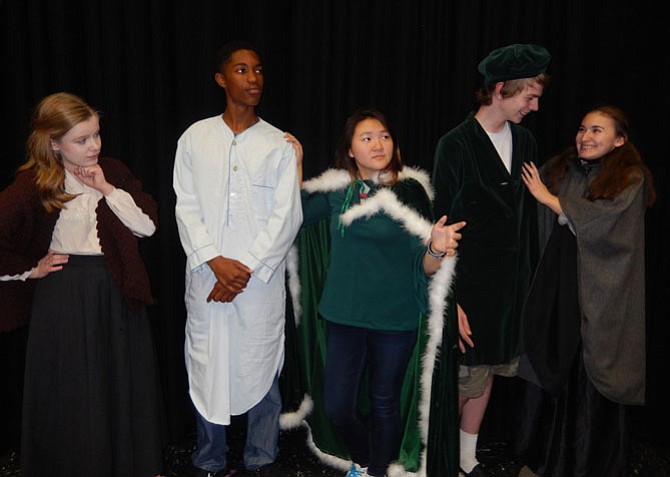 Centreville — Ebenezer Scrooge, Bob Cratchit and Tiny Tim — these well-known characters
If you go…
Show times are Friday-Saturday, Dec. 1-2, at 7 p.m., and Sunday, Dec. 3, at 2 p.m., in the school theater. Tickets are $8 at the door or via www.Westfieldthea....
and more — will take the stage in Westfield High's upcoming production of "A Christmas Carol." It features a cast and crew of 55 and is based on the Charles Dickens novel.
"I'm excited about this show because it's a classic and we don't get to do the iconic pieces of literature enough," said Director Rachel Harrington. "And we're introducing a whole, new generation to these works that have been around for centuries. But it's a more modern twist on the old story that makes it more relatable to anyone who sees it. And it's a great way to kick off the holiday season."
Scenes will take place in the streets of London in the 1800s, in the Cratchits' home and in Scrooge's office but, most of all, on the village streets. "It's a simplistic set; we're relying on our actors to tell the story," said Harrington. "But we'll have a backdrop and some rolling set pieces to suggest certain things. And the actors will wear traditional costumes of the day.
Proud of her young thespians, she said, "They're taking on the adaptation of this iconic piece with a maturity you don't get with other shows. In the process, they're having fun; and, in turn, the audience will enjoy themselves, too."
Adding to the ambience, there'll be carolers in the lobby as people arrive for the performance. And toy donations will be accepted for Toys for Tots, as well as canned goods for Western Fairfax Christian Ministries' (WFCM) food pantry.
Said Harrington: "We want to wrap people in the holiday spirit from the moment they enter to the moment they leave."
Portraying Scrooge is sophomore Jalin Dew. "He's basically one of the most unlikable people you'll ever meet," said Dew. "He's cold and unloving and has a sad backstory, which led up to him being this way. He's mean, selfish and stingy and very pushy, and he bullies his employee, Bob Cratchit, all the time."
Calling it one of the most fun roles he's ever played, Dew called it a growth process for him. "Being a lead and having a lot of pressure on me makes it a great experience," he said. "When I'm onstage doing this role, I am Scrooge. And that's the coolest thing for me because I get to be someone else. It's always hard to make people love the bad guy, but my goal is to make people love him as much as they hate him."
He said the audience will like learning about Scrooge's past and seeing his softer side. "Plays are just way more awesome than movies," added Dew. "And I think people will really feel the chemistry between the actors because we feel each other's roles, in addition to our own. We're all working together to put on this show, and I think it's going to be great."
Senior Wade Parker plays Bob Cratchit. "He's down on his luck, poor and has a wife and three children," said Parker. "Scrooge doesn't pay him much. Yet despite his situation, he's a glass-half-full kind of guy with a positive outlook on life. He doesn't assume the worst in people; for example, in one scene, he toasts Scrooge because he still has respect for him."
Parker enjoys his role because "It's cheery; so, for the most part, I get to act uplifting. And the people I'm cast with are my friends, so that's fun." He said this show is family-friendly and even funny in parts. "The way some of the actors bring out their characters is pretty entertaining," said Parker. "And two of the three ghosts speak and perform their roles in a non-traditional way, but it still fits."
There are four narrators and senior Anna Krelovich is one of them. "We take turns during the show and come onstage together at the very end," she said. "I'm narrating from right before the ghost of Marley comes until the entrance of the Ghost of Christmas Past."
To do it well, she said, "You have to have good storytelling abilities and be very expressive and help drive the story. The narration gives the story context that just straight dialogue can't. It's really fun; I enjoy telling the story in a different way, other than playing a role, and I talk directly to the audience."
Krelovich said the audience will like this production because "It's a classic Christmas story and a really nice way to get into a festive mood as the holiday season begins. It's a familiar story and everyone in the cast is super-talented."
Sophomore Nora Lewis plays Mrs. Cratchit, Bob's wife. "Her family's struggling financially, so she's worried about that," said Lewis. "And her youngest son, Tiny Tim, is sick. She's very caring and nurturing and wants the best for her family. And although she doesn't blame Scrooge for their position in life, she believes he makes it a lot harder on them."
Calling her part lots of fun, Lewis said it's one of her first larger roles. "Since my mom's a preschool teacher, she deals with a lot of younger kids, so I based my character on her," she said. "She goes through a lot of changes throughout the show, so it's nice to play such a dynamic character. She even has some outbursts, which I've never done before onstage."
Overall, said Lewis, "This is a great, family show with something for everyone. Even though it's a drama, there's some singing and dancing and funny scenes. Everyone in it brings a lot to the table, and both adults and kids will enjoy it."