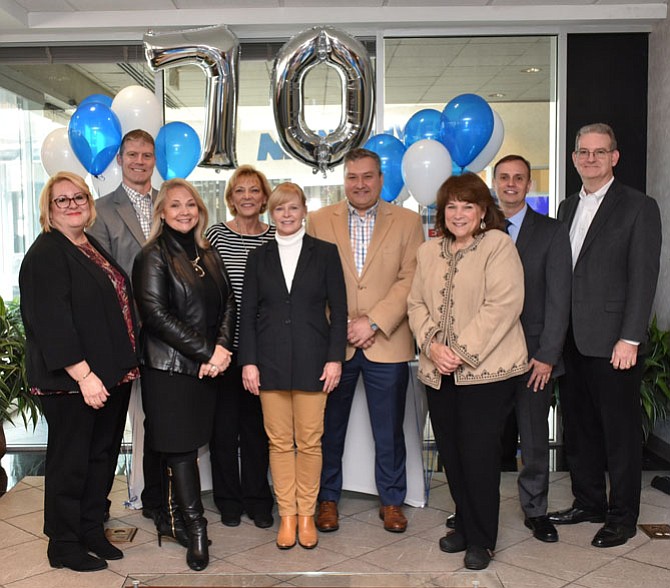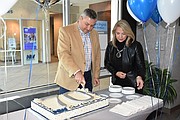 Northwest Federal Credit Union (NWFCU) headquartered in Herndon, marked its 70th anniversary. The organization celebrated with a cake cutting by their executive team and board on Monday, Nov. 20, at its national headquarters located at 200 Spring St., Herndon.
NWFCU is centered on a culture of service and philanthropy, wherein it supports and participates in local events to benefit the communities they serve. This culture inspired an all-year giving initiative named "The 70 Acts of We," in honor of its 70th Anniversary. The 70 acts benefited not only the community where NWFCU is headquartered but occurred in cities and towns across the United States.
In the words of NWFCU, its employees, board, and their families performed its "70 Acts of We" as a celebration to the credit union's members who have made Northwest Federal a great place to bank for the past 70 years.
At the cake cutting, NWFCU's President and Chief Executive Officer, Jeff Bentley said, "Our anniversary comes during a time of the year where we are reminded of all we have to be thankful for and the many ways we can share our blessings with the community."
Bentley's comment referenced NWFCU's ACT number 62 of their 70 Acts of We and the credit union's recent participation and partnering with Project Giveback to provide Thanksgiving meals to 500 local families. "Partnering with Project GiveBack was a meaningful and rewarding way to celebrate a milestone anniversary in Northwest Federal's journey, " Bentley said.
Among NWFCU's other 69 "Acts of We" were: Act 61 – loan payoff for a member in need; Act 54 – donation to the Humane Society of the United States with an auto lending program; Act 53 – NWFCU Foundation's Night of Magic with INOVA Children's Hospital; Act 33 – Herndon Festival sponsorship; Act 15 – Autism Society of Greater Orlando space walk and family fun night; and Act 8 – hats and glove donation for hypothermia prevention program.
On Wednesday and Thursday, Nov. 29-30, NWFCU Foundation has coordinated for its employees to volunteer at Embry Rucker Shelter in Reston, and on Friday, Dec. 1, NWFCU Foundation will be kicking off its "Help Our Kids in Crisis" drive, as the organization collects plush animals, toys, and 70 children's blankets to provide to local first responders.
According to its webpage, "Northwest Federal Credit Union is a full-service financial institution ranking among the largest credit unions in Virginia and the top 60 credit unions in the nation. Established in 1947 and headquartered in Herndon, Virginia, Northwest Federal's 'Why' is to serve and inspire to transform lives. The Credit Union currently serves more than 250,000 members and has assets in excess of $3.3 billion... It's all about what we can do together."