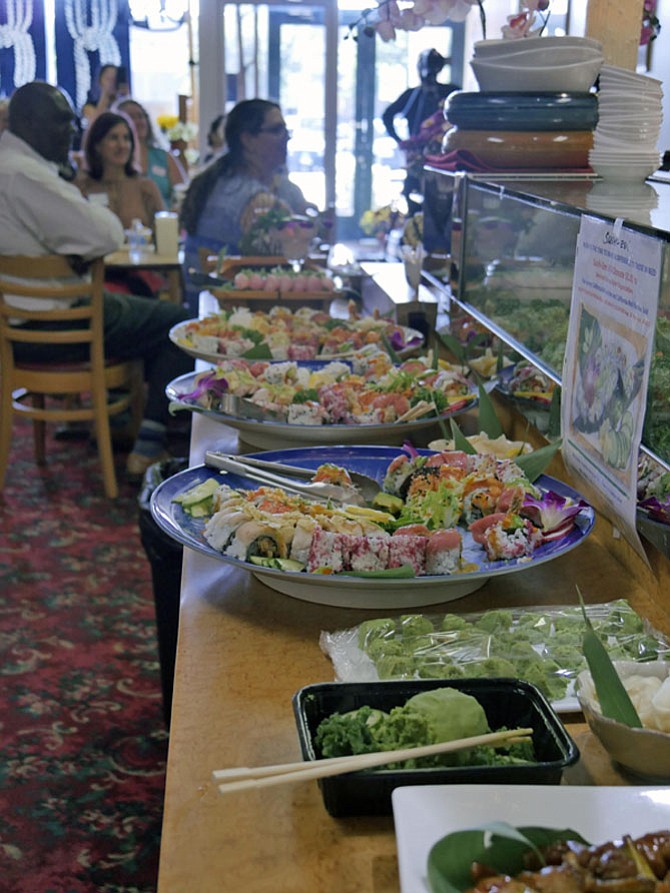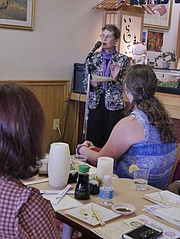 Sushi Zen celebrated its 20th year on Harrison Street by hosting a kickoff for the 20 fundraisers they plan to sponsor during the next year to raise money for local non-profit organizations. During its 10th anniversary year they held 10 fundraisers.
Rosie Gordon-Mochizuki, co-owner with her husband, Shoji Mochizuki, said, "We're trying to let everyone know how much these organizations need money to keep doing their good work. With cutbacks in state and local support, it is getting more difficult for these organizations to survive." Her goal is to raise $20,000. "I am determined, and then next August we'll all get together and have a big party."
Gordon-Mochizuki remembers when they opened the restaurant in 1997 that the strip mall on Harrison Street was in pretty bad shape consisting of a corner grocery with dusty floors, "a mess of a parking lot, and at 8 p.m. the place was dead." She said in the beginning they had to figure out how to survive with no money. During the recession "we were hanging on by our toenails but people still came in, maybe cut back on sushi, ordered one beer instead of two."
Then Sushi Zen became a project of Georgetown MBA business school students who did studies of Sushi Zen and other restaurants. They identified issues and presented solutions "for how we could survive on no money."
Dr. Charles Toftoy, who organized this effort, said, "The students redesigned their menu one year and came up with other ideas to help them succeed."
Chopsticks snapped up cherry blossom rolls, yakitori, fireworks and super crunchy rolls as representatives from over 20 nonprofit organizations shared stories about their upcoming fundraisers and their needs. It was a chance to network and plan for the busy year ahead.
"Does everyone know what we are doing next?" Shakes of the head as the group learns each one has the opportunity for an impromptu 1-minute elevator speech laying out their organization's purpose. And to keep within the time limit they are threatened with the gong, which in reality is a miniature school bell.
Heather Pritchett from Offender Aid and Restoration (OAR) volunteers to start the ball rolling followed by groups representing homeless, after-school reading, environment and domestic violence protection needs.

Thomas Hartman, Yorktown High School orchestra director, says another group that benefits each year is the Yorktown orchestra. They have a "fundraiser with Rosie" on Election Day to raise the costs of an orchestra trip to a metropolitan area. Hartman said, "There is a huge pressure these days to give up 'trivia' like music and become another cog in the technocratic machine. But," he said, "if you can get the kids to New York, they can see the way in which the arts work."
Shoji says he came here in 1973 to work for a Japanese company. But his son, Brian Mochizuki, says his father had always loved to cook and wanted to have his own business. When Shoji's friend asked him to come and learn to make sushi, it started him down the road that eventually led to opening Sushi Zen. Shoji said, "I learned to make sushi in America."
Brian Mochizuki explains Sushi Zen is the character for dining table but translates into a family experience together. He comments that in the beginning they were focused on survival and he didn't see too much of his father when he was growing up. "He was working so hard."

Gordon-Mochizuki explains that was one of her qualifications on the list for marriage, a man who liked cats, children and knew how to cook. "And besides being an excellent cook, he is an artist with food, too."

Gordon-Mochizuki was described by a local minister as "the little engine that does and does every day. Ain't nobody got a bigger heart than this lady here." Gordon-Mochizuki said, "We have had wonderful support here from the Arlington community and our efforts arise from our deep philosophical obligation to repay our debt of gratitude."