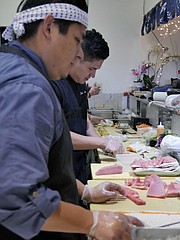 It's business as usual, and then it isn't. Rosie Gordon-Mochizuki, co-owner of Sushi Zen with her husband, Shoji, has been in business at the Harrison Street Shopping Center for 23 years. "We were here before the bagel place came and then Harris Teeter on the corner and then the Mexican place. I don't remember when the Thai place came."
Then the COVID-19 pandemic arrived. Over that weekend Sushi Zen continued with lunch and dinner as usual because of time needed to notify the customers about the upcoming changes. On Monday they went to carryout only. "We had to find out who could work. Nobody knew what it would be like."
She said they were flooded to make changes in the menu. "We debated back and forth. But we're lucky that everything uses the same ingredients but just combined in different ways." She says her daughter counted up 120 different menu choices. "But we knew if we took off any of the favorites there would be complaints."
Gordon-Mochizuki says, "We were fortunate because we had previously been doing over $100,000 a year in carry-out, so we were equipped to make the transition." But they had so many things going on from lunch and dinner to carry out. "My family has been working 12-16 hour days." She says a lot of people don't know that small family-owned restaurants like theirs operate on a razor-thin profit margin of pennies on the dollar. Their business has been down almost 50 percent the first couple of weeks.
The major problem in the beginning was lack of staff. Some of the staff are older and vulnerable so they couldn't come. "Others were afraid to come." She had one employee whose landlord threatened to kick him out if he went to work because he might bring the virus back with him.
Now she has been able to get masks and that has allowed some staff to return. The extra staff has allowed Sushi Zen to move from carry out to curbside service. "Last Friday was really good; Saturday and Sunday were ok. We appreciate that customers have been very generous with their tips." She says she has just been able to make the last two payrolls by using some personal money. "We made a decision to pay our employees first and will be renegotiating with everyone we owe money to get the best deal that we can."
Now Gordon-Mochizuki is worried about the future. Sushi Zen received a letter from their landlord. It indicated the landlord realized many of the businesses are facing significant financial hardship and they want to work with the businesses. In fact Gordon-Mochizuki says the landlord has provided the businesses free Grab and Go banners. "We haven't received any pressure so far."
However, the landlord indicated they strongly recommend that their tenants apply as soon as possible for the disaster relief programs that the SBA is offering, indicating it will be difficult for the landlord to review any rent relief requests without this action.
Gordon-Mochizuki applied on April 13. "Because we have been with the same bank for 23 years and they are SBA lenders, we have been very fortunate in their response to Sushi-Zen and the PPP SBA loan process." She says, the requirements are that you rehire the equivalent number of employees that you had a year ago, which translates into 17 for Sushi Zen including part-time.
Now she has read that the program is expected to run out of money by April 15. It did run out later that day and Gordon-Mochizuki says they have not received word that their loan had been approved before the money was gone. She and her husband live in Maryland where Gov. Hogan issued a moratorium on rental and commercial lease evictions on April 6. "If our business was in Maryland we would be protected. Since we are in Arlington, we have no commercial rent protections."
In addition, Gordon-Mochizuki adds that another issue is the nationwide refusal of all commercial property and casualty insurance companies to pay for business interruption service. "If your business is destroyed by a fire, flood, tornado, blizzard, you will receive some business interruption insurance payments." But she says after Ebola and SARS and Zika, commercial insurance companies wrote exclusions into their commercial policies for any business interruption due to such causes.
A concerned customer contacted State Senator Barbara Favola who responded on April 14, "There is a moratorium on evictions but payment arrangements are left up to the individual parties. … Safety-net programs are available to help individuals and banks make it through these tough times."
Despite these concerns, Gordon-Mochizuki is busy organizing her next fundraiser on May 5 for local non-profits. She says it will be a sign of normalcy, giving back to the community. She says it will have to be done a little differently than in the past. In 2018 Sushi Zen held 20 fundraisers in the restaurant for 20 local non-profit organizations to celebrate Sushi Zen's 20 years in business. She says,"Sushi Zen is going to survive and thrive—no matter what! My motto now is I'm looking forward to celebrating 25 fundraisers in 2023."