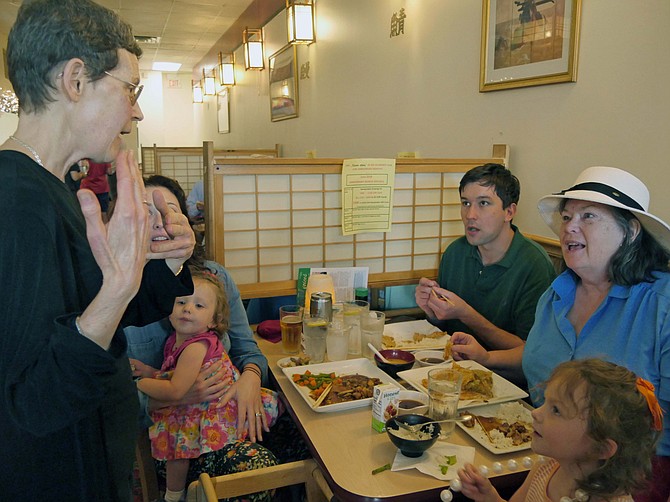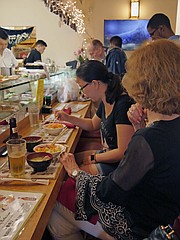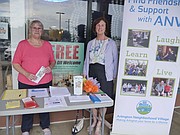 It is June 20, and one year of Sushi Zen fundraisers is about to be completed. Rosie Gordon-Mochizuki, co-owner of Sushi Zen with her husband Shoji Mochizuki, says they decided to host 20 fundraisers in a year for different non-profit organizations, to celebrate their 20 years in business in Arlington. They started with Educational Theatre in June 2017. They have now reached their goal of 20 with Arlington Neighborhood Village (ANV).
A crowd gathers on the sidewalk outside the restaurant in the Harrison Shopping Mall waiting for an open table as ANV volunteers explain the purpose of the organization. Wendy Zenker, executive director of ANV, explains the goal is to provide services that help neighbors age in place. "We want to help people stay at home as long as possible."
She says the organization has 215 members who pay for the ANV services and 200 volunteers who provide those services. The volunteers have a whole series of skills and "they assist with everything from rides to doctor's appointments to 'Teeter' runs to what my mother would have called 'the beauty ball.' You know some people still go for their weekly beauty appointment." Also changing light bulbs. "People shouldn't be up on a ladder."
Donna Pastore, the president of the ANV board, who is there with her sight support dog, explains that Zenker introduced her to Wegmans. And Zenker explains when a tree fell on Pastore's house during that big storm, she helped find Pastore a hotel and a contractor with a tree company.
Gail Kutner is one of the founding members who helped ANV get started four years ago. She says that although this concept of neighborhood villages is nationwide, there are different kinds of villages and each one is unique. ANV covers the whole county. She recalls once helping wrap Christmas presents for one of the members. "But one of the best things of all: we make so many good friends. It's a big part of my life."
Gordon-Mochizuki says, "As for Sushi Zen, I thought I might just do a dozen fundraisers next year, but now I think I might just try for 21. There are so many great organizations out there."