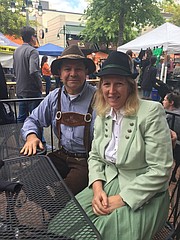 Gemütlichkeit is a German word that conveys a sense of community and companionship. It's a peace of mind that comes from social acceptance. It's Dana Purdy's favorite thing about the 18th annual Capitol City Brewing Company Oktoberfest.
"It's a great opportunity to get out and enjoy the community spirit," said Purdy. "It's great watching a lot of people in their outfits."
Oktoberfest is a massive annual beer festival held in Munich. Smaller festivals are held around the world. The largest in Northern Virginia is the one held Sept. 30 in Shirlington Village. Both sides of Campbell Avenue were packed with vendors selling traditional German food and a variety of beers, international and local. Purdy, an Alexandria resident, had never been to this Oktoberfest, but she and Omar Fuentes had their traditional german outfits at home and the festival popped up on a google search. Among the various local German-themed attractions, Purdy said she was particularly excited to see the German dancing and music.
The streets were packed with attendees from across the region dressed in lederhosen and other traditional German outfits. Jean and Jim Knaack have been dressing up and going to the festival for the 18 years it's been running. They lived in Fairlington and starting attending the festival because it was child-friendly. The tradition has continued even with their kids out of the house.
"We've been coming here forever," Jean Knaack said. "It's a great way to spotlight Shirlington. We're very into the craft brew scene. It's a great opportunity to try a lot of things. There are breweries at this festival that we now drink regularly."
Jean Knaack pointed to Brooklyn Brewery as one example, but said lately they were really happy to see the festival focus more on local beers. Several attendees said that this was one of the positive changes they've seen over the last few years.
"We love coming here for the Virginia beers," said Natalie Nguyen-Woodruff. "Virginia has been really blooming in wine and brew. This offers a little taste of everything."
Frank Woodruff lives in Springfield and said he goes to the festival every year. While he lamented that there seemed to be a smaller number of vendors this year, he said the food keeps getting better and there's more local Virginia breweries than ever.
"It's the busiest of the three years I've been going, " said Aaron Van Horenbeck. Van Horenbeck is from Tampa, but says he comes up to this festival on Saturday and then likes to go into D.C. on Sunday.
"It's so great," said Lauren Sledd, traveling to the festival with Van Horenbeck. "It's so much fun. Last year there was a little rain, but this year it's perfect."
Sledd said she likes to come to the festival to dress up and meet new people. This year the two of them brought Samantha Billups, attending the festival for the first time, but Billups said she will definitely be coming again.