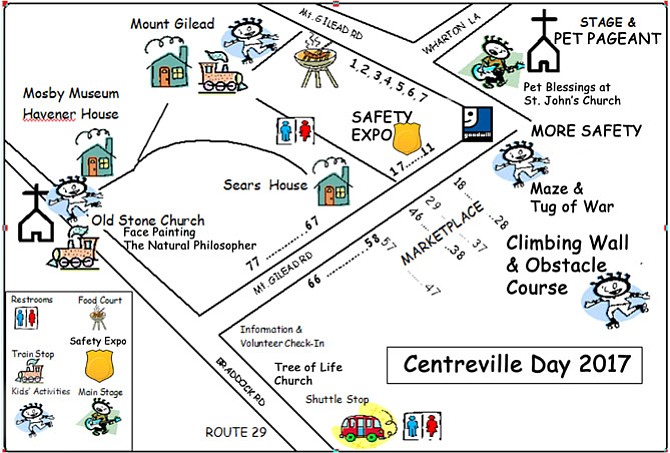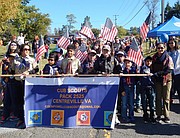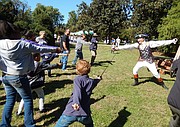 Silver anniversaries are special, and that's what this year's Centreville Day celebration, the 25th annual, promises to be. It's slated for this Saturday, Oct. 21, from 10 a.m.-5 p.m., in Historic Centreville Park, 5714 Mount Gilead Road (off Braddock Road, across Route 29 from the IHOP).
The fun includes children's activities, a parade, live music, a pet pageant, martial arts, swordsmen, dancing, food and crafts. Admission is free, and free parking and shuttles will be available at The Trinity Centre, 5860 Trinity Parkway, off Route 29.
Centreville Day was started by Centreville resident Teri Hunt, who considered this area a great place in need of an identity. So she created the first Centreville Day celebration, which was held on the 200th anniversary of the establishment of the town charter. And now, this weekend, attendees will gather in Centreville's Historic District to celebrate 225 years of community spirit and heritage.
Friends of Historic Centreville puts on Centreville Day in partnership with the Fairfax County Park Authority. And the Centreville Day Planning Committee hashes out all the details.
"It's an amazing group of people who work so hard each year, but still manage to laugh and really enjoy working together," said event organizer Cheryl Repetti, on the committee since 2004. "And at Centreville Day, members of the community are all here together, exchanging smiles and handshakes and maybe a kind word or two. And hopefully, we go home thinking that Centreville's a nice place to live."
Event coordinator Carol Robinson is also integral to the celebration's success. Said Robinson: "From the early years of closing down Braddock and Union Mill roads for the parade [near Centreville High] to having our own Historic Centreville Park, Centreville Day provides ways for the community to appreciate what has occurred in our special part of local, state and national history."
Opening ceremonies are at 10 a.m. at the main stage near St. John's Episcopal Church, 5649 Mount Gilead Road, where Supervisor Kathy Smith (D-Sully) will present the Centreville Day Citizen of the Year award.
The parade will start assembling at the end of Wharton Lane near Wharton Park Court at 10:30 a.m. It'll kick off at Wharton Lane at 11 a.m., passing the stage shortly before noon and continuing along Mt. Gilead Road to Braddock Road. Residents living north of Wharton Lane will notice brief, rolling, road closures as the parade passes by.
Chantilly Academy's Air Force JROTC will lead the parade, organized by American Legion Post 1995. Participants include fire and police vehicles, Boy Scouts, Girl Scouts, the county Sheriff's Office and more. Anyone can be in it and costumes are encouraged. Prizes will be awarded; register in advance at www.CentrevilleDay.org.
Food offerings will include pulled pork and other barbecue items, shawarmas, baklava, Thai dishes, seafood and quesadillas. And crafters, businesses and nonprofits will have several booths.
Also planned are a slew of children's activities, including trick-or-treating in costume through the community marketplace on Mt. Gilead Road. There'll also be a climbing wall, slide, History Train rides, face-painting, pumpkin-smashing, sack races, a tug-of-war, a maze and a candy-store obstacle course.
They can also enjoy hands-on history at Mount Gilead, which was built as a tavern in 1785. It'll be open for guided tours and, on its lawn, Sully Historic Site volunteers will help children dip candles, write with a quill pen and make simple toys to take home.
Also there will be the Swordsmen of the 18th Century, Charlie and John Anderson, who'll demonstrate their swashbuckling skills and share their extensive knowledge with the crowd. Living historians, Pirates for Sail, will be camped on that lawn, too.
This group, which also sings, will kick off the main stage entertainment at 10:40 a.m. And after the parade, The VaDeatles – comprised of teachers mainly from Stone Middle School – will cover songs of the Beatles and other rock bands. Also entertaining will be: Powerworx Dancers, the Youth Choir of the Fairfax Choral Society, Hallelujah Tae Kwon Do demonstration team, Korean harmonica and autoharp players, and the Northern Virginia Wu Shu Academy. Rounding out the fun will be a hula-hoop contest, plus additional acts; for more information, go to www.CentrevilleDa.org.
At the Safety Expo, people will meet local first responders and other public-safety personnel, learn about the services they provide and how to handle emergencies. Sheriff's Office personnel will make child IDs, police and fire-and-rescue vehicles will be on display and, if possible, a police helicopter.
The pet pageant is set for 2 p.m. at the main stage; register at the Website. Families may bring more than one pet, and certificates will be awarded in various categories. Contact Cammy Gawlak at cgawlak@verizon.net. And throughout the day, the Rev. Carol Hancock will bless pets at the Saint John's tent on the church's lawn, and the church, itself, will be open for tours.
Attendees may also visit the Spindle Sears House, just down the street from St. John's. Purchased in 1933 from a Sears catalog and shipped here by train, it'll be open for tours by historian Allison Hartley.
Guided tours will be available at Mount Gilead, too. It's one of the stops for the Park Authority's History Train, driven from the Sully Historic Site by Matt McNeal. The train will take attendees between stations on the lawn at Mount Gilead and Braddock Road.
Visitors may also disembark at the Braddock Road stop and stroll downhill to explore the Old Stone Church – the Church of the Ascension – to tour the historic church and view an array of antique scientific instruments and curiosities.
Baked goods and a ploughman's lunch will be sold there, and free face painting will be available. The nearby Havener House and Stuart-Mosby Civil War Cavalry Museum on Braddock Road will be open for tours, too.