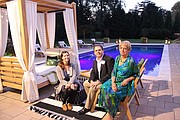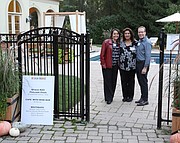 A poolside soiree in Potomac was the backdrop for the 40th anniversary celebration of Country Casual Teak. Company officials and their guests sipped and nibbled as they reflected on four decades in business at the D.C. Design House pool space which was created by Kim Asner, one of the company's furniture designers.
The company's COO, Dana Goldstein says the Poolside Oasis at the Congressional Court home was, "the perfect spot to entertain guests and thank them for their support of our family-run business and share a little bit about our rich history in the Washington, D.C. region."
Guest viewed a big screen video that recapped the company's history followed by an evening tour of the Design House.
The D.C. Design House closes on Sunday, Oct. 29.
More like this story