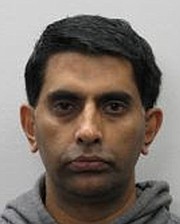 Imtiaz Rauf, 44, of Gainesville, who is a registered sex offender, was charged with sexual battery for allegedly assaulting a woman who thought she was meeting him in Reston for a job interview, according to the Fairfax County Police Department.
A preliminary investigation revealed Rauf allegedly placed an ad on Craigslist for the position of administrative assistant. When the victim arrived at an office building at 12005 Sunrise Valley Drive for an interview, she was sexually assaulted, according to the FCPD.
The department is investigating other similar reports and additional charges may be forthcoming. Rauf is being held at the Adult Detention Center in Fairfax without bond as detectives look into other ads police believe to be placed by him, according to the FCPD.
Rauf initially registered with the Virginia State Police Sex Offender Registry on July 6, 2011, after being convicted in Maryland on Feb. 14, 2011, for sexual solicitation of a minor by the Montgomery County Circuit Court, according to the Virginia State Police.
The FCPD encourages victims who may have answered such ads to call Detective T. Horton at 703-246-7800. The department also encourages anyone with information on this case or other incidents involving Rauf to contact police by visiting www.fairfaxcrimesolvers.org, or by texting text-a-tip to CRIMES (274637) and starting a message with "TIP187."