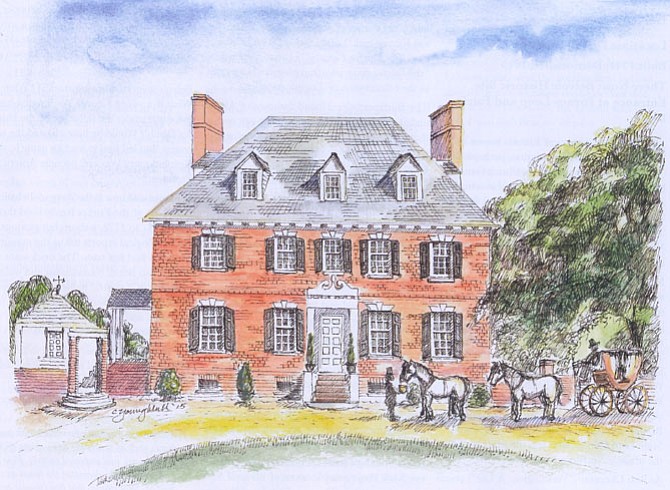 Mount Vernon — Book author Jay Roberts, 60, of Groveton will be giving a free walking tour on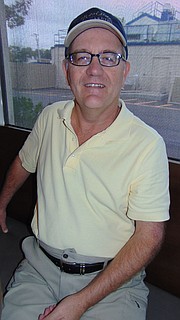 Saturday, Oct. 28, from 10-11:30 a.m., on the sites of three destroyed historic homes which were demolished in the 1960s in southeast Fairfax County.
The sites are of three landmark homes — Mount Eagle, Spring Bank, and City View — that once graced the local landscape.
Roberts, a retired Air Force inventory manager, learned of those sites when he was researching his book, "Lost Alexandria, An Illustrated History of 16 Destroyed Historic Homes in and Around Alexandria, Virginia," which was self-published in Spring 2017. The book is available in The Old Town Shop on South Union Street in Alexandria. Roberts also writes a blog called Jaybird's Jottings (jay.typepad.com) where he delves into local history. He can be reached at Jaybird926@aol.com.
The book, which took two years to research, is an illustrated history of 16 destroyed historic homes in and around Alexandria. The homes that no longer
If you go…
The Walking Tour by Jay Roberts on Saturday, Oct. 28, starts at 10 a.m. and meets at Mount Eagle Park, at the corner of Biscayne Drive and Huntington Park Drive, just south of the Huntington Metro. The tour ends at the Panera at the Beacon Center.
stand were built between 1710 up through the Civil War period. Only six of the homes have a historic marker, and for some, the landscape has been built over with commercial development and modern buildings.
He said many people today are unaware of the local history right in their backyards. "My wife (Roberta) and I live in Groveton and there were three historic homes in and around Groveton and it's as if no one knew about them. There's no historical marker. It's as if their stories had vanished, so I decided those stories needed to be told … So I wanted to bring those stories back," said Roberts.
"Lost Alexandria" chronicles five sites built south of the Beltway in Fairfax County down to Fort Belvoir; nine sites in the City of Alexandria; one built in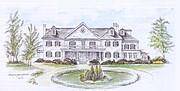 Prince George's County at National Harbor; and one at National Airport.
Roberts first got interested in history when the couple moved here in 1995 and he fell in love with the history of Alexandria and the region, so he began to immerse himself in the local history. He owns more than 100 books on Alexandria and area history.
"I would say I'm like a sponge. I like to learn about every and all aspects of history that I can. Our area, Alexandria, is so rich with history, and in fact, it's an embarrassment of riches," he said.
Some of his research involved looking at special book collections at the Alexandria Library; some involved delving into online maps, documents and local newspapers. "I also interviewed two people who lived in two of the homes," he said.
What strikes him the most after completing the book is that some people who live here are not aware of what used to be on these properties. "They had no idea that the home was even there," he said.
Here are highlights of a few of the homes from his book, which are south of the Beltway, and what he discovered.
Mount Eagle
Location: 5905 Mt. Eagle Drive, Alexandria. Built 1790; destroyed by fire set by Fairfax County Fire Department in 1968 for training. What's there now: Montebello Condominiums.
Roberts said that Bryan Fairfax, the Eighth Lord Fairfax, was a lifelong friend of George Washington who lived there from 1790 to 1802. The property was situated on 70 acres on top of a hill at the present-day Huntington Metro Station, overlooking Alexandria and the Potomac River. A 1930 tourist book of the region listed it as the No. 1 attraction other than Alexandria and Mount Vernon because of its connection with Washington. In the 1940s and 1950s, there was need for more residential development for homes and transportation due to the jobs that were opening up in the area; it was considered prime real estate. In 1983, the Huntington Metro Station opened as part of its Yellow Line service from National Airport.
Spring Bank
Location: 6303 Richmond Highway, Alexandria. Built 1804; Demolished 1972. What's there now: Walmart.
Roberts said the inhabitants of Spring Bank, which sat on 128 acres two miles south of Alexandria, included Robert Patton, a raw goods merchant in Alexandria; George W. Mason, the grandson of George Mason; and Fitzhugh Lee, the nephew of Robert E. Lee, the 40th Governor of Virginia in 1885. He said what's remarkable about Spring Bank was that it was built with bricks while most country homes at that time were built with wood. "In the 1960s, with more and more people moving to this part of Fairfax County, there was a need for retail and restaurants, so it was torn down to build suburban retail," said Roberts.
City View II
Location: 6670 Richmond Highway, Alexandria. Built 1920; Demolished 1959. What's there now: Beacon Center.
Roberts said City View, which once sat on a 74-acre farm three miles south of Alexandria in the Groveton neighborhood, was built as a motel with more than two dozen rooms near Beacon Field Airport. The airport operated from 1920 to 1959. Later on, the Reid family turned City View into their residence. At the same time, it became a de facto community hangout and social gathering place.
"Harry Lehman, who grew up in City View, told me that the view from the top of the house was magnificent. One could see Alexandria and all the way to Washington," he said. It was situated on the top of Beacon Hill, which is the highest point in the area. The Dixie Pig Restaurant, which operated from 1947 to the early 1990s, was directly across the street.
Belvoir
Location: Fort Belvoir. Built 1741; Demolished 1815. What's there now: Belvoir Historic Site, entrance at Forney Loop and Fairfax Drive.
Roberts said Fort Belvoir is named after Belvoir Mansion, which offers a window into the life of Thomas, Sixth Lord Fairfax, from whom Fairfax County gets its name. The Fairfaxes, who lived there from 1741 to 1773, helped found the town of Alexandria in 1749. George Washington, who lived at Mount Vernon (three miles away), visited Col. William Lord Fairfax, cousin of Thomas many times. Belvoir, a two-story Georgian brick manor, overlooked the Potomac River south of Mount Vernon. Now part of Fort Belvoir, it was one of the first large brick manor homes in the area and is protected as an historic site. The Belvoir site has a dozen historical signs and markers.
West Grove
Location: 6023 Fort Hunt Road, Alexandria. Built 1710; Destroyed by fire 1861. What's there now: Belle Haven Golf Course and Country Club.
Roberts said that West Grove tells the story of the West family who had as many as 27 slaves. "In 1749, when Alexandria was founded, part of the new seaport was located at a tobacco landing that belonged to Hugh West," he said. West Grove was built in 1710 as a two-story brick manor that overlooked the south side of Alexandria during the Civil War. The West Grove plantation included the manor, an orchard, and a river landing. It is believed that Union soldiers burned it down during the Civil War. On its site today is the Belle Haven Country Club, but there's no historical marker for the lost historic house, he said.