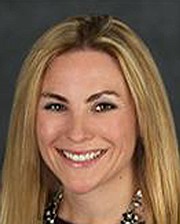 Katie Reynolds, the new principal of Waynewood Elementary School, has more than 15 years of experience which began in 2001 at Waynewood where she served as a student teacher. Prior to her return to Waynewood, Reynolds was an assistant principal at Lane Elementary School and was a LEAD Fairfax intern.
She began her teaching career with Fairfax County Public Schools at Belvedere Elementary, where she was an advanced academic program teacher for three of the 10 years she worked there. Reynolds hopes to bring her experience with advanced education to Waynewood and help all students gain deep thinking and problem solving strategies, all while making learning fun.
A graduate of James Madison University, Reynolds earned a bachelor's degree in psychology. She earned a master's in education, curriculum, and instruction, and master's in education, education leadership from George Mason University. She holds a Virginia preK-12 administration and supervision certificate. In addition to her education career being rooted in Virginia, Reynolds feels right at home in the Alexandria area and looks forward to getting to know the entire Waynewood community.
Reynolds worked with Eleanor Contreras of Lane Elementary school for five years as assistant principal. Contreras describes Reynolds as a"strategic leader who puts an emphasis on teamwork, with a tremendous capacity to build relationships with the entirety of the school community." Reynolds is known for her sense of humor and setting high standards. She manages to balance the two by incorporating fun into learning and the school culture.
Terry Dade, Region 3 superintendent, appointed Reynolds to lead Waynewood Elementary. Prior to Reynolds, Waynewood was led by Principal James Meier; staff and families wanted to make sure that the new principal would continue the tradition of building strong relationships with the entire community.
Dade describes Reynolds as "a people person," someone who could advance the academics across the board and manage the current construction project.
Reynolds has high hopes for the future of Waynewood Elementary. Reynolds wishes for the school to become a model of what the Fairfax County Portrait of a Graduate program guidelines look like on the elementary level. Her more immediate goals however include building relationships with students, parents, and faculty as a first year principal.