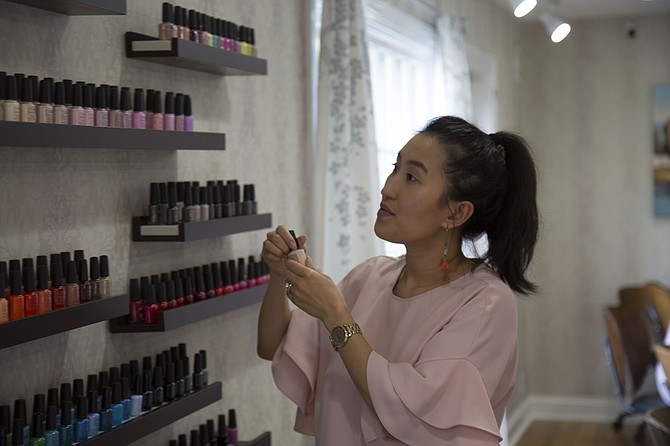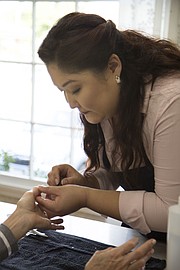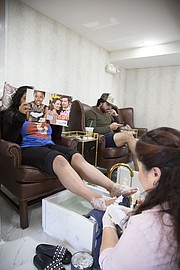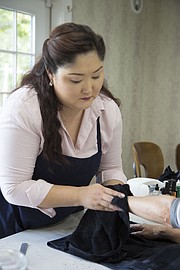 Nomin Bold, 27, of Reston and her husband opened River Nails & Spa in the Great Falls Village Centre with an aim to offer only treatments with products that are less toxic.
Bold and her husband, Sukhbold Shagdarjav, are persnickety about the salon's products because of the new life they reared into the world: Their 5-month-old daughter Skylar.
"Essentially, we're a non-toxic salon," Bold said.
A growing number of studies show that long periods of exposure to chemical fumes of nail polish and salon products are linked to nail technicians' respiratory, neurological and other health conditions, including infertility, miscarriages, kidney and liver damage and migraines, according to the Centers for Disease Control and Prevention National Institute for Occupational Safety and Health.
Bold wanted to create a safe place for customers to come and get their nails done.
"I've been to a lot of salons and I could never really find one that I really liked," Bold said. "The options were very limited."
HER SALON, which offers manicures and pedicures, only uses polish from two brands that offer semi- and totally non-toxic polish: Deborah Lippmann and CND.
The polish bottles say 3-free, 5-free or 7-free, which means they exclude certain toxic chemicals that are traditionally found in polish: Dibutyl phthalate (DBP), formaldehyde and toluene are excluded in 3-free formulas; DBP, formaldehyde, toluene, formaldehyde resin and camphor are excluded in 5-free formulas; and DBP, formaldehyde, toluene, formaldehyde resin, camphor, ethyl tosylamide and xylene are excluded in 7-free formulas.
"They're just healthier for the nails," Bold said.
Acrylic nail treatments are banned from the salon because of the negative effects that have been associated with their use: Inflamed or itchy cuticles, infection and weakened nails over time.
"We have regular clients already," Bold said. "It's because I think they see a difference in their nails and the atmosphere."
"The location was perfect," Anna Freska of Great Falls said after returning for her second pedicure at the spa. "I love their very light and airy, open décor and focus on doing nail services naturally with concern of the health of the clients."
Freska asked her nail technician to use Deborah Lippmann's "Genie in a Bottle" polish, which is one of the most popular polishes at the spa. The polish is a base coat nail treatment, which only uses biotin, green tea, sunflower seed oil and vitamin E.
"People who don't like polishes, that's what they get and they promise by it," Bold said. "It really strengthens their nails and really nourishes their nails."
The salon also has a special exhaust system that pulls air directly from the room, according to Bold. Fans and vents are located directly at the manicure table and near the pedicure stations.
"There's always an exchange going on," Bold said. "They're always getting air out and getting fresh air in. That's how you don't get the bad smell. It's healthier for the person getting their nails done and for the [six] people who are working here."
Installing the exhaust system was an investment, but was well worth it, Bold said of transforming the space from an office into her salon.
"It's worth it for moms; they bring their kids and they don't have to worry about having their kids sitting through a place where they're inhaling all chemicals," she said.
The soaks that are used during treatments are all by BCL Spa, which makes their products with organic ingredients.
THE LOCATION was also a setting Bold and her husband thought would be ideal. The River Nails & Spa is named for the Great Falls of the Potomac River, which runs through the Mather Gorge at the Great Falls Park.
"I wanted to open something that people would get an experience from, not an ordinary nail shop that you go in and out," Bold said. "You come here, you relax and don't have to worry about infection or anything like that."
In addition to nails, Bold said the salon will soon offer lash extensions and micro blading treatments.