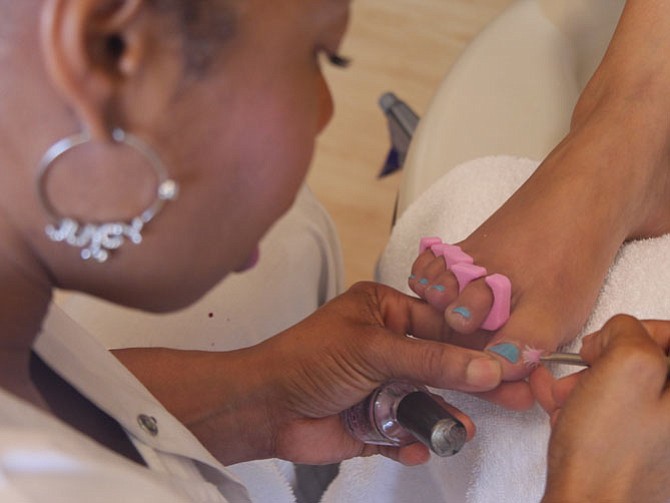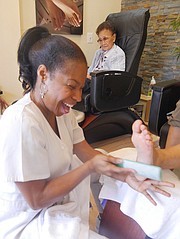 "Pick your color dear." Tracy Jefferson's fingers roam over the bottles of polish and land on "I can't find my Czech book", a vibrant blue for her pedicure at Sugar House Day Spa and Salon on N. Alfred Street. Monique Banks settles Jefferson in a comfortable, padded chair with her feet in a basin of water. "How is the temperature? " she asks Jefferson. The 45-minute process will begin with removal of the old toenail polish, then move to shortening and shaping. "There is a brand new emery board for each guest."
"I remember going with my aunt who got her nails done when I was 9 or 10. She had a male manicurist, and this was probably my first perception of males," Banks said. "After that, I bought myself some cheap nail polishes and practiced on my friends, and I did nail designs."
Today she says nail art has made a comeback from the early '90s. Banks added she has a customer, Danielle, who will pick 5-7 colors and "I just use my imagination. She usually wants something a little funky." Jefferson interjects, "I thought Banks must have an art background."
Banks dabs on cuticle remover and massages it in around the nail to help with the dead tissue. Then on to the foot file, moving it back and forth over the heel to remove any loose skin. Banks opens a jar of yellow crystals on her stand next to the chair. "This is lemon, one of the two new scents for summer if you choose the sugar scrub option." The light scent floats through the air as she begins to massage, relaxing the leg first, then moving to the toes. "That feels so good," Jefferson declares as Banks works on her left foot for a few minutes. Banks says people tell her she is so gentle. "You don't have to be rough. Each one of us develops our own technique."
Banks says that people will often get something more conservative on their fingernails and experiment a little on their toes which they can cover up if it turns out they don't like it. "I am a blue girl myself and I love sparkles. I love color and will try to get people out of their comfort zone. For instance Tracy always used to get clear or light pink."
There is no predictable schedule in a day although Banks does work 9 a.m.-5 p.m. Monday, Friday and Saturday and 9 a.m.-6 p.m. Tuesday and Thursday. For instance, yesterday she did only one manicure all day with the rest pedicures "for summer."
She has been at Sugar House since 2000, "and I have had a lot of my clients since I started." Her clients now come in with their own children; the children graduate and come in without their parents. "I have relationships." In addition to her work here, Banks is a licensed make-up artist and does freelance make-up and nails on her own time, often for special occasions such as weddings. She attended the former Fame School of Nail Design in Silver Spring which she says took about a year "because I was working and in school at the same time."
Banks says there is a large male clientele. "There is nothing like seeing a professional man with a nice watch and pair of shoes but with oil under his nails. You just have to get him through the door the first time. He doesn't know what to expect." She said there is a large misconception that a man has worse feet than his wife, but that's not true — think what we women do to our feet with heels."
Next step is to separate the toes with foam to keep the polish from smearing neighboring toes and then application of the clear base coat, carefully brushing it on. Her concentration deepens as she moves on to applying the color. Banks said there are some new developments with gel polish and shellac that will extend a manicure for professional women and "those who are hard on their hands." Also pointed nails are back. Green, blue and yellow are still popular but not the electric color of the past; they are warmer. Banks applies the top coat, and the nails begin to dry. Drying time depends on a lot of things including heat and humidity that day as well as the person's own body temperature. Banks says a lot of the nail stylists at the salon have another stylist do their nails for them. "But I like to do my own."
Jefferson adds, "She is a perfectionist."