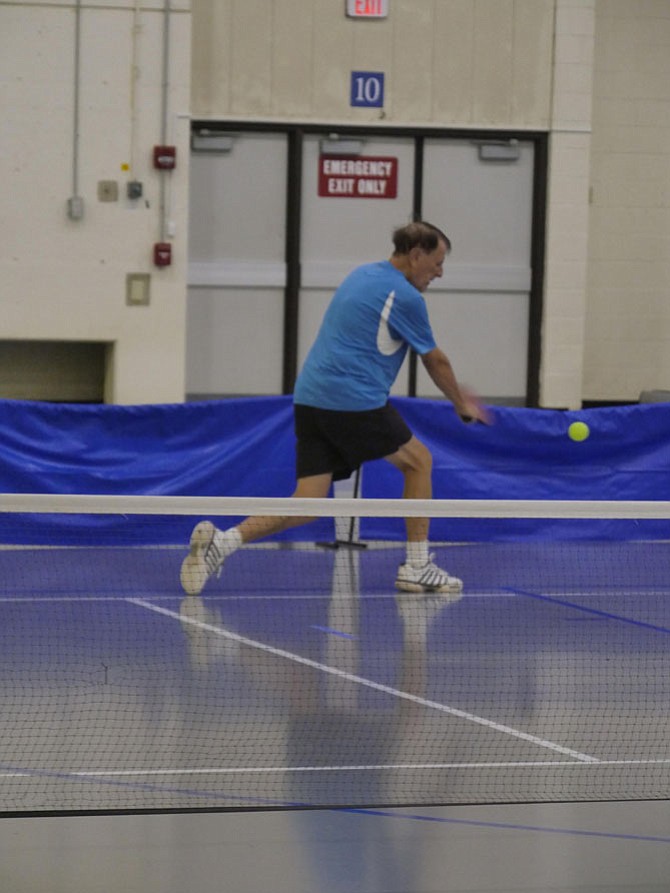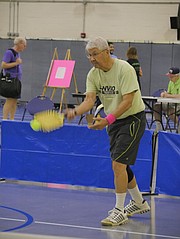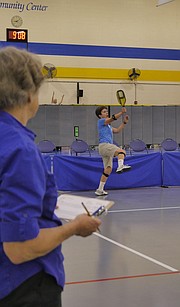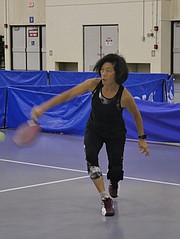 The last day of Northern Virginia Senior Olympics (NVSO) winds down on Wednesday, Sept. 20 but the enthusiasm of the pickleball competitors hasn't diminished as 26 competitors face off in the pickleball singles at Thomas Jefferson Community Center. An official comments that yesterday was six hours of doubles and women's pickleball. "We didn't end until 3."
Court 1 pits Judy Aw from Falls Church against Sandra Hammersley from Manassas. On Court 3 Dennis Clague from Arlington plays Gerard de la Cruz, also from Arlington, originally from Australia. Clague wins the competition in two games. Gerard's wife, Betty de la Cruz, faces Alease Brooks, also from Arlington on Court 2.
The official explains they play the best 2 out of 3 games to 11 points. There are two one-minute time outs. The game has similarities to tennis but is played on a court about 40 x 20, the size of a badminton court. They used to play pickleball outside, but have had too many events rained out in the past. As a matter of fact, today they are hoping to get the first pickleball match finished in time so that one of the contestants can make it to his make-up tennis match at Wakefield.
Seven hundred fifty-two competitors have battled their way from opening day field and track and diving events through tennis, swimming, baseball toss, horseshoes, discus, cribbage, eightball pool, bocce, chess and pickleball, 70 events in all. One competitor, who had participated in a number of different events this year commented she was glad it was coming to an end because her 80-year-old body couldn't take anymore … until next year.