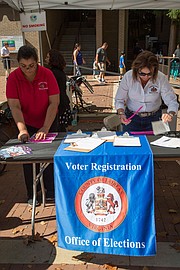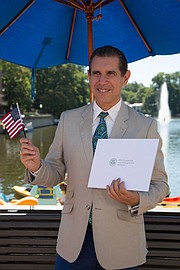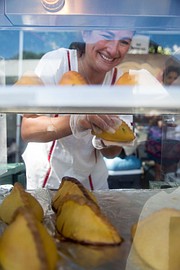 The Multicultural Festival at Lake Anne in Reston featured food trucks, shopping, arts and crafts, music, dancing and naturalization for new U.S. citizens. Marcello Novo, an artist from Alexandria was one of the newly sworn in American Citizens Saturday.
"It is very exciting. I am very proud to be an American. Here is much more multicultural than where I come from, there are people from all over the world," he said. Novo is originally from Argentina.
Multicultural was the theme of the festival, which was a celebration of diversity and community spirit for Reston. The event was sponsored and staffed by the Reston Community Center and it offered a chance for these new citizens to feel welcomed into their community. With pressure on immigration in politics, events like the Reston Multicultural Festival stand out as different and welcoming, and embody the spirit of the United States.
The naturalization ceremony featured Sarah Taylor, Washington District Director of United States Citizenship and Immigration Services.
Different tables represented different cultural crafts, foods, and activities. Mishal Khattah, a ninth grade student at South Lakes and a Reston resident and her friend Samarra Pack of Fairfax, an eighth grader at Rocky Run Middle were in charge of a bracelet making booth.
"I think it's cool, all these different cultures coming together for the kids to learn from," said Pack. "These are the people that always live here," said Khattah.
Voting was another important aspect of the multicultural festival.
"After naturalization, the new U.S. citizens can register to vote, while they're here and motivated," said Pat Ferguson, outreach manager for Fairfax County Office of Elections.
Marissa Thompson, administrative assistant with the Office of Elections was also working to help register people to vote at the festival.
"I love the ceremonies and people appreciate the very important work that we go through to register voters. Not everyone has access to a computer at home," she said.
Reston Community Center staff member Chelsea LeSage was working at an arts crafts booth at the festival Saturday. "The festival makes me feel more connected to the community" she said.