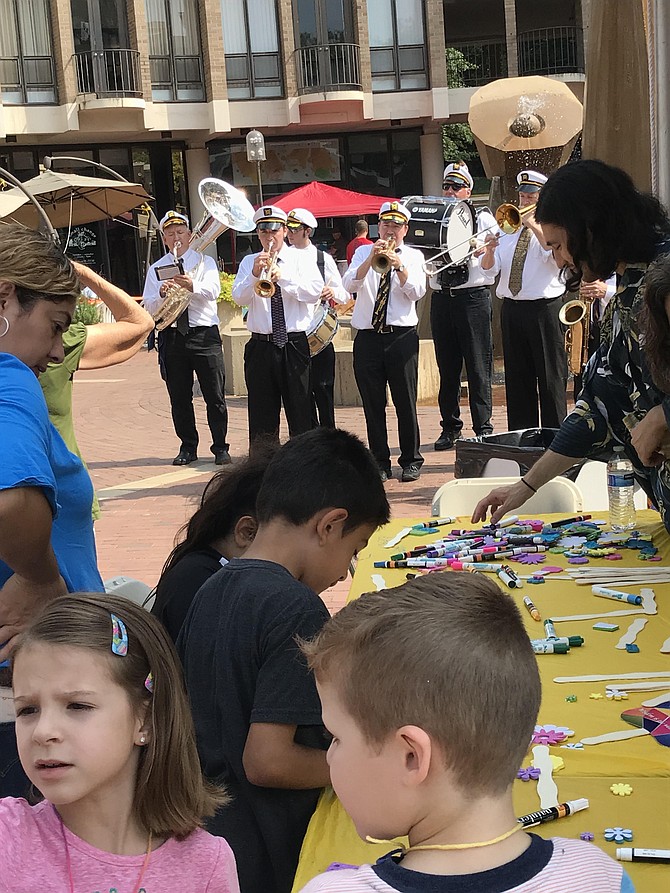 "This is my favorite thing on the plaza for the whole year," said Cheryl Terio-Simon, wife of the late Robert E. Simon, Founder of Reston, as she walked the Lake Anne Plaza during the 2019 Reston Multicultural Festival held Saturday, Sept. 28.
Presented by Reston Community Center, hosted by Lake Anne Plaza and co-sponsored by Reston Association with partners from a variety of Reston based organizations and businesses, the signature event celebrated the diversity and community spirit that makes Reston special.
During the Festival Welcome, U.S. Rep. Gerry Connolly (D-11) said he loved coming to the Festival because it celebrated something that until recently, people took for granted. "We need to remind ourselves and the rest of the country that it (diversity) is a good thing … in Fairfax, we've built on multicultural community. … Bob Simon insisted Reston be interracially integrated… Reston was founded on that principle not to make a point or make a statement but make sure that welcome mat was open." According to Connolly, "In Fairfax County, 30 percent of us are foreign-born." We speak more than 100 languages… our crime rate went down to the lowest in America. Our high school graduation rates went up as the highest in America; our dropout rate the lowest in America. Our median income is in the top three in America; the job rate exploded; we have 650,000 jobs in Fairfax County. You have to conclude, those waves of new Americans coming into our community made it better."
Del. Ken Plum (D-36) reminded citizens that it "...becomes necessary now in the current political climate for us to be willing to speak out... and extend a hand of welcome and acknowledgment of the strength that comes with a diverse community, such as we have (in Reston).
DIVERSITY could be found in the music, performances, storytelling and demonstrations at Festival. Organizers showcased a wide variety of performances and entertainment on three stages such as the vibrant music of Andes Mantas featuring 35 instruments. Stories and demonstrations in the activity area enticed children and adults. Community members explored the "Art Mirrors Culture, the Reston Multicultural Inter-generational Exhibit" and the exhibit of 3-dimensional works, answering the question, 'How does art mirror culture in your work?'
Cathy Baum, President Reston Association Board of Directors, said at the conclusion of the Festival Welcome leading into the Naturalization Ceremony, "This day also reminds us of our founder, Bob Simon...He didn't just create new homes here; he created a different type of community. It celebrated diversity and community spirit... When we cherish and value each other for our differences, and our similarities, we become stronger individuals and stronger collectively."
During the Naturalization Ceremony families and friends had the opportunity to witness the culmination of the process of becoming a United States citizen. Kimberly Zanotti, Washington Field Office Director U.S Citizenship and Immigration Services, Fairfax, Virginia welcomed the "soon to be American citizens" and introduced the South Lakes High School JROTC for the Presentation of the Colors and the singing of the national anthem by the South Lakes High School Chorus.
Next, Tidiane Gueye, Supervisory Immigration Services Officer, Washington Field Office presented the candidates, followed by Zanotti administering the Oath of Allegiance and leading the Pledge of Allegiance. In her remarks, Zanotti urged the new citizens to become involved, engaged citizens. "Volunteer at a local organization. Run for public office. Cast your vote on Election Day. Being American is not about one's religion, the color of one's skin, or the place of one's birth. Rather the United States citizenship speaks to our character, our country to transcend the differences by bestowing upon us all equal rights and responsibilities. Your participation is critical to the continued success of this nation. Again, congratulations to all of you for fulfilling your dream of becoming an American citizen today. I wish you the best of luck as you start this new chapter in your life."
In addition to her remarks, Zanotti said that Kenneth Cuccinelli, Acting Director, U.S. Citizenship and Immigration Services, sent his best regards in a letter.
KEYNOTE SPEAKER Connolly summed up what naturalization means to the new citizens and the message it sends to United States born citizens. "That flag is your flag. The name, United States, is your country. And with it come the rights and responsibilities of citizenship. This is my 25th Naturalization Service at which I've spoken...I like to come to every one I can because I think it is vitally important that America welcomes its newest citizens as one of us. And that we deliver a strong message about inclusion and about diversity. That is what makes America strong.. Thank you for joining this great American family...and bless you all."
New Citizens & Loved One's Comments
New Citizen, Rosa Wolfersberger of Leesburg: I'm extremely happy and proud because it was a long journey to get to this day. I felt very loved and appreciated not only by my family but the whole community. Husband, TJ Wolfersberger: I'm proud of you, Rosa, this country and the opportunity it provides us.
New Citizen, Dominik Firlej of McLean: I'm very happy, excited and a little hot…This ceremony was the best, and I will be doing volunteer service.
New Citizen, Celine Catlett of Woodbridge: It's a life-changing moment, and I'm proud of being an American citizen now. It's not the country I was born in, but the country I choose to live in and grow my family. Husband, Ryan Catlett: It was fun studying with Celine, and she did a great job. At this point, she probably knows more civics than I do. Celine took the test Monday, and it coincided that there was an opening today (for the Naturalization Ceremony.) Brazil and the United States both have a lot of patriotism, but it was still a tough decision for her.
New Citizen, Shashidhar Mandewalkar of Aldie: I'm excited, and it's a feel-good experience. Daughter, Sanchi Mandewalkar, 6: I'm excited (for my father) and we're having a party later.