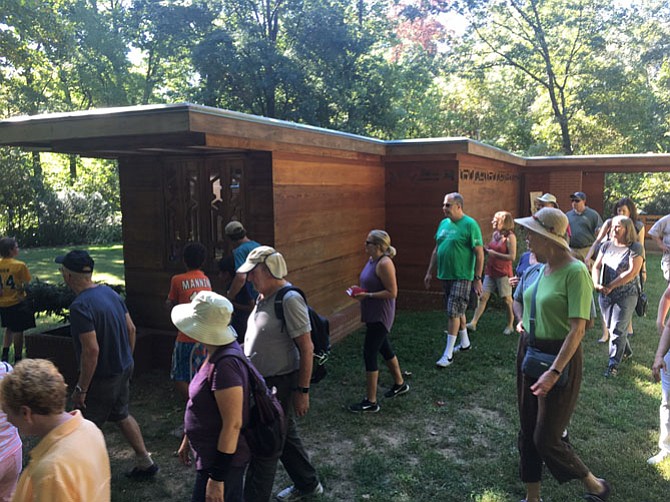 Mount Vernon — Several dozen people took a familiarity tour with Mount Vernon District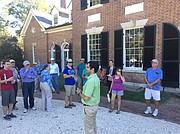 Supervisor Dan Storck and the Northern Virginia Regional Commission (NVRC) of the Woodlawn Historic District in Southern Fairfax County along Route 1 on Saturday, Sept. 23.
The one-mile walk included interpretations at Woodlawn Estate, Arcadia Farm, and Frank Lloyd Wright's Pope-Leighey House as well as the George Washington Distillery and Gristmill. The area is part of the Potomac Heritage National Scenic Trail, which connects communities to natural areas, scenic vistas, historic landmarks, and rivers and streams. The tour showcased opportunities for historic tourism and outdoor recreation in the Mount Vernon area.
"I call this area the Cultural Corridor or maybe the Colonial Corridor," said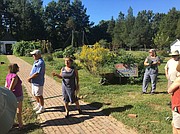 Storck. "It's really the center of the Mount Vernon Heritage and Historical area; you have Mount Vernon here, the Woodlawn Estate, you have Arcadia, the Frank Lloyd Wright house, you have Gristmill, and just a mile or two down the road you have Mount Vernon Estate, and further beyond that you have Fort Hunt Park, which used to protect Washington and was a former Prisoner of War Camp. And then we have the trail that we all love and enjoy."
Corey Miles, senior environmental planner with the Northern Virginia Regional Commission, said the goal of the tour was to promote the Woodlawn Historic District and the historic sites and landmarks that are located within the district itself as part of the Potomac Heritage National Scenic Trail.
"With recent road improvements and trail connections being constructed right now along Route 1, planned for construction down towards the Gristmill in Mount Vernon, the ultimate goal is to show people that you can actually walk or bike from the attractions at Woodlawn Historic District all the way down to Mount Vernon," she said.
Storck said what's also being constructed on 80 acres at Fort Belvoir is the National Museum of the United States Army, which will be a major draw for the area when it opens in 2019. "I think it will draw a million visitors each year … And we've got the Workhouse Arts Center and Gunston Hall, George Mason's home. So this area is a draw," he said.
He said money has already been allocated for bicycle trails to be built between 2019 and 2020 in the area. "It could be a bicycle trail or a walking trail but it will connect us from here to Gristmill Park up to Mount Vernon Estate," he said.
He continued: "We also have the National Historic Trust putting money, time and effort into having Woodlawn and Arcadia realize its potential. This has been a gem that has in many ways been behind trees for a number of years now."
According to Amanda Phillips, director of Site Interpretation and Partnerships at Woodlawn, "We're looking for Woodlawn and the Pope-Leighey House to be part of the cultural center that we hope to build along with all of our other partners and sites in this corner of Fairfax County. We're hoping that this site will be a beacon within the Cultural Corridor that's being created by all the partners in the Woodlawn Historic District."
Added Debbie Spiliotopoulos, senior environmental planner with Northern Virginia Regional Commission: "Our goal is to promote community awareness and the connections between the natural areas and the cultural historic areas and landmarks in this part of Woodlawn. This is a real gem in Fairfax County and a lot of people don't know about it."
She added: "It's connected through the Potomac Heritage Trail for longer routes for hiking, cycling, and paddling throughout the whole area, and the Potomac Heritage Trail goes from Stafford County all the way to Pittsburgh."