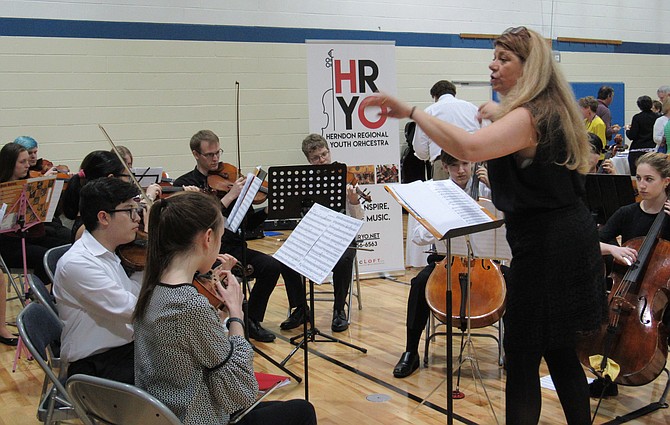 Mayor Lisa C. Merkel welcomed more than 350 volunteers to the 35th annual Mayor's Volunteer Appreciation Reception, a night where the Herndon Town Council recognized and celebrated volunteers for their outstanding service to Herndon and its community. In a special tribute, Merkel dedicated this year's event to former Town of Herndon Councilmember Jeffrey L. Davidson who died a year ago to the date following an automobile accident.
"Our volunteers and their remarkable commitment to service epitomize one key reason why our Town is such a special place, and why we all continue every year to give more of ourselves to continue that tradition," said Merkel.
This year's theme for National Volunteer Week, April 7- 13 was Celebrate Service. Merkel said volunteers could encourage others to "discover their own power to make a difference."

The evening's guest speaker, Debra Bressler, Manager of Volunteer Engagement for Loudoun County Parks, Recreation and Community Services – Aging Services, outlined five key reasons people volunteer: to help others, learn a new skill, bolster job opportunities, meet new people and keep busy. "When you serve, you inspire others," she said.
Bressler reported that 1-in-3 Virginians volunteer and the best encouragement to volunteer was to be asked by someone you know. "Volunteering tends to be an extension of one's family, work and social life, rather than something apart from it," said Bressler. She spoke about other benefits such as reduced depression, less chronic pain and longer life. "Bottom line, doing good is good for you."
The Distinguished Corporate Service Award went to Griffin Owens Insurance Group for their outstanding commitment to the town for the greater good of Herndon. "More than ten years ago, this corporate citizen took over all the deliveries of LINK during the month of December. This is a four day per week commitment all month long," said Merkel.
Claire Jones earned the Distinguished Teen Volunteer Award for her "positive, can-do attitude, (one) who steps out of her comfort zone to lend her assistance when she sees a need," said Merkel. Jones contributed more than 400 volunteer hours since 2017, said Merkel.
The first of the three Distinguished Service Awards, the highest level recognition awarded in the Town went to Carl Vassar of LINK who, Merkel said, "ensures all deliveries are made, the shelves are restocked, recycling is properly disposed and volunteers are welcomed with a smile."
The second Distinguished Service Award was presented to Naila Alam who Merkel said, "dedicated herself to assisting others, especially immigrant families, women and widows who were struggling with language barriers, financial hardships, and unfamiliarity in a new country."
The third recipient, Margaret Jamborsky, connected Herndon High School students with the story of the U.S.S. Herndon and World War II veterans. "She found the original muster rolls, contacted 290 families of the 301 men serving aboard the ship... (and) paired students to crew members," Merkel said.
Claire Jones, the recipient of the Distinguished Teen Volunteer Award, said, "It's important to volunteer…because you are able to grow closer to your community."