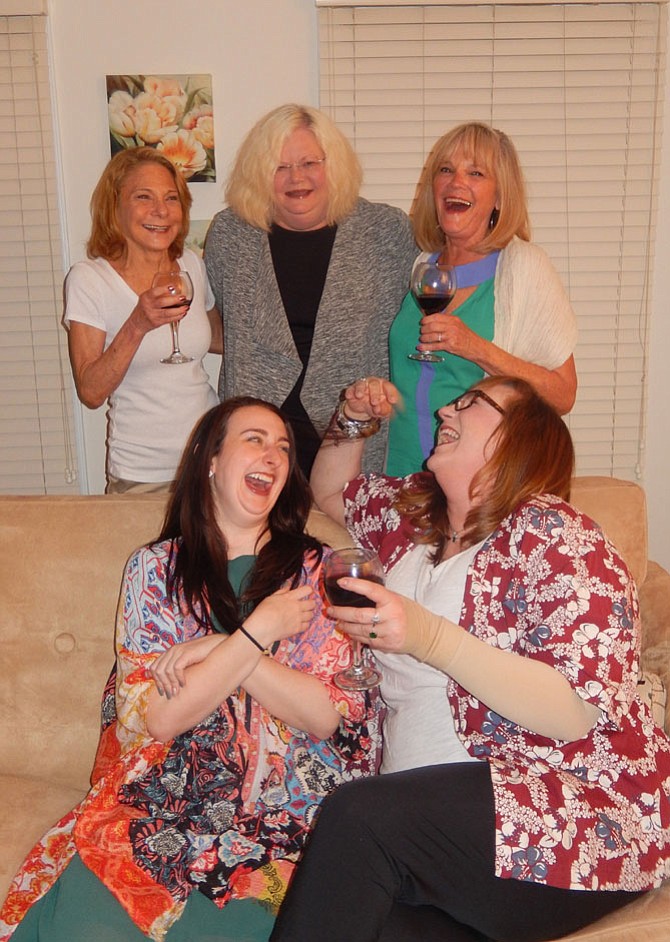 To Go
Show times are April 13, 14, 20, 21, 27 and 28 at 7:30 p.m.; and April 15, 22 and 29 at 2 p.m. Performances are at Mountain View High, 5775 Spindle Court (behind Glory Days Grill) in Centreville. Tickets are $18, adults; $15, senior citizens and children under 13, at http://www.theall...">www.theallianceth....
After graduating from college, where they became friends on their swim team, five Southern women meet for a long weekend, every August, at the same beach cottage on North Carolina's Outer Banks. There, they catch up, laugh and meddle in each other's lives.
But when something unexpected happens to one of them, they rally 'round with the strength and love that takes this comedy in a poignant and surprising direction. And that's the premise of The Alliance Theatre's upcoming play, "The Dixie Swim Club," a show about friendships that last forever.

"We've been getting together since January, so we did tons of really detailed character development even before we started rehearsing, said Director Scott Olson. "And it helped me as a director to understand where everyone was coming from."
More than once, he said, the actresses even brought him to tears because "They really know what to do, and I'm so blessed that they came together for this show. They've 'become' their characters and exceeded them, far beyond my expectations."
The story goes from 1985 to today, so the women are shown from ages 44-77. And, said Olson, "Men will learn what women really go through — and how much they have to put up with from their men."
Little Rocky Run's Kathy Young portrays five-times-married Lexie Richards, who's reminiscent of Samantha from the TV show, "Sex and the City." Describing Lexie as self-absorbent, vain and frivolous, Young said, "She loves men, but doesn't have the best luck with them or with marriage. She's voluptuous and exudes sexuality, but I see her as having a big heart. She'd do anything for her friends, and they're the best part of her life."
Young likes playing her because "She's the sex kitten I've never been or seen myself as. So this role takes me out of my comfort zone and makes me stretch. And it's so much fun doing it with this group of women. Everyone's character portrayal is so strong, I can't wait to be onstage with them. Scott put together a cast and developed a relationship between us that's going to really come across to the audience."
She said people will really relate to the different life stages and to what the women are experiencing. "There are moments that are hilarious and moments that are heartbreaking," said Young. "The audience is going to laugh 'til they hurt, and they're going to cry, too. If they liked [the movie] 'Steel Magnolias,' they're going to love this."
Playing Jeri Neal McFeeley, a nun who lives in a convent, is Caty Nicholson. "She's kindhearted, genuine and naïve," said Nicholson. "She only gets to let loose when she's with her girlfriends.
The other women call her their "Little ray of sunshine." However, said Olson, "She decides to explore and push the boundaries of her life a little."
"She goes for it," said Nicholson. "People will learn a lot about nuns they didn't realize. I love Jeri because I feel I am her sometimes, minus the nun part. She's not the group's youngest, but she acts that way. There are many things in this role I've never had to do before, and it's challenging."
She said the audience will enjoy "the camaraderie, the precious moments we share, the jokes. There's nothing to not love about this show."
Leslie Anne Ross also appreciates the strong bonds she and her castmates have formed, saying, "I feel like I'll be friends with them, the rest of my life." She portrays career woman Dinah Grayson, a smart, successful lawyer in a prestigious, Atlanta law firm.
"But she's so focused on her job that she's not very in touch with the reality of her life," said Ross. "She works all the time, isn't married or maternal and has no time for a personal life. She drinks a lot and is hiding in the alcohol. She also has a fabulous sense of humor and is a smart-aleck, but she's unlucky in love."
Ross says she's a lot like her character, but more in touch with her feelings and doesn't drink as much. "She's the least sentimental of the friends, but I'm the opposite, so I have to keep my emotions down, but I'm also sardonic and a smart-aleck."
She said the chemistry between the actresses will appeal to the audience — "seeing women being real and enjoying each other, without being competitive. They support each other, no matter what. And this show is really funny; as they get older, they're not afraid to say inappropriate things."
Carole Preston plays Sheree Hollinger, the group's leader and former swim-team captain. "She's a hyper-organized control freak; and when she feels like she's lost control, she freaks out," said Preston. "She's planned out her life, so when things go wrong, she doesn't take it well."
Although this role takes her, too, out of her comfort zone, she loves it. "I was new to this group of actors and Alliance, and I've felt so welcomed," said Preston. "And that's helped me establish the character and relationships."
"This girl can deliver a line that'll make you cringe and curl your toes, at the same time," added Olson.
As for the audience, said Preston, "I want people to have fun and a little escape and take away the importance of friendship and how precious it is."
Portraying Vernadette Simms is Gioia Albi. "She's a hot mess and, literally, the opposite of Sheree," said Albi. "She planned nothing in her life. But she's super-real, genuine and smart. She's a teacher and a mother of two who talks a lot about her husband and children. But she has a black cloud that won't leave her."
Albi says her character is a challenge because she has no accent and Vernadette is the most Southern of all the women. "She also has an unbelievably deep love and appreciation of the South," said Albi. "I hope people will be thinking and talking about this show, days later, and that it spurs conversations about the women in the audience's lives. They'll also be laughing and repeating the lines because they're so funny. And they'll find a character that reminds them of someone in their life."
Overall, said Olson, "These women have had the courage to break out of their shells and do their roles. That's what I love about them and I know the audience will, too."