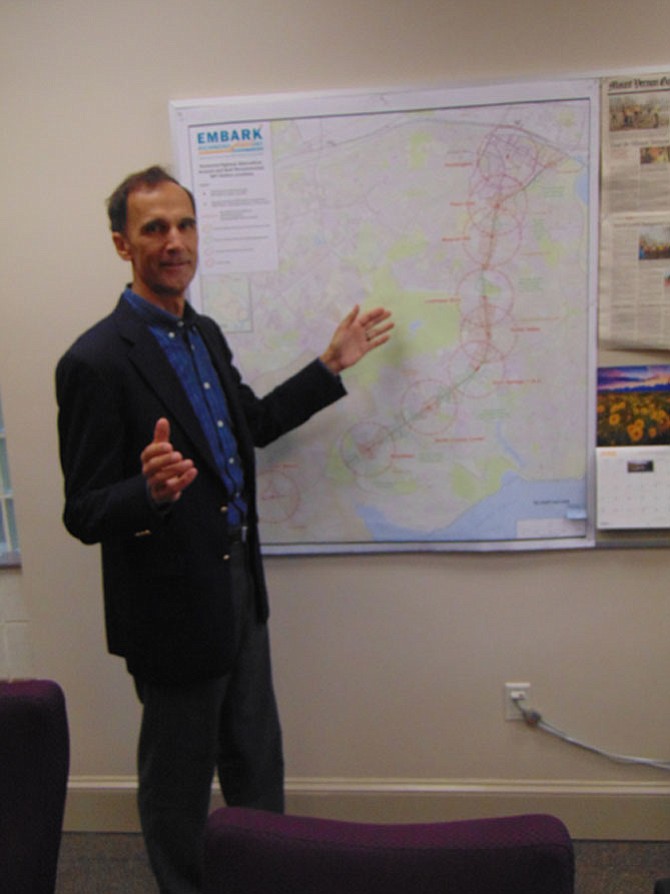 Last week the Virginia Department of Transportation (VDOT) engaged our community again in discussions regarding Richmond Highway Corridor Improvements. Improvements to this roadway are necessary to ease current congestion and plan for future increased demand, while improving safety for all users of the corridor. Citizen engagement is critical in identifying and implementing the best transportation solutions for our region.
Attendees at the meeting learned about the three-mile widening and improvement project from Jeff Todd Way to Napper Road, which includes adding a third automobile lane in each direction; new, dedicated center lane Bus Rapid Transit (BRT); intersection improvements; bike and pedestrian trails on both sides of the highway; and for a limited number of areas, sound walls, if residents prefer. Unique design features, such as "superstreets" and "jughandles," are being considered by VDOT for this project. While these concepts may be new to readers, VDOT believes they will make travel in the corridor easier, safer and faster. Following the presentation, residents had an opportunity to ask questions and share suggestions.
The Richmond Highway Corridor Improvements lead the way and create the framework for the future Embark Richmond Highway initiative. Embark is a multi-year effort to address and promote renewed growth along the corridor by planning for walkable, urban-style, mixed-use developments close to the highway and future transit stations. Creating vibrant, active communities where residents and visitors, alike, can live, work and play with easy access to transit, will improve the quality of life for all in the Richmond Highway Corridor. These improvements and BRT are crucial to future plans for an extension of the Metrorail Yellow Line from Huntington to Hybla Valley. The Richmond Highway Corridor Improvements enable the Mount Vernon region to accelerate our renewal and to fully become a 21st century community.
A walking-cycling-driving-transit riding future is essential for the dynamic growth and enrichment of the Richmond Highway Corridor and its residents. Please be assured that I will continue to work with each of you to advance the best options for the region.
The engagement of our community at last week's meeting was, as usual, very strong. To provide further input now, please visit the VDOT webpage by Dec. 6: www.virginiadot.org/projects/northernvirginia/richmond_highway.asp.
Dan Storck represents the Mount Vernon District on the Fairfax County Board of Supervisors. He welcomes input from constituents and can be reached at mtvernon@fairfaxcounty.gov.