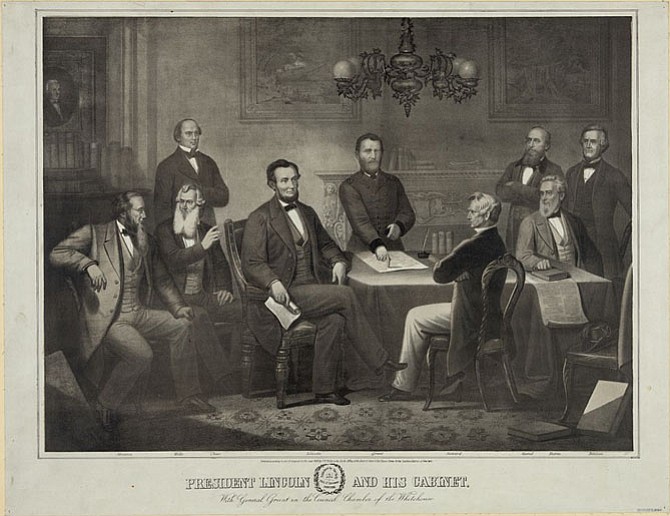 On Jan. 1, 1863, President Lincoln signed the Emancipation Proclamation freeing all the enslaved blacks in Union-controlled areas.
The Virginia Restored Government led by the provisional governor, Francis H. Pierpont (Pierpoint) who declared Alexandria as the capital of Virginia during the Civil War, voted to emancipate all the slaves in Virginia under Union rule on April 7, 1864. When the Union took over other counties in Virginia, each county emancipated their slaves. One year later, the Federal government declared victory and slavery officially ended with some resistance by the lower southern states against the Union.
For 50 years, African Americans in Alexandria celebrated Emancipation Day. Prominent African Americans of that era organized parades and had speakers. Those celebrations did not take place on the actual anniversary date of Alexandria's Emancipation Day, but on different months of the year, for example: it was celebrated in January for the following years 1890, 1891, 1900 and 1901; celebrated in May 1905; and it was celebrated in September for the following years 1893, 1895, 1896, 1903 and 1910. What was consistent was that every year for 50 years, the African Americans in Alexandria celebrated their freedom in ceremonies throughout Alexandria by displaying President Lincoln's picture in their parades, at their banquets and at their conferences. The conferences usually centered on different topics for that years' celebration, for example: accomplishments of the colored race since Emancipation Day, voter registration, adequate schools for colored people, adequate housing and community involvement.
During those early emancipation ceremonies, the Emancipation committee sent invitations to well-known speakers. Some of the speakers over the course of those 50 years of celebrations included: the Honorable Frederick Douglass, Congressman John M. Langston, Booker T. Washington, Colonel John M. Hay, ministers from Alexandria and Washington, D.C.; and many other prominent dignitaries of that era.
The individuals and organizations responsible for those celebrations over a 50 year span were: Mangus L. Robinson, editor of Weekly Newspaper, owner of National Leader Newspaper, Freemason and a member of the Order of Odd Fellows; his brother, Robert B. Robinson; and his father, Reverend Robert H. Robinson, founder of William Normal & Independent School, Grand Master of Freemasons; William A. Carter, store owner and Washington Bee correspondent; George L. Seaton, builder and businessman; Washington N. Jackson, hotel owner of Jackson's Hotel and businessman; and John W. "Baker" Jackson, bakery owner, hotel owner and businessman. Also several local churches hosted the emancipation celebrations throughout the years: Roberts Chapel (Roberts Memorial United Methodist Church); Third Baptist Church; Shiloh Baptist Church; and other African American churches in Alexandria. The emancipation ceremonies were also held at different venues: Lannon's Opera House; Jackson Hotel; Odd Fellow Lodge; and Baker's Jackson's Hotel.
In 2015, Mayor William D. Euille read the Proclamation and recognized April 7, 2015, as the 151st anniversary of the emancipation of enslaved people in Alexandria. Prior to the former mayor's acknowledgement of the emancipation of enslaved people, African Americans in Alexandria had quietly stopped celebrating Emancipation Day on April 7 and joined the nation in celebrating the Emancipation Day in Washington, D.C., and the Juneteenth Emancipation Day, when slaves in Texas were emancipated on June 19, 1865.
Many of the African Americans in Alexandria responsible for organizing the Emancipation ceremonies were all dead by the late 1930s. The younger generation celebrated Juneteenth's Emancipation Day as their Emancipation Day, because they did not know about the Emancipation ceremonies that the older generation celebrated.
Alexandria has a unique documented history about the emancipation of enslaved African Americans in Alexandria. This history should be preserved for generations to come, so that they can learn about the struggle of enslaved people.
Happy Emancipation Day to all of the people whose enslaved ancestors came to Alexandria for their freedom and experienced the jubilation of freedom.
Char McCargo Bah is a freelance writer, independent historian, genealogist and a Living Legend of Alexandria. Visit her blog at http://www.theotheralexandria.com for more about "The Other Alexandria."